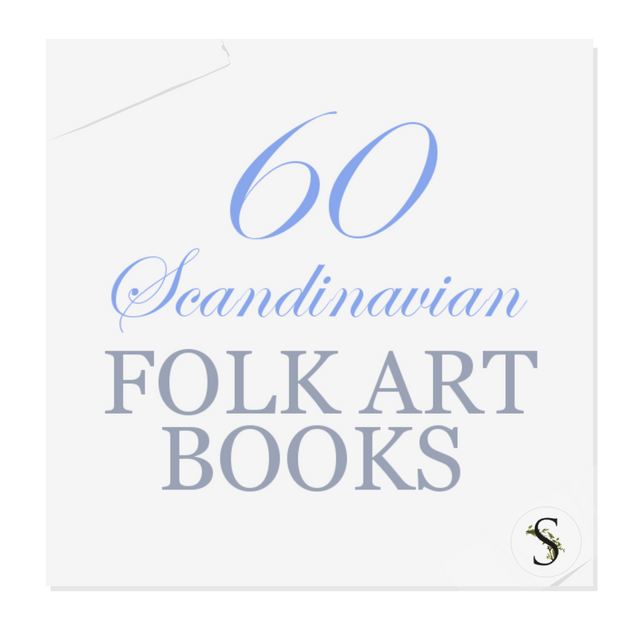 Scandinavia – made up of Denmark, Finland, Sweden, Iceland and Norway -has always had a unique mark on the arts through history. Whether it be needlepoint, embroidery, wood carving, furniture painting, knitting or any other local arts, they inspired each other in these regions, often drawing on the same color tones, motifs, and decorations.
The Nordic style craftsmanship and decorative themes can be seen unique to this northern area of Europe. Chances are if you love Scandinavian furniture, you will fall in love with so many of the different arts that are also found in this region.
Folk art, is celebrated in the international galleries around the world, but it also can be found in people's homes, garages, and attics around Scandinavia. With access to to the internet, you don't even have to know the back streets of Sweden, or speak the language to invest in high quality antique folk art. With esty and ebay within reach, you can pull together a collection for your interior without leaving your home.
"Folk art" is the most common term to describe the every day craftsmanship of people from one region or another, which depicted the artistic talent of life and times in art. Almost everyone has a hobby today, and it was more so, 100 to 300 years ago, when the family didn't gather around the television for three hours each night. People had so much more time that could be devoted to the arts when the children were home schooled, and mom and dad worked off the land. Life was so much better back then, and you could have a little piece of that history.
The art was influenced by the culture, which is why German, Italian, and even American folk art each has their own style and flavor. Many of the popular collectible folk art pieces include handcrafted toys, quilting, wood carvings, and basket weaving. Folk oil paintings can be some of the most expensive range of collectibles within Folk art. Oil paintings emerged in the late 1700's but only until the 1800's did it really begin to flourish. Folk artists were often self-taught, and considered amateur artists due to the fact that they were not academically trained in the fine arts. These paintings are some of the most collectible of the wall art, and surprise, surprise,….sometimes they are inexpensive! It is amazing what you can find on ebay, if you are willing to wait.
Here is a collection of 60 books that focus their attention on Folk art, or the Scandinavian region in general.