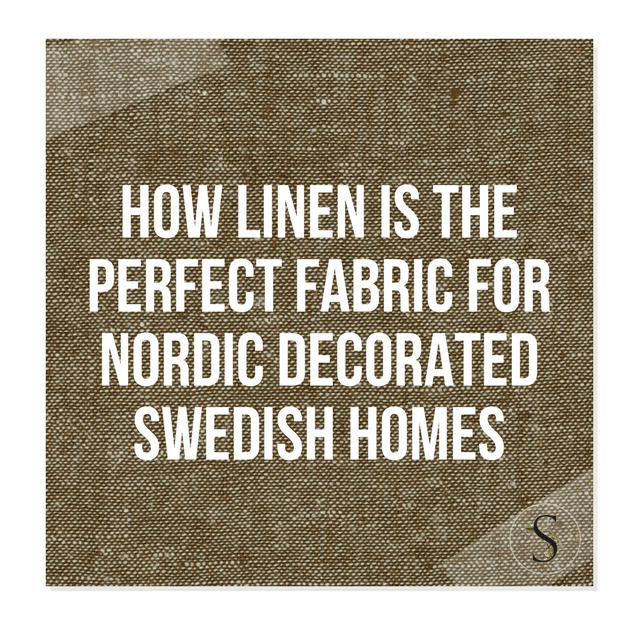 Suzanne Kasler -Photo Credit Trouvais
Linen is still the most desired fabric for decorators and interior designers alike.  Linen is elegant, durable, and simply luxurious.
Linen is the strongest of the vegetable fibers and has 2 to 3 times the strength of cotton.  Linen is from raw flax, a bast fiber taken from the stalk of the plant. Linen is one of the oldest textile fibers known to  man. Over 4000 years ago, it was woven in Egypt and used to wrap royal mummies.
Not only is the linen fiber strong, it is smooth, making the finished fabric lint free. does wrinkle easily but also presses easily. Linen, like cotton, can also be boiled without damaging the fiber.
From  creamy white to light tan, linen can be easily dyed and the color does not fade when washed.  Linen also happens to be highly absorbent and a good conductor of heat, but also has the qualities of keeping cool making it an ideal fabric for summer garments.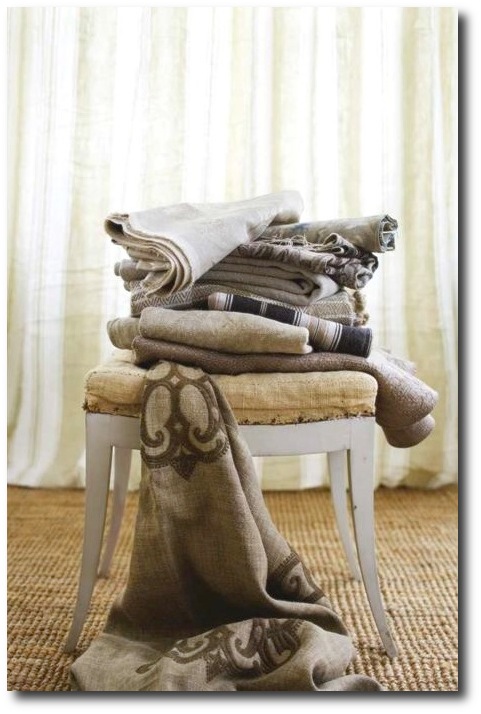 Decorating With Linen From Skona Hem Magazine
-Linen is also prone to mildew in extreme conditions. Don't make the same mistake that I did and hang drapes in a solarium's that collects water on the windows, because overtime your drapes will collect mold. Linen on the other hand does well in light conditions compared to all other fabrics due to its inherent resistance to UV damage.
– Linen easily creases and wrinkles, and tends to hold the wrinkles, so if you don't mind that, it could be lovely for slipcovers. Linen has very little stretch, so be prepared to make your slipcovers a little extra large, as linen will shrink a little. Never put linen in a hot dryer. High heat causes the linen fibers to shrink and break. Consider letting your linen slipcovers dry on a table or on Air dry or tumble.
-Linen should be ironed with a good quality steam iron while it is damp, if you choose to iron at all. The more often linen is worn and washed, the softer it will become. However, if you are looking for a crisp appearance, ironing is a must. Use a steam iron and sprinkle on additional water if necessary to get a smooth finish. Press linen on the wrong side to prevent shiny spots. Use spray-on starch to get a crisp appearance.
-Of all the areas where you could use linen, the fabric looks best with drapery, because it doesn't need to be washed as often, which also limits the lengthy pressing sessions. Consider linen for your drapes. The material looks elegant, rich, yet very natural in appearance, making it a must have for Swedish interiors.
Modo Textured 100-Percent Slub Cotton 3-Piece Duvet Sham Set only $54 dollars.
Wrinkle Resistant 300-Thread Count Reversible Cotton Duvet Set Stripe– Twin, Full, Queen, and King $45.
Safavieh Becca Grey Linen Dining Chair $249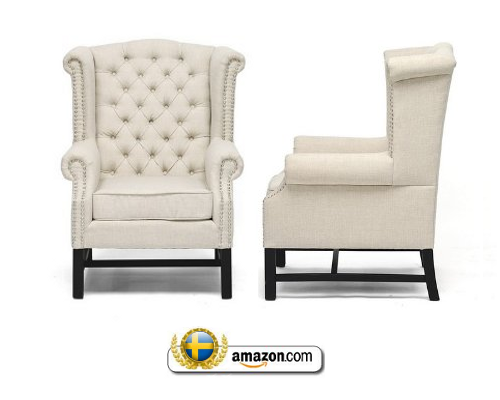 Sussex Beige Linen Club Chair only $454!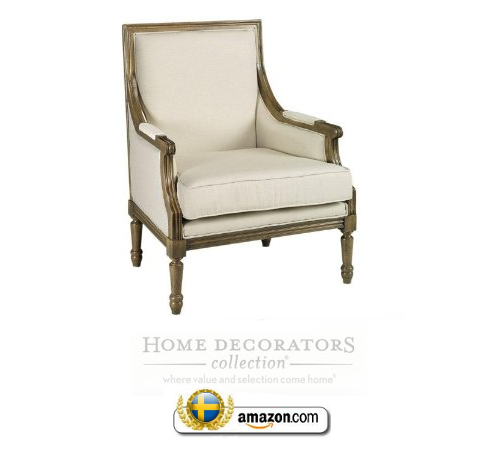 This Louis XVI Armchair Only $319!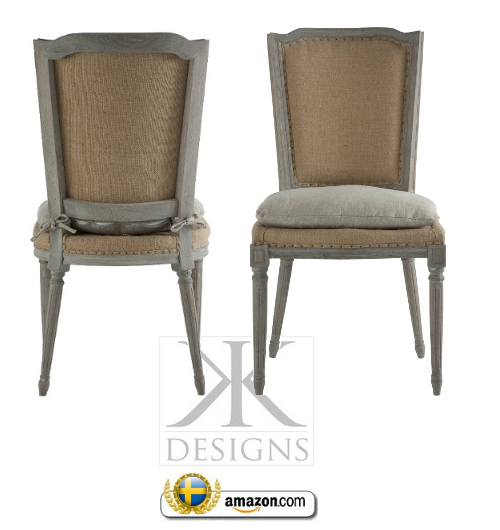 Ethan French Country Dark Limed Gray Oak Linen Dining Chair $499
French Country Weathered Gray Hemp Linen Dining Chair $499
Linen Pillow Cover with Jute Embroidery $33.
Cotton Linen Pillow Cover with Jute & Mother Of Pearl Embroidery Sea Horses
Ballard Essential Panel Natural Linen 108 Inch-$99
Springcrest™ Trim Linen Drum Shade  $14.99
Maytex Twill Wing Chair Cover $71.24
Williamsburg William and Mary Matelasse Pillow, Linen $51.67
Oval Hardback Natural Linen Shade $30.00
Tumbleweed Faux Linen Sheer $29.00
Progress Lighting Off White Shade 1-Inch $16.00