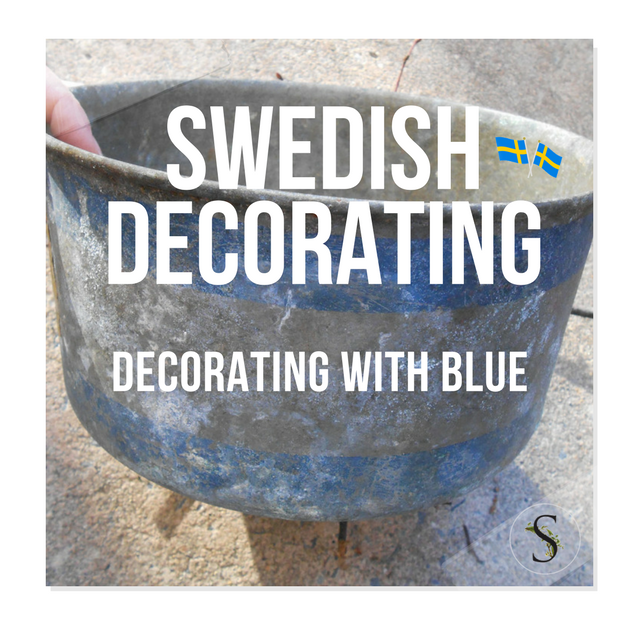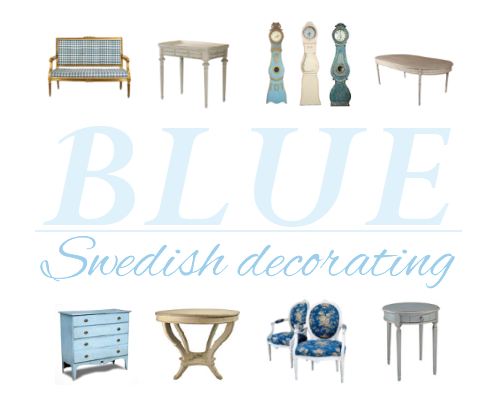 There are so many shades of blue, which one do you pick? Swedish decorating is known for their partiality towards the color blue. Blue is one of the staple colors in 18th Swedish century decorating, so if you plan on decorating with this style, we can give you a few ways to incorporate the color blue into your design scheme.
First decide if you want a formal or country appearance in your home. Knowing which look you are attracted to can help determine accessories, furniture, drapery and wall treatments.
1. Formal Blue Interiors – Blue-gray, painted finishes became popular after King Gustav ruled in 1772, and since then they still remain fashionable.
Formal Swedish Tips- Line Furniture Up Against The Wall- This is a classic Swedish touch that can give the look of finer living. If you have a room where you can line a set of three chairs against the wall, or a pair of chairs and a accent table, this will always give your room that refined, superior Swedish appearance. Push your furniture in the middle of the room, and if you have a tv, consider hanging it on the wall. I find that this arrangement always gives the look of more space. You can never have too many chairs. Collect furniture that have fluted legs, such as side tables, benches, or chairs.
Formal Swedish Tips- Buy A Long Oval Table – Here is a Henredon
oval table selling on ebay for just over $1000. Strip off the finish and paint it gray. A long, dining table echoes the simple curves of early Gustavian style. Dress up your furniture in light, greenish blue-gray paint finishes to get the high end looks found in the Swedish castles. Consider investing in a crystal chandelier, which coordinates with white or really pale blue or pastel walls and work with white upholstery. Squared picture moldings, and sconces really can add to this formal Swedish appearance. Consider stenciling your walls with green-blue leaf patterns along the inner edges of the walls, and collect old styled portrait oil paintings with dark grounds which give rooms a dark accent.
Formal Swedish Tips- Go For Gold Accents– Dress up your furniture with furniture appliques and ormolu mounts. You can make any picture frame seem so much more expensive by adding gold leaf. Gold leaf is really simple to apply. Follow this link, and I show you where I buy my gold leaf on ebay. Buy a sconce
and gold leaf it. Get ideas from this post, where I wrote about the sconces that are the most sought after from collectors world wide. A thin rectangular mirror on ebay can be a great look, which you can then add on a brass candle holder. This DIY project will give you the Swedish look for less.
– Decorative Mirror Molding, French White Bow- $21 Buy it on ebay
– Decorative Scrolls For Mirrors, and Dressers – $40 Buy it on ebay
– Ribbon Bows Mold, Decorate Mirrors and Furniture- $13 Buy it on ebay
-Ormolu French Gilded Furniture Ribbon Large- $35 Buy it on ebay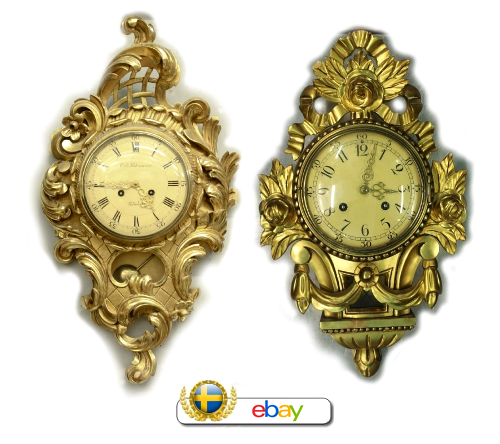 Louis XV Antique GILT WOOD handcrafted CARTEL WALL CLOCK estimated $1200- buy it for $350, buy it on ebay
Antique Gilt Wood Cartel Clock $450 on ebay– buy it on ebay
– Formal Swedish Tips- Go Brighter With Bright Blue and White- Go for a home that has white accessories and upholstery. Don't be afraid to go with bolder blues for drapery, upholstery and bed linens. Brighter blues look great in formal settings.
-20 Yard Bolt – 44/45″ White Polycotton Liberty BROADCLOTH- $61 Buy it on ebay
– Solid Poly Cotton Fabric In Bright Blue – Buy it on ebay
-Fabric By The Bolt – 40 YARD BOLT $190 on ebay- Buy it on ebay
-Sunbrella Canvas Air Blue Outdoor Fabric $21 dollars a yard- Buy it on ebay
Cane Back Cushioned Seat Side Wood Chair Fluted Distressed Hammered Nailheads
(Paint it gray, white, blue or what ever colors you are working with. Great frame, great price)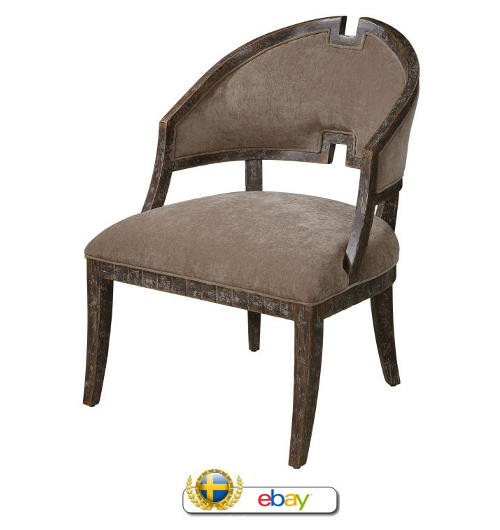 Another great Empire looking Swedish styled chair. Again, the frame would look terrific in a light gray or blue with a white upholstery. This chair sells for $665 on ebay
Here is another great accent chair, get two of these and pair it with a sofa. It is already painted white, and the white upholstery makes this chair look upscale. This chair sells at $719, which includes the shipping on ebay
Swedish Country Rustic Styles
2. Country Keys- Rustic Architecture – Country Swedish style is beautiful and worn. The countryside contains a mixture of rustic elements. Go shopping in architectural salvage yards and collect things that are worn. Wood is the key to getting the look. An old wooden door can be replaced by those builder typical doors you see in new homes. A old ladder can lean against the wall. Paint it in a darker blue and distress the heck out of it. Ceiling beams in their natural wood give an architectural feel to a home. Add some faux hallow wood beams across your ceiling. Get the look without having to hire 5 strong men to anchor it in place. Work with light wood flooring, and natural materials.
–Country Keys- Country Textiles- Skirted sofas, slipcovers in natural blends and textured walls are classic marks of styles found off the beaten path in Sweden. Ebay sells a number of Restoration Hardware's stone washed
Belgian Linen products new in their packages. You can buy new pleated drapes on ebay, along with bedding, pillow cases and more for half the cost in the stores. Raw and natural textures are the key to this look. I ordered this heavy oatmeal linen
for several of my drum lamp shades which I am re-covering. The material is heavy, and would be terrific for upholstery.
– Heavily distressed Mora clocks such as these on ebay,
give your room that traditional Swedish look.
– Warm Old Barn Finish Table (paint it, and change the color) – $229 Buy it on ebay
– Reclaimed Salvaged Fir End Side Table- $564 on ebay here
– Country Keys – Go For Color On The Rustic Side– Muddy shades of blue work with the country styles. If you like the lighter shades of baby blue, distress your furniture more than you normally would. This certainly helps when the furniture's wood is raw and stripped. The paint will blend nicely with the raw woods surface giving you a more authentic appearance. For complementary shades, pair blue with orange-red accents, along with shades of green-blues. Gingham upholstery also looks terrific in a country home, along with florals. Work with carvings, such as art that can be hung on the wall, and accessories that are carved such as standing wood birds which are painted and made from wood. Dala folk horse carvings are a Swedish country favorite. Pillows with embroidered blue-and-white folk patterns nicely work in a country home. Think about hand crafts, such as hand embroidered artwork, quilts, delft fireplace tiles, over-sized ginger jars, and colored glass.

Restoration Hardware Shower Curtains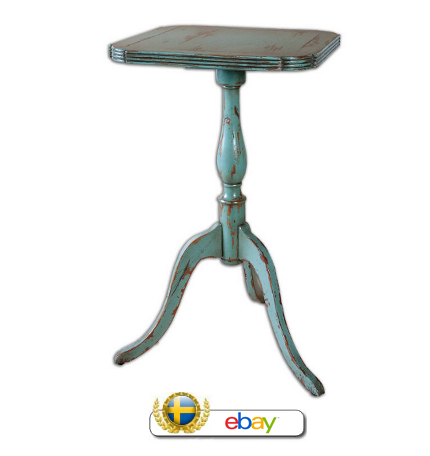 Carved Mango Wood Accent Table Mindi Veneer Hand Finish Robin's Egg Blue, this table sells for $229 on ebay Buy it on ebay