I have always been attracted to the cover of Childrens Spaces From Zero To Ten as the space showed a rustic appeal based around white. You have a stunning farmhouse tabe painted in white with reclaimed wood, and naturally distressed appeal.
A long lenthy wall bench is also painted in white and made from clap board. Above the very adorable children is an oversized distressed wall mirror. Beige linen accompanies the bench and the children are dressed in blue. With a cover like this, it is no wonder it has sold 100,000 copies sold in hardcover.
Judith Wilson, mother of two, shows how homes can be adapted for children without surrendering order and good taste while also ensuring that children have their own wonderful spaces to enjoy.
This is a truly beautiful book. No more circus animals painted on walls and other run of the mill decorating ideas. These are beautiful – modern ideas for creating spaces for children. Look out Martha Stewart.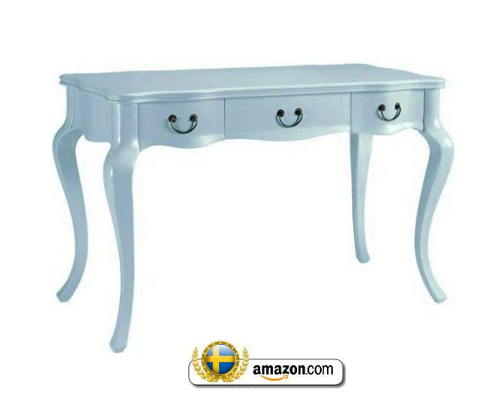 Any girl would be so blessed to have a desk like this in her bedroom. A desk like this is a timeless piece that could be purchased for a young girl and be sophisticated enough to be taken with her as she moves out and on her own for college. This desk sells for $319 and comes in white, a natural cherry wood, green and the blue you see above. If you decided to order blue fabric, and want to match the desk up with the fabric, all you need to do is paint over the manufactures blue to match up with your fabric swatch.
If you decide to do any other Swedish color such as Scandinavian orange, yellow, green or red, order the desk in cherry which allows you to distress down to the wood having a neutral color show through your distressed finish.
This desk is a terrific buy! It certainly is a piece that a child can grow with. Consider dressing up the chest with gold furniture ormolu, such as leg hardware or gilt bows that you can hammer into place.
This picture shows that you can create the ornate patterned Gustavian wall finishes easy and inexpensively with over sized wall stencils. All you need is paint! The best thing about stencils, is they can customized from room to room. Use a light tone of blue and white for your childs room, and white based backgrounds in your main living areas. Stencils can be customized from one room to the next, and any color combinations can be used.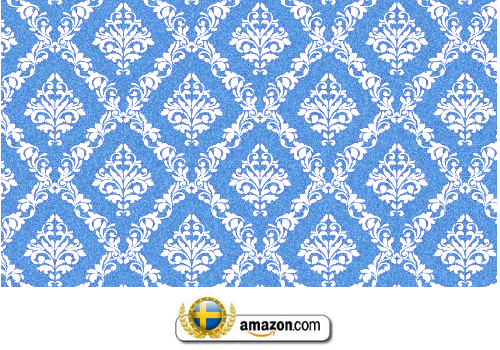 Swedish Gustavian Wall Stencils