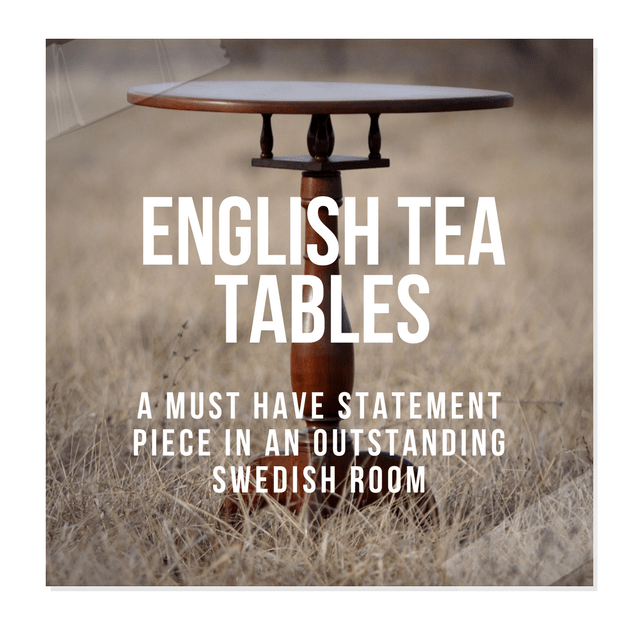 Picture Credit –RoofTop Antiques
Scandinavian Design by Lars Bolander withHeather Smith MacIsaac
Tripod tables were designed originally to serve tea. Some were designed to tilt like the pie table which could then be folded up and stored away. You would think the tripod table is English in origin because they have been traditionally associated with England and North America, but it was also popular in other areas of the world as well.
It is not uncommon to find tripod tables in Swedish interiors because they were executed in Scandinavia, Germany, The Netherlands, and France. Dutch painters were known to decorate the oval tops of these three legged tables with landscapes starting in the late 17th century, and this following survived well into the 19th century. In the late 18th century the English style became extremely fashionable, and cabinet-makers in Sweden, Denmark and The Netherlands executed furniture in this style.
If you like the look of these styles of tables, consider Butler who produces a hand-painted foyer table in plum black which has such stunning country lines. The table features a distressed hand-painted finish crafted from selected hardwoods and choice cherry veneers. Although this table is not three legged, it does have some incredible lines that most modern tripod tables don't have. The unique raised pedestal design is a throw back to primitive century-old designs. The overall dimensions: 30" H x 36" W x 36" D. This is the perfect table for a Swedish country home. It is priced at $469
This lovely picture that is filled with Swedish Furniture is from Scandinavian Design by Lars Bolander withHeather Smith MacIsaac. This image was featured on Bart Boehlert's Blog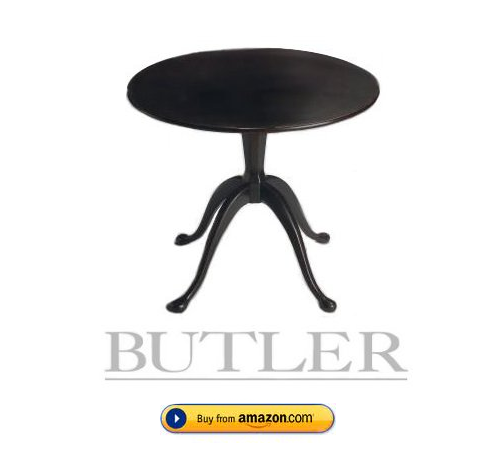 Swedish Painted Tilt Top Candle Stand From Rhonda Eleish and Edie Van Breems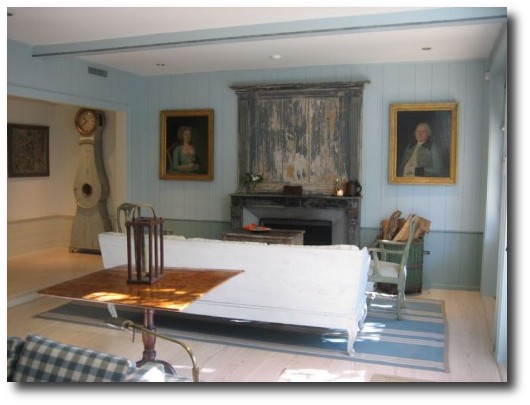 Swedish Furniture & Decorating Ideas- London-Townhouse By designer Katrin Cargill
Swedish Furniture & Decorating Ideas- London-Townhouse By designer Katrin Cargill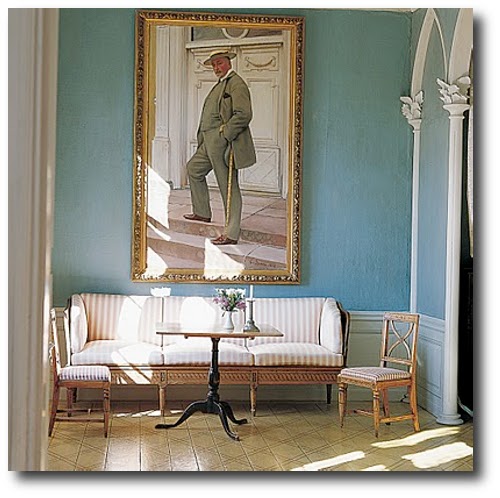 Scandinavian Design by Lars Bolander with Heather Smith MacIsaac
If you have ever seen Crewel Embroidery in person you come to appreciate the beauty of the stitch of this really ornate art.
It isn't like typical embroidery done on the machine, rather it is a heavy weight embroidery.
The origin of the word crewel is unknown but is thought to come from an ancient word describing the curl in the staple, the single hair of the wool. Crewel wool has a long staple, and can be strongly twisted. Modern crewel wool is a fine, 2-ply or 1-ply yarn that is available in many different colours. The decorative stitch uses wool and a variety of different embroidery stitches to follow a design.
A firm fabric is required to support the weight of the stitching, so often cotton or linen is used. Perhaps the draw to this style is the natural fabrics behind the art, as well as the art work itself.
This style of embroidery became popular in 16th century England; by the 18th century, it was superseded by silk embroidery in England, but in America the crewel fashion lasted much longer.
The traditional design styles are referred to as Jacobean embroidery and often feature floral designs with flowing vines and leaves.
The bed was the most usual article of furniture decorated with crewel embroidery. Chair seats were also decorated, but these wore out quickly. Crewel embroidery is most often used to decorate cushions, throw pillows, curtains, lamp shades, shawls, duvet covers and upholstery.
If you love the look of Crewel Embroidery, check out Crewel Fabric World on Amazon as they list over 1500 items using this technique of Embroidery.
Save