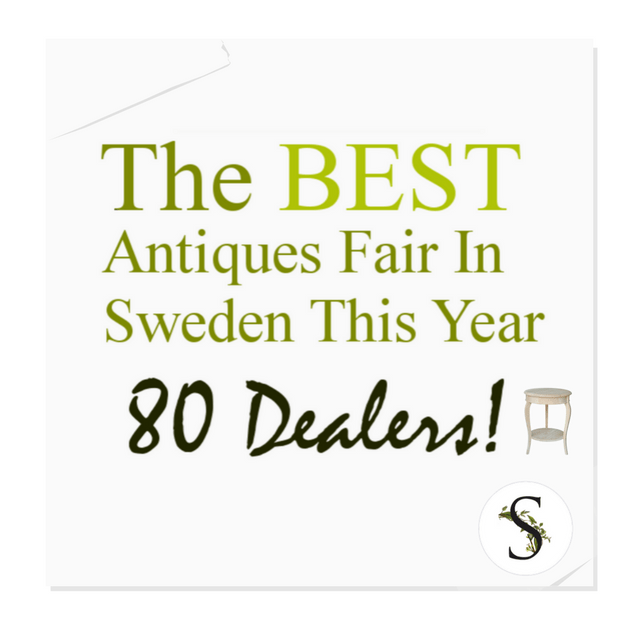 Are you interested in seeing the best antiques Sweden has to offer?
The highest quality finds will be at the Malmö Dekorativa Antiques Fair, August 27 – 30th.
Malmö Dekorativa Antiques Fair is the third largest antiques fair in Sweden, with 80 antiques dealers from all over the country and the Copenhagen area, offering depth of knowledge and reputation of quality Swedish antiques.
Considered a trade secret among Swedish dealers, making the event a "must-visit" destination for the international trade as well.
Experience Swedish antiques, folk art, design and collectibles in the perfect settings of Katrinetorps buildings and gardens.
Here is how you can access to this first-class event ONE DAY EARLY:
Contact Daniel Larsson, as tickets are only accessible with an invitation.
Daniel sits on the advisory board of Malmö Dekorativa Antiques Fair, which allows him all-access pass. He will be able to prepare badges and passes for those who are interested in viewing the advance preview.
The fair opens at 08.00 on Thursday FOR DEALERS the 27th of August, one day before the general public which enters at three a clock on Friday the 28th Aug.
There will be a transport company at the fair that can help you with delivery of purchased items.
For a one of a-kind-look before the fair opens, contact Daniel.
Daniel Larsson
International Trade Marketing / Advisory Board
Malmö Dekorativa Antiques Fair
D.Larsson Interiör & Antikhandel
Wrangelsgatan 13
254 39 Helsingborg
Sweden
Tel: 0046 734 38 18 43
Mail: info@dlarssoninterior.com
Address Of The Fair:
Katrinetorplanderi.
Katrinetorps allé 1,
215 74 Malmö.