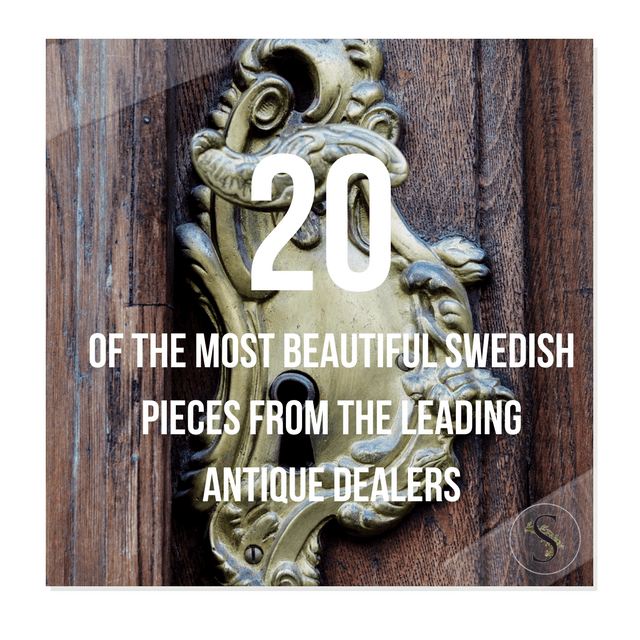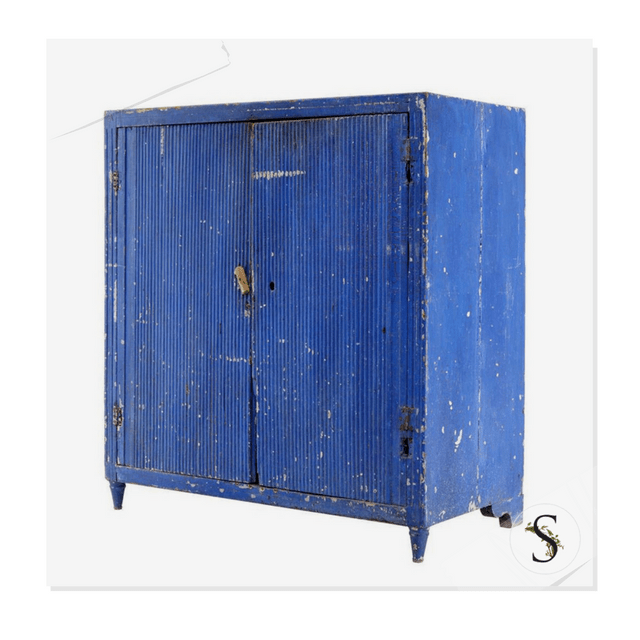 19th Century Swedish Painted Chest Find It on Ebay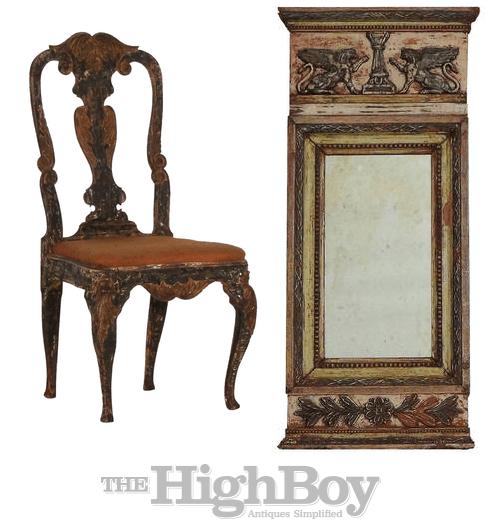 Swedish richly carved Rococo period chair that has been with urn-shaped splat back with carved wings and flower on crest rail, low seat, curved and carved apron raised on cabriole legs and ending on splayed feet. The chair has been scraped down to the original paint and gilt. thehighboy.com
A striking Swedish Gustavian period mirror in original paint and gilt. This is a beautiful mirror with original mirror plate and typical neoclassical carving details. thehighboy.com
A beautiful Swedish Rococo period chest with original lock, hardware and key, circa 1750 thehighboy.com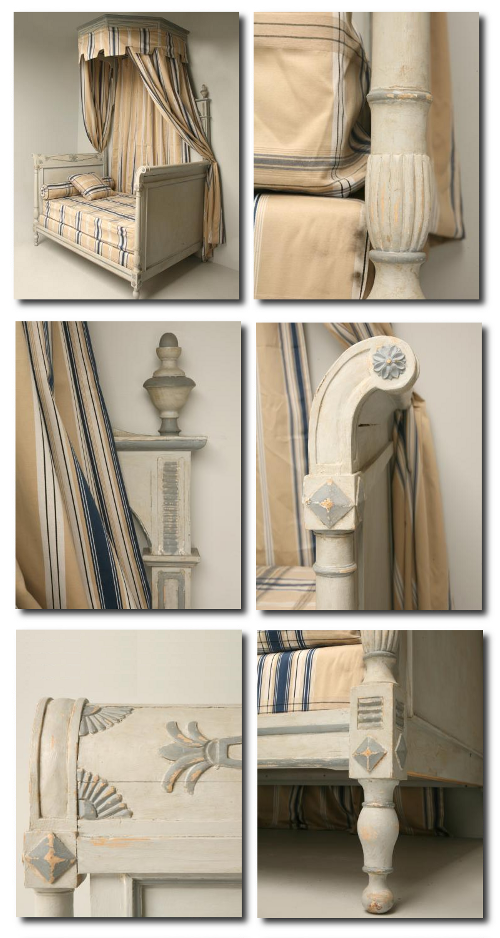 Terrific Painted Details Of A Antique French Directoire Style Canopy Bed From Old Plank
A Look Under The Canopy Of A French Directoire Style Canopy Bed From Old Plank
Danish Baroque chest of drawers, Denmark c. 1740-1760 Green Square Copenhagen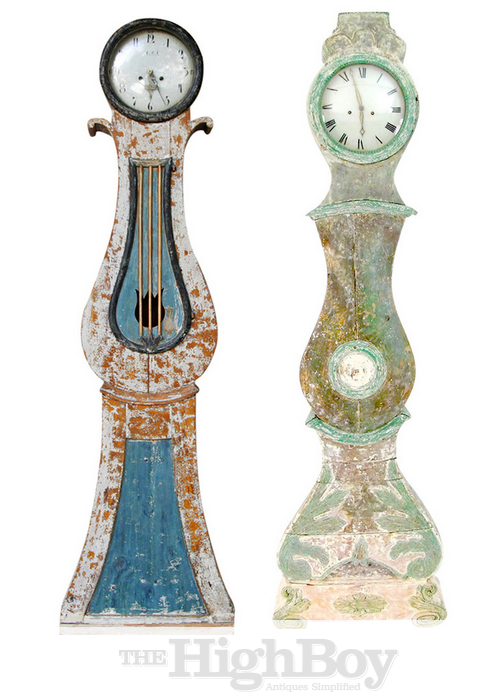 This is a very rare, richly carved Swedish Rococo period grandfather clock that has been scraped down to the original paint. This clock is from Morin, Sweden. Morin clocks are not as common as Mora clocks (clocks from Mora, Sweden) and therefore more rare. This clock is working and using its original movement, key, weight, face, and glass. Circa 1750.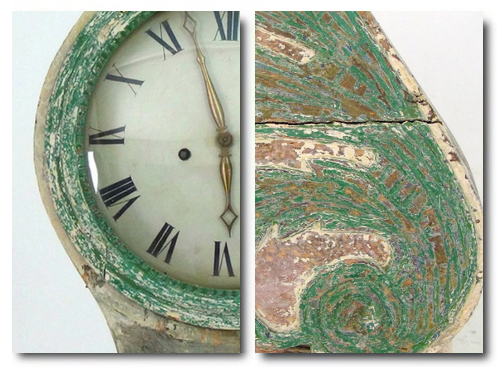 Swedish Mora Clocks from The Highboy Antiques
Swedish Secretary in Original Blue Paint, Signed and Dated 1858 Dawn Hill Antiques
Antique Painted Swedish Armoire with Carved Detail, circa 1850-70 Scandinavian Antiques
Antique Original Painted Green Corner Cupboard, Sweden Circa 1880, Scandinavian Antiques
19th Century Painted Swedish Clock Built Into A Secretary – From The Highboy
Louis XVI style carved upholstered chair Woglethorpeauctions On ebay
Blue Green Painted Mora Clock The Highboy Antiques
Gustavian sold for 26 000 SEK in Norrköping Auction House- godsochgardar.se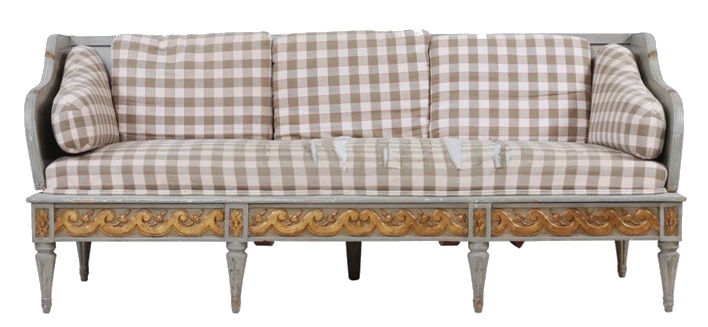 Hultanäs Antikt & Second Hand -located in Hultanäs
Very Rare Gustavian Sofa, 1785- trendfirst.com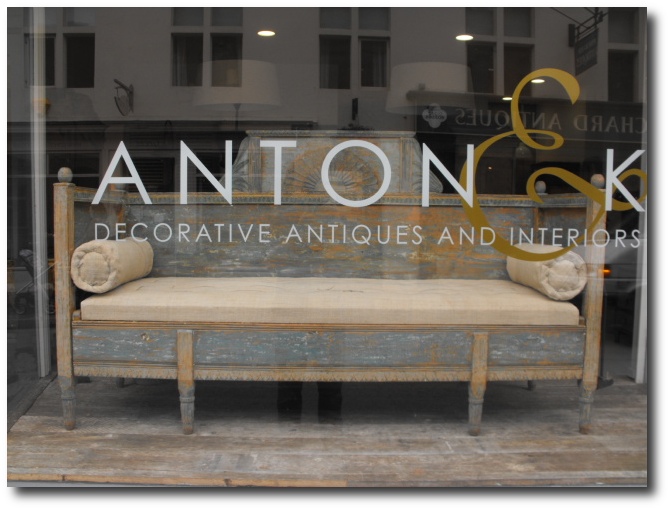 Gustavaian 19thC Bench Scraped to Original Paint –antonandk.co.uk
Swedish Antique Period Gustavian Daybed, Swedish Banquette, Swedish Antique Gustavian-Style Painted Bench From thehighboy.com
Originally functioned as a daybed with the seat lifting up and the box pulling out like a drawer to offer a space that is double the depth where a mattress would have offered a guest a place to sleep. Great as a bench in a room that can double as a toy box! The Highboy Antiques
Italian Trumeau Mirror, Comprised of 18th & 19th Century Architectural Elements Sold
Through Maison Maison
Classic Mora clock in white painted finish with stylized floral carving The Highboy Antiques
Freestanding consol table. Circa. 1790 – 1810, selected-antiques.dk
Gustavian style extension table with bronze mountings, and one leaf 19th C. selected-antiques.dk
Gustavian style table with two leaves, late 19th C. selected-antiques.dk
Gustavian style, extension table, with later 2 leaves. Signed 1901. selected-antiques.dk
Pair of Gustavian style demi-lune tables, 19th C. selected-antiques.dk
Swedish table with three drawers, circa 1800 selected-antiques.dk
Rare lovely Gustavian freestanding table, circa 1810 selected-antiques.dk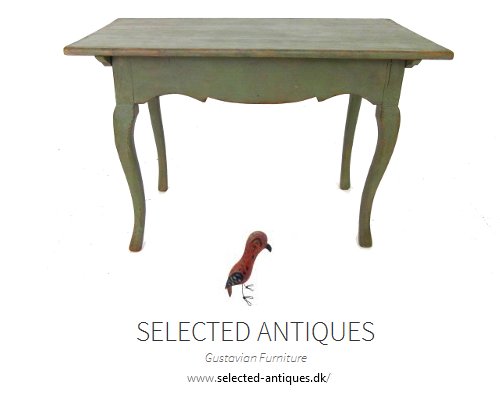 Swedish painted freestanding rococo table, with carved apron, circa 1750. selected-antiques.dk
Very rare richly carved grand father clock, in original paint. Circa 1760- selected-antiques.dk
A set of 8 Swedish Rococo chairs made during the Rococo period 1750-1775. Contemporary upholstery in a soft brown vintage leather.
The Rococo style came to Sweden from France, but trends also came form England. This set of chairs are made on the west coast of Sweden, an area highly influenced by England. English chairs from this time were often made in walnut. Since that type of wood were very rare in Sweden the Swedish version is painted. Starting with the back the chairs have a vase shaped back splat with a top rail decorated with a leaf motif. The cabriole legs have knees with fish scale carvings ending with claw and ball feet – significant for an English chair.This chair is a comfortable choice when choosing an antique dining chair thanks to its tall back and generous seat. We chose to use vintage leather to give the seat a durable and insensitive surface. Read Liza Laserow's blog at lizalaserow.wordpress.com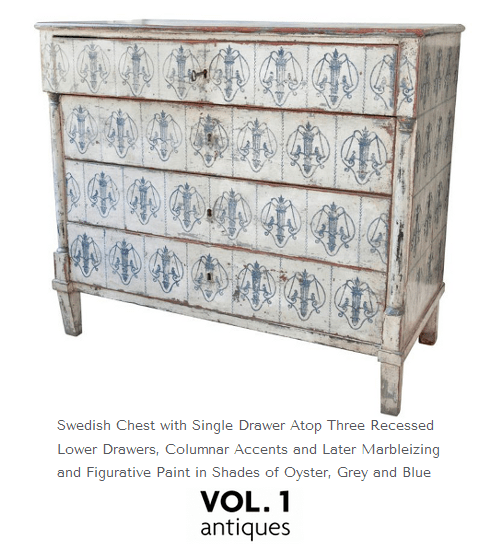 Swedish Chest – VOL. 1 antiques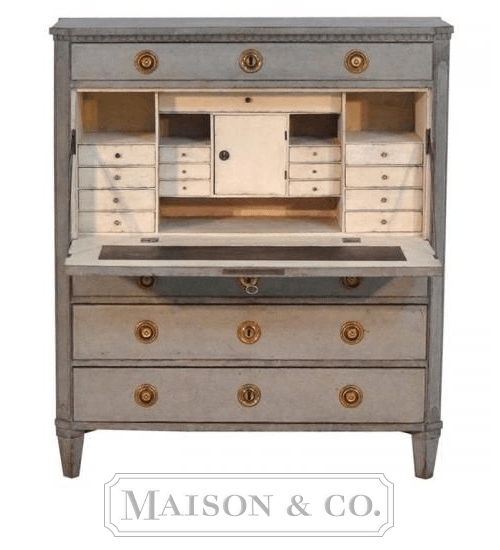 18th Century Swedish Gustavian Secretary from Maison & Co. maisonandco.com
Swedish Antique Displays Seen At The Home Depot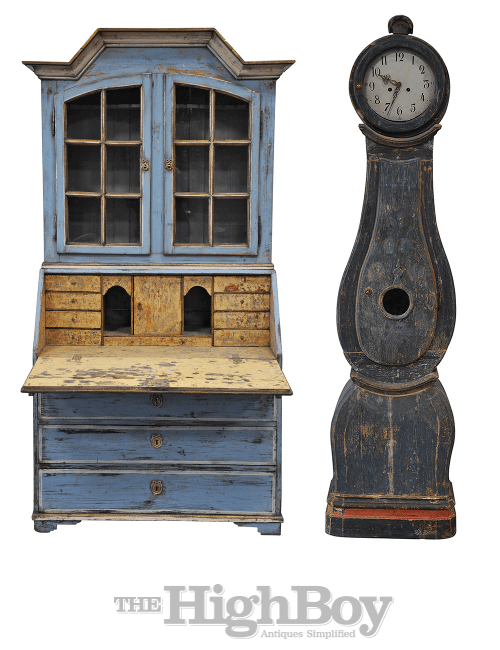 19th Century Swedish Drop-front Secretary, The Highboy
Early 19th Century Swedish Clock, The Highboy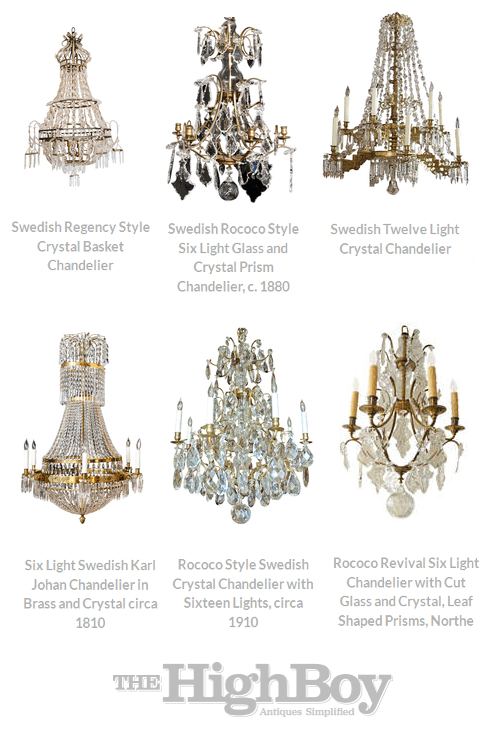 Swedish Chandeliers thehighboy.com
Period Swedish rococo writing desk, circa 1760, with original hardware and secondary blue paint. Three drawers in the bowed front with a smaller drawer just under the drop leaf. The interior features two banks of three drawers on either side, as well as other drawers and compartments. Original bun feet.
Slant Front Writing Desk in Blue Paint– Sweden Circa 1820 Swedish writing desk, circa 1820, with four graduated drawers under the slant-front. The interior features a central cupboard with lozenge trim and two banks of three drawers on either side. Great patina on the secondary blue paint.
Black painted writing desk, Sweden circa 1760 with slant front and two over two
drawers. The interior in blue paint has multiple drawers and cubbies, with two
hidden compartments. Simple bun feet. (Depth when open is 34″.)