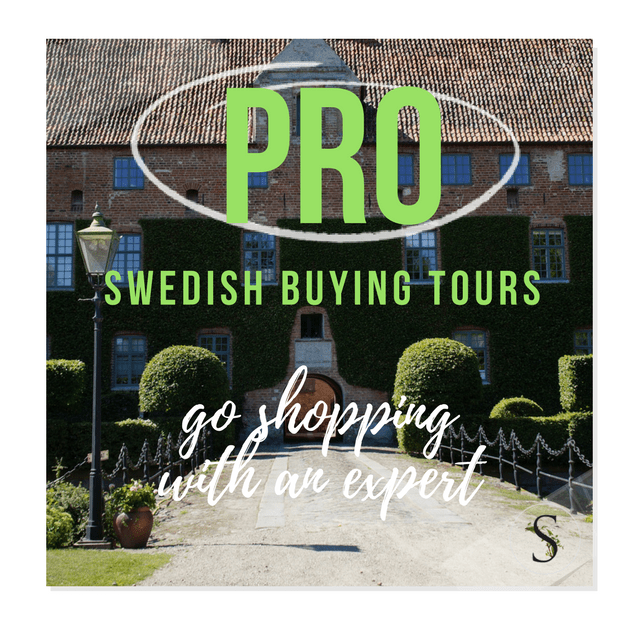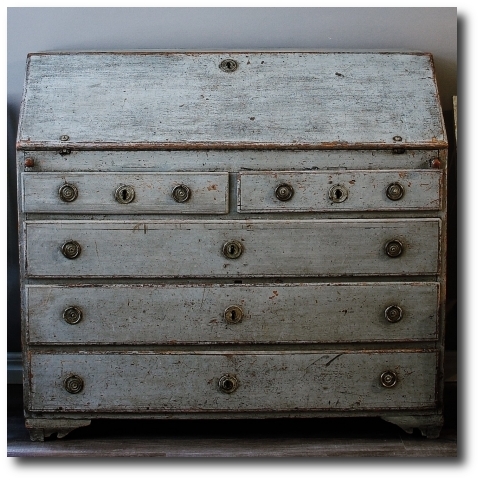 Swedish Period Gustavian Secretaire £3400.00 (approx $5490 / €4013) www.dlarssoninterior.com
Scandinavian 18th and 19th C antiques have been highly sought after by dealers, designers and decorators for quite some time. In today's market, the best of the best are still buying Gustavian and Rococo painted furniture to use as feature pieces in their projects. Because Swedish antiques are known for demanding top dollar, typically only the crème de la crème of dealers have been able to afford stocking them in their stores. When I first discovered the wholesale antique warehouses in Sweden I knew I had discovered the "low door in the wall," and would be able to give our clients access to more Scandinavian inventory and better prices than ever before.
I'm delighted that The Antiques Diva® & Co now officially offers Scandinavian Antique Buying Tours for both the Trade as well as Design-Obsessed Tourists wanting to shop abroad. While we have 10 Antiques Diva® Tour Guides scattered across Europe and England, making us the largest antique buying service in Europe, Daniel Larsson is our first Divo – male Diva Guide – to join this all-woman-run company. Heaven help him! He might just as well be Saint Peter for he holds the keys to the kingdom of antiquing bliss as the Divo Guide on our Sweden Buying Tours.
While on tour with a recent client – discretion prevents me from name dropping this First Dibs Dealer – The Antiques Diva® & Co went "on the road" helping to stock their store. While we can do 1, 2, 3 or 4 day tours, we recommended a full-on 5 day tour with this client to fill their container as their shopping list was extensive.
At our recommendation our client flew into Copenhagen and rather than taking a customary day off to doze before starting his tour, this experienced buyer went head-on into his tour by having us pick him at the airport and start shopping his first day in northern Europe. Rejuvenated by Danish hot chocolate we took our client to some small private dealers before be-bopping to Green Square, the Mecca of Danish Décor Inspiration.
In Copenhagen a visit to Green Square is almost a rite of passage for design aficionados visiting the city. This giant warehouse is very posh in its presentation, not at all the dirty, dusty halls one normally expects when hearing the word "warehouse". Here my dealer client filled his cup up with inspiration, whetted his appetite for the days following and scored some amazing pieces to jump start his Scandinavian buying tour.
Hungry for more, we headed to an antique vendor's house for dinner to finish out our first day. Britt Paulsen is not only my favorite antiques dealer in Denmark but also an amazing cook. While she sells in Britain at The Blanchard Collective, at home in Denmark she opens her private home to Antiques Diva clients for antiquing straight off her own dining room walls – you get access to the inventory wholesale before it hits her retail store in England! Between pheasant pie and mascarpone and bramble for dessert, we sourced wholesale pieces, happily shopping for antiques between courses with a gorgeous glass of French wine in hand. After all, this might be a hard-core trade tour but a client can't live on antiques alone. Wine and local foods are a necessity for Diva clients.
The next day it was off to Sweden, crossing the famous 5 mile long Øresund Bridge, destined for finding more Scandinavian treasures. For the next 4 days we shopped non-stop, crossing our way up from Malmo to Helsingborg before delving deeper into Sweden, passing by the town famous for the original Ikea store, before foraging deeper and deeper into the southern Swedish countryside to sources that can only be defined as "well off the beaten path". One warehouse was housed in a former church, another a former train depot, another in a storage facility – a giant cavern of a warehouse – without heat and yet another in a rambling private mansion. Inside these places we found the mother lode of Scandinavian antiques, sometimes finding ourselves barely able to turn around without knocking into another chair, cabinet or armoire.
While there we learned which chair backs came from which region, easily learning to tell the various origins apart. In one wholesale store specializing in unrestored pieces we were looking for a set of 8 dining room chairs. The vendor let us pillage through a giant pile of Rococo pieces, finding 8 pieces with the same lines but painted in various colors. Then he took his knife and scraped a huge chunk out of the side of the chair, showing us centuries of layers of paint covering the chair. In Sweden, in the days of yore, it was customary to regularly repaint your furniture as part of your spring cleaning. During the month after we left the store, the vendor scratched down the chair by hand, through layers of paint, finding the perfect patina for each of the pieces. This fascinating process is unlike any experience I've had in the antique kingdom before and felt quite unique to shopping in Sweden.
During our time in Sweden with this particular client, we based ourselves in Helsingborg, returning each day to Diva Guide Daniel's hometown where we stayed in a nearby hotel, enjoying the comforts of traveling with a local who toted us around in his personal car.
Before Daniel was a Divo Guide, we first knew him from shopping in his eponymously named wholesale store – D. Larsson Interior & Antikhandel. His shop is one of the best choreographed collections in Sweden, offering 18th & 19th C furniture, and when he approached me about leading our tours locally I knew with his eye for pieces perfect for export that he was the perfect person to lead our tours in Sweden.
When the week-long antique buying tour was finished with this particular trade client, we returned our client to Copenhagen to the airport to catch his international flight back home across the pond. Exhausted from all that shopping, I suspect he slept like a baby on that return flight!
And while all our client had to do was return home and wait for his inventory to arrive, Divo Guide Daniel took care of the rest of the details on the ground in Sweden. While we don't do the shipping ourselves, we liaise our clients with international freight companies, helping our clients
post-tour by filling out the complicated customs paperwork and following up on collections and deliveries, offering full service on our European Antiquing Tours.
For more information on Antiques Diva Scandinavian Tours visit www.antiquesdiva.com or email info@antiquesdiva.com
The Antiques Diva & Co offers tours in 8 countries – France, Belgium, Italy, England, Holland, Germany, Denmark and Sweden. Coming soon Portugal and Switzerland.
By Toma Clark Haines, aka The Antiques Diva®
www.antiquesdiva.com
www.antiquesdiva.com
www.antiquesdiva.com
www.antiquesdiva.com