Sasha Waddell is known for her Swedish–inspired interiors for almost two decades. 20 years ago, Waddell was the leading pioneer of the Scandinavian look which is still a favorite interor design style today. The beauty of the white-on-white palette, remains to be one of the most understated, simple, natural and elegant looks in interior design. With an emphasis on painted floorboards, gray and white tones, painted furniture, elegant stenciling, and interiors bathed in pastels; Swedish decorating is here to stay.
Her work has been featured in most interior magazines and Sasha has appeared frequently on television and radio. She has also lectured on her interior design style and taught at various art schools, King's College, Cambridge and at the Victoria & Albert Museum on Carl Larsson. Sasha was also listed in the top 100 Interior Designers by House & Garden magazine, as well as being chosen by House & Garden as one of the most influential designers in the last decade.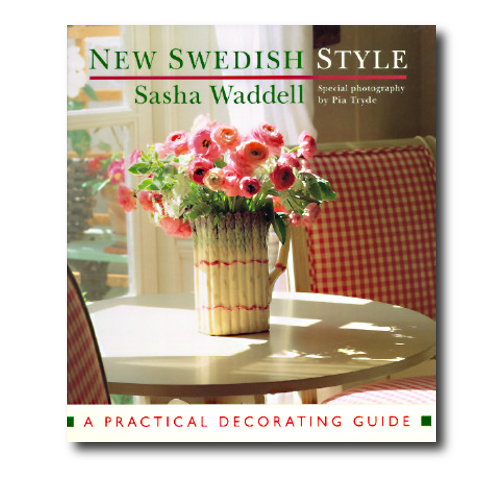 New Swedish Style By Sasha Waddell
Rewiew of Her Book "New Swedish Style:
Everett E. Day – Here are some practical ideas and projects for creating the Swedish Look. Some such as the instructions for creating a "Roller Blind with Lace Trim", are
useful, some, such as "The Garden Gate Radiator Cover", are of dubious utility
and inspiration. Authentic this book is not, but if you are interested in the
Swedish style and wish to transform a room or apartment into a semblance of the
Gustavian look on a tight budget, it may be of use to you.
Review of Her Book "New Swedish Style:
An interior designer working in London, Waddell presents the uncluttered country
style that is now being championed in such books as Perfect Country Rooms,
reviewed above. With the advice to "keep it light and simple, and always pare
down the unnecessary," she describes Swedish interior design style, with a
special focus on Swedish arts and crafts designer Carl Larsson and his home in
Sundborn, Sweden. Most of this well-illustrated book consists of how-to projects
such as creating accents with wood, constructing curtains, and antiquing a table
with clear, easy-to-follow instructions. Similar to Rosalind Burdett's Essential
Swedish Style (LJ 5/15/96), which contains fewer illustrations and covers a
broader range of decorating styles, Waddell's book is recommended for interior
design collections that cater to a do-it-yourself clientele.Copyright 1997 Reed Business Information, Inc.