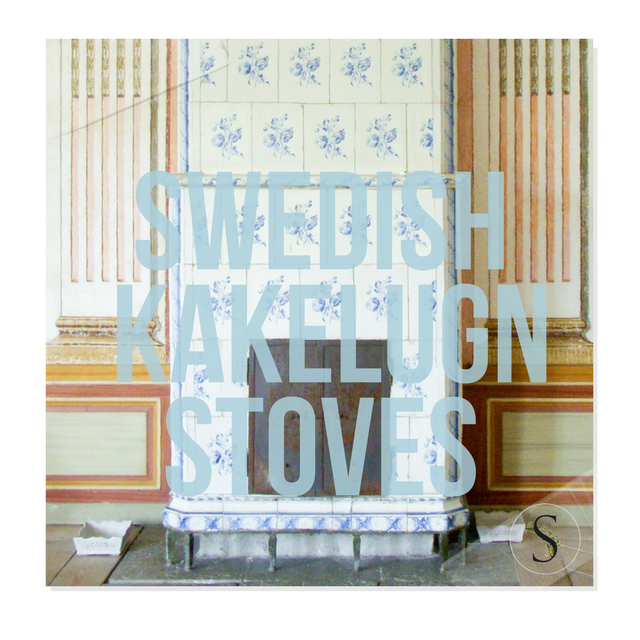 Author of Lily Oake Blog, Paula Arndt has a taste for the Swedish styles. Her most current project is updating an armoire into a faux Swedish tiled stove. She needed a front entry "closet" for her c.1950 Cape Cod "Elinor Cottage" and found the perfect piece on Craiglist.
Unsure of what to do with the armoire, she tossed around the idea of hand painting swags, and wallpapering the armoire. She turned to her Swedish decorating books and the classic Swedish tile stoves caught her attention. The idea was perfect!
Paula's Process:
Instead of hand painting every tile, she decided to paint the graphic once, and then scan the image into Photoshop, and apply the paper graphic to the armoire. Here is how she did it:
The process can seem a little complicated. To understand fully how Paula transfered her images, watch this video from Jackson's Art Supplies, which shows how Golden Fluid Matte Medium works.
1. Due to lack of time, she decided to design a pattern and have it printed as wallpaper through Spoonflower, instead of hand painting every tile. The size Spoonflower printed ended up not matching up to the measurements of the armoire, so she decided to design the faux tiles in Photoshop and then use an old method of transferring the image to the painted surface with Golden Fluid Matte Medium and her laser printer.
Her method must be used a laser copy print paper. She uses 28# from Hammermil. The glue used is Golden's acrylic transfer medium.
Simply copy off the image you want to transfer. The image needs to be a mirror image, as it will transfer backwards from what is on the print. Photoshop or GIMP, allows you to change the picture so it will present a mirror image.
Next, coat the surface of where the graphic is to be put with the glue and immediately apply. Place image face down onto the glue. Smooth down thoroughly. A craft roller will come in handy for this project, and can be purchased on Amazon for around $11.
It is important to coat the surface well or the image wont transfer. Once the image is placed into the glue, you cannot reposition the graphic. You must be very accurate in how and where you place it the first time.
Paula suggests letting the image dry over night. In the morning you can take a cup of water and your fingers to wet the surface and rub away the paper – the image will reveal itself on to the painted surface. Jackson's Art Supplies suggests you can lift the graphic off of the surface after three minutes. Either way, the image is then embedded into the new surface.
Paula has a love for the Swedish styles, so do follow her website. She will be revealing the new tiled armoire when it is finished.
Here is part one of her armoire makeover-"Transforming An Armoire into a Faux Swedish Tiled Stove"
-Lily Oak- Swedish Stove Mania
–Paula's Facebook Account
Other Links:
-Join Our Swedish French Decorating Group On Facebook
-Contemporary French Blue & White Tiled Stove with Cast Iron Hearth.
–Master Henriks– Blue and White Swedish Stove
Faux Kakelugn Cabinet From henhurst.blogspot.com
Swedish Stove- Featured On Home Design With Kevin Sharkey
From Book "The Swedish Country House"
Swedish Tile Stove –http://www.alltomkakelugnar.se/
These relics include the Rococo stove, and furniture by Karl Johan-From Book "The Swedish Country House"
This enchanting enfilade in a Swedish Home-From Book "The Swedish Country House"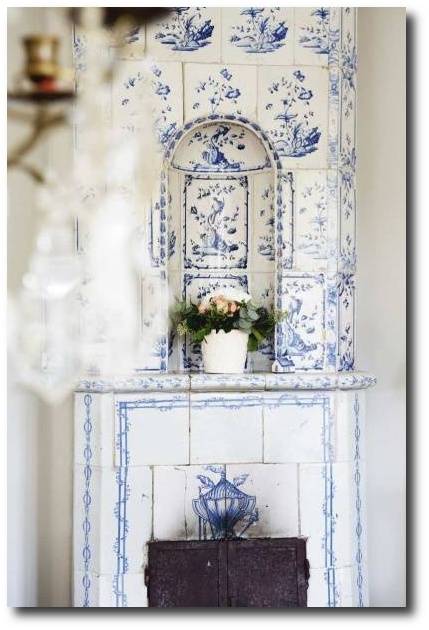 Blue and White Swedish Tiled Stove- completelytotallymadly.blogspot.com
This home was featured in Swedish Magazine Skona Hem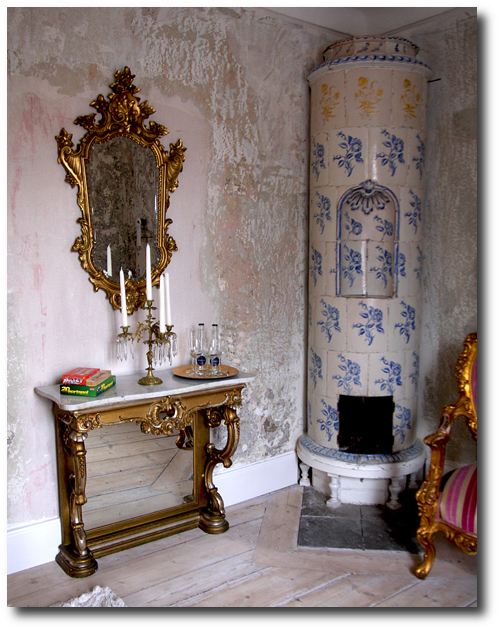 Beautiful tile stove used in the interior design of a Houston home. Interior design: katrincargill.com
Lars Sjobergs house featured in Country Style by Judith Miller
Tile stove in Rundale Palace, the largest & most important baroque
and rococo period architecture & art monument in Latvia.visualtravelguide.com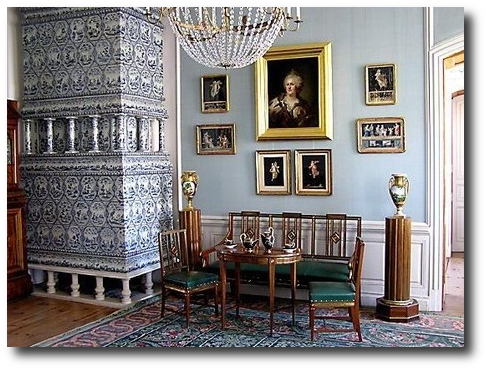 Beautiful tile oven in the Rundale's Palace. No two tiles are alike.
(Pilsrundale, Bauskas region, the Middle Latvia)
Lars Bolander's Book Scandinavian Design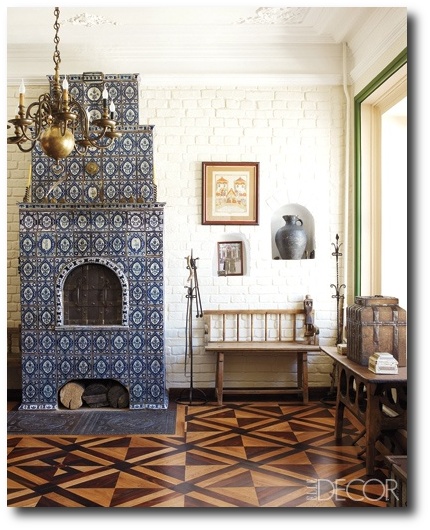 Russian tile stove- elledecor.com
Tiled Fireplace- interiorstyledesign.tumblr.com
Swedish Tile Stove- houseofturquoise.com
Better Home and Gardens Magazine
Katrin Cargill's Bedtime Stories
Gigi Capone's Ironing Board Wallpaper-riced by the 5 yard roll and sold by the 15 yard triple roll. One roll will cover 33.75 square feet or 3.14 square meters.
Ilse Crawford's Ett Hem Hotel in Stockholm
Outstanding Blue and White Tiled Stairway