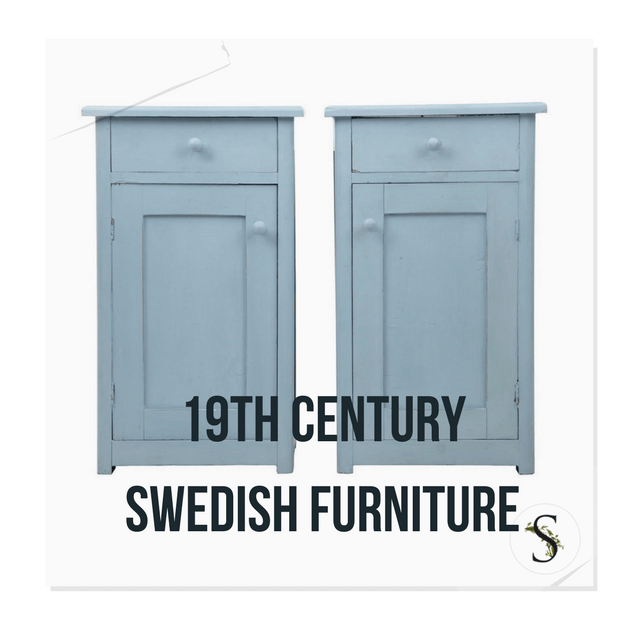 19th Century Swedish Painted Cabinets – Find It on Ebay
Vintage Mid-Century Daybed by Karl-Erik Ekselius for Dux
Guest Post Jason Phillips
History can teach us many things; it is full of brave deeds and constantly changing cultural views. These events have helped to shape the world as it is today. Even if
many of the socially accepted standards of today are vastly different from what was historically acceptable, you will find that many current design techniques date from a much older period in time.
Swedish furniture is recognized around the world as being stylish with minimal lines, it does not scream out 'look at me', but it is recognizable. This approach to furniture design reflects the designs of Scandinavia in general and has resulted in many remarkable pieces and spaces; all reflecting functionality and nature.
19th Century
This is commonly recognized as the beginning of the modernist movement. Until this time art was focused on being realistic and was a fairly restrictive affair. At the end of the 19th century the social theories of John Ruskin inspired many artists to abandon this way of thinking. Instead the idea was to focus on nature and traditional ways of creating items. It became important to see nature in every work of art or furnishing.
20th Century
The first new art movement in the 20th century is known as 'Jugendstil', or 'art nouveau'. This was the movement away from the rigid concepts of the 19th century
and an embracement of the decorative style of art which is still seen today. It became part of the social status; people wanted to be seen to be different.
It is this period that saw many furniture makers turn to older designs, which emphasized nature and free flowing lines. The First World War encouraged these processes as it was a way to break out from a traditional mould and rebel against the established order. It was this return to clean lines and nature which became associated with Swedish furniture and ultimately became known as 'the Scandinavian way of living.'
The middle of the 20th century saw many exhibitions around the world which helped to spread the word concerning the Swedish way of designing furniture. Swedish
design has stayed true to its roots; the need to be functional was exceptionally important in such an isolated part of the world, just as was the need to use natural,
local resources. The addition of beautiful clean lines came about as furniture became less about functionality and more concerned with attracting and distributing the
limited light available.
Recognizing Swedish Designs
One hundred years after the movement first started it is now easy to recognize Swedish furniture and there is at least one piece in the majority of houses around the
world. Typical designs follow these patterns:
Clean lines. Any design can be kept simplistic; functional and yet still aesthetically pleasing. This creates an elegant feel to any piece of furniture
without sacrificing comfort.
Light. The long dark winters and limited light encouraged the use of white to reflect the limited light available. Typical designs use minimal window
coverings, cushions with designer fabric, plenty of mirrors to reflect the light and simple lines to amplify the effect.
Color. White is the predominate theme in many Swedish designs; this is again in reference to the limited light available during the long winters in Sweden.White furnishings make any room feel larger and brighter; color can still be added through the accessories.
Wood. Much of the Swedish furniture is still made from wood. Ash, Beech and Pine are the preferred choices as these are native to Sweden. This creates a natural, warm look to any home; often complemented by a few potted plants to bring nature inside.
Textiles. In keeping with the principles of simplicity there are not usually many textiles used in the traditional Swedish designs. A few well placed soft furnishings can add a personal effect without deviating from the core principles of function, nature and light.
Transform your home into a royal Swedish private space. Include sleek patterns with white accents and lavish accessories, and give rooms an individual, alluring vibe.
Don't forget about the clean lines – they'll balance your home perfectly, and they'll make it appear more innovative than ever before.
Swedish Cabinet
The most amazing Swedish 1950s cabinet designed by Josef Frank. Mahogany and interior of birch. Adjustable shelves. Decorated with illustrations from the book "Nordens Flora" by C. A. M. Lindman. Produced by Svensk Tenn. Vintage 1950s Josef Frank "Nordens Flora" Cabinet
Swedish Grace Daybed or Sofa by Eric Chambert, circa 1930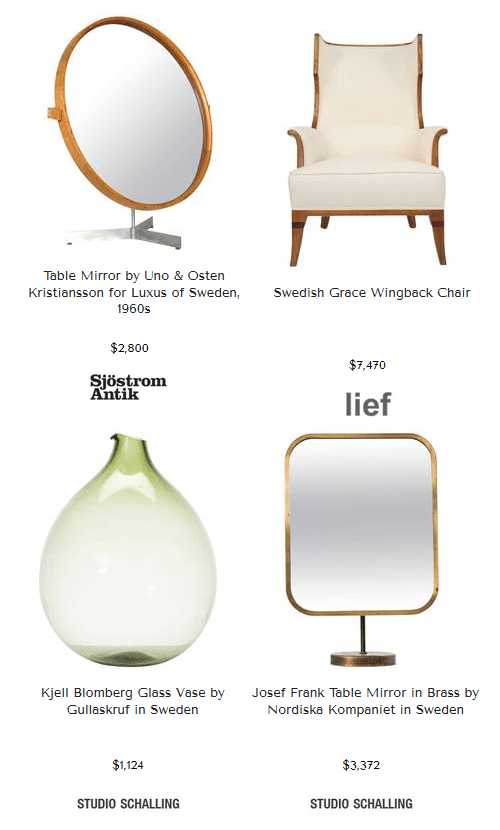 Table Mirror by Uno & Östen Kristiansson for Luxus of Sweden, 1960s
Kjell Blomberg Glass Vase by Gullaskruf in Sweden
Josef Frank Table Mirror in Brass by Nordiska Kompaniet in Sweden