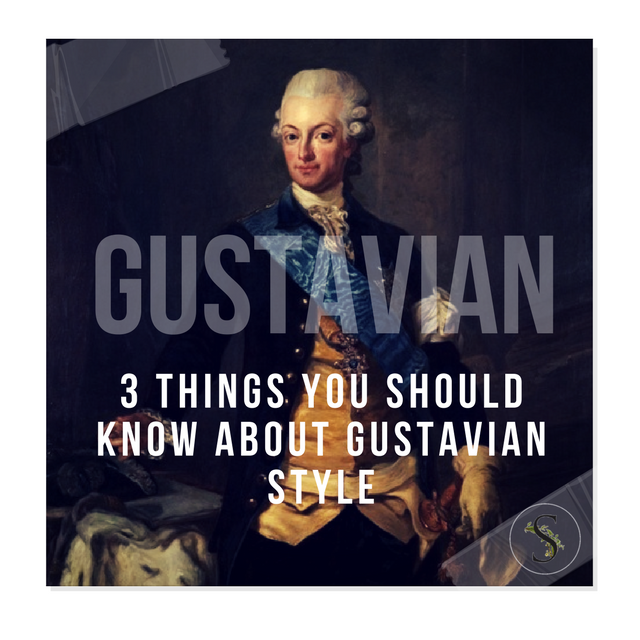 3 Things You Should Know About Gustavian Style
The most famous form of vintage Swedish furniture is that of the Gustavian style. It was named after Gustav III, who was the King of Sweden from 1771 until he was assassinated in 1792. The style of Gustavian furniture began a decade before his reign but reached its peak whilst Gustav was King. He has been given credit for expanding the Gustavian style and spreading it throughout his country, eager to share his knowledge of foreign styles.
1. Influences
During the 17th and 18th centuries, styles were taken from various European countries including France, England and Italy, by the Swedish aristocracy. It is claimed that when Gustav returned from France to become King, that he brought with him certain French influences that affected his thinking. The King's trips to France and Italy opened his eyes to different styles and on his return; he was keen to spread his ideas throughout the country.
He was particularly fond of the furniture shapes in the style of Louis XV and Louis XVI, whilst studying in France. He was also influenced by his trips to the excavated site of Pompeii and Herculaneum. As a young man experiencing the world, he absorbed several styles and on his return to Sweden, he was eager to show what he had learnt by furnishing the royal properties.
2. Style
The style of Gustavian antique furniture has often been described as simple yet elegant. In comparison to the French Louis XVI style of furniture, it is less exuberant but can be claimed to be largely influenced by the French style. Swedish furniture designers in the past have added their own mixture of ideas along with what was imported from abroad.
The elegant lines are a strong feature with Gustavian vintage furniture and experts say that they became more geometric under the guidance of Gustavian designers. The colours used were generally soft greys and creams with an overall emphasis placed on symmetry and balance. There was also a focus of a minimalist nature; the items produced had little exquisite accessories and tall windows had minimal coverings.
3. Modern Day Appreciation
Nowadays, Gustavian furniture is very highly sought after with people paying hundreds or thousands of dollars for an elegant chair or bench. Chests of drawers designed by Gottlieb Iwerson and Georg Haupt demand significant prices at auctions when available. It seems as though 18th century Gustavian antique furniture is very much in demand with enthusiasts willing to pay incredible prices for a piece of history.
As the world becomes more and more modernised, antique furniture will simply become more popular. It is a natural reaction to the mass production of similar styles with people yearning for something more unique. Many turn to the past for inspiration with Gustavian furniture emerging as a popular choice for those looking for a contemporary and elegant style. There are many lessons to be learnt from the past and style is only one of them.
William Robinson is an antique enthusiast and spends much of his time researching historical periods that interest him. He currently works for Loveday Antiques.
Links:
Antique Furniture At Loveday Antiques
Loveday Antiques London
Alexander has two shops in London, The Furniture Caves in Kings Road, Chelsea and The Furniture Vault in Camden Passage, Islington. Loveday Antiques provides a complete end to end service consisting of an advisory service through to arranging shipping and transport throughout the world. Loveday Antiques makes the pleasure of buying antiques an easy and enjoyable process taking the hard work away from knowing what to buy.
Loveday Antiques
1st Floor Furniture Caves
533 Kings Road
Chelsea
London
SW10 OTZ
Tel: 0207 352 1100
Loveday Antiques
Furniture Vault
50 Camden Passage
Islington
London
N1 8EA
Tel: 0207 352 1100