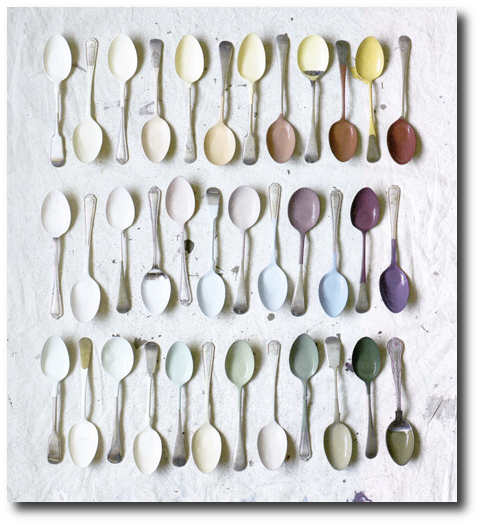 These beautiful paints are the result of a recent collaboration between Fired Earth and the National Trust.
Founded in 1983 , Fired Earth began as a Terracotta supplier, and later expanded to offer bathroom and kitchen cabinetry, and hardware. Although Fired Earth has a wide selection of house products, they are best known for their beautiful paints.
With their 30th Anniversary, they launched archive colours from their extensive library of paint pigments and featured six new colours named Delias Secret, Mad King George, Jazz Cafe, Hansel and Gretel, Eton Mess and Terracotta Warrior.
Fired Earth has also worked in collaboration with Kevin McCloud, a well known British designer and author and leading authority on colour. Together, they created color formulas from carefully selected pigments, minerals and resins, chosen for their qualities of opacity, density, light fastness and durability. The paint was developed with minimal and low VOC's. These water-based paints are available in 120 colours in matte and eggshell finishes.
Kevin McCloud is best known in the UK as the color go to guy with a knowledge on every design style from historical to modern. The Telegraph had an interesting article titled "Are Posh Paints Really Worth It?" they ask the question – Why spend the money, when you can get your local paint store to match the shade, and spend less? Here are a few interesting points from the Telegraph interview…..
"McCloud, a self-confessed paint "anorak", is unequivocal in his defence of posh paints. "Having used many, many different brands over the years, it is very clear to me that the more you pay, the better the paint," he says. "Cheap paint has more water in it, less pigment and less binder." Thus, as a rule, the more expensive paint covers better and lasts longer. It is also more environment-friendly, being lower in "Volatile Organic Compounds".
"There is a place for cheap paint, and McCloud concedes he has painted his own kitchen in "bog ordinary trade white emulsion", but the cheaper paints are made with synthetic pigments. And pigment, he explains, is what gives paint its quality and depth of colour. – "Traditional pigments tend to be made of rocks and minerals, earth and clay," he says. "And consequently they are impure, and rather complex. The more complex the pigmentation, the more interesting the colour. It gives redolence and depth, and you get undertones – colours which subtly change in different lights."
"One can say that this was a colour used in this particular house, on a certain day in, say, 1818, but the colour has probably faded, or gone darker, or yellowed. It's very difficult to ascribe a particular nuance
of colour to a room for a particular date."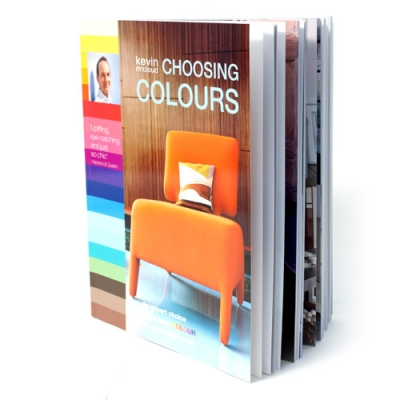 The book 'Choosing Colours' by Kevin McCloud- Credit Nicola Holden Designs
Kevin McCloud's Books
Choosing Colors: An Expert Choice of the Best Colors to Use in Your Home by Kevin McCloud– Amazon
In this stunningly produced guide, internationally renowned interior designer Kevin McCloud puts together over 1,000 color chips arranged in over 80 palettes. Each palette—which includes anywhere from 6 to 16
color swatches—forms a blueprint for a unique decorative scheme. A palette based on old Chinese silk, for example, is seen reinterpreted in a contemporary New York apartment. Each palette features gorgeous photographs that bring the color scheme to life, along with invaluable advice and tips for using the colors to transform a room. This book provides manufacturers' paint references and numbers, lists of suppliers, and much more.
Kevin McClouds Complete Book of Paint and Decorative Techniques by Kevin Mccloud- Amazon
From the earthy hues of Italian farmhouses to the cool elegance of Scandinavian interiors, color has always played a crucial role in decorative schemes. In the first section of the book a unique cut-out color selector illustrates the eight essential earth colors on the decorator's palette and shows how to create and combine them successfully by clever intermixing of pigments. These essential colors, together with five secondary colors, are then used in the techniques throughout the book, so that all the stunning decorative effects can be easily recreated.
The techniques section that follows contains instructions and step-by-step photographs for more than 35 glorious decorative effects, plus countless variations. Each technique contains a list of essential ingredients, step-by-step photographs and a close-up of the finished surface or object.
Decorative Style: The Most Original and Comprehensive Sourcebook of Styles, Treatments, Techniques by Kevin Mccloud- Amazon
Using innovative, easy-to-master techniques and surprisingly inexpensive materials, Kevin McCloud — a brilliant young set designer turned interior decorator — shows you everything you need to know to design and create your own stunning adaptations of today's most popular decorating styles.
There are forty styles in all — from Santa Fe, Shaker, Miami Deco, and Caribbean to Bauhaus, Biedermeier, Mackintosh, and French Country (to name just a few) — each designed and created especially by the author and stunningly photographed, with literally hundreds of styling options and color variations to choose from.
The decorative effects and other components of each style are analyzed, rephotographed with a full range of imaginative alternatives, and cross-referenced to all the techniques, tools, and materials needed to create each unique effect.
Kevin Mccloud's Colour Now by Kevin McCloud- Amazon
Love blue but don't know which shade to choose? In this dazzling new book, Grand Designs presenter Kevin McCloud has taken over 120 particular colours into 70 tried-and-tested palettes that are guaranteed to transform your home. A short introduction describes the history of colour and its replication, colour theory, how to combine colours into a palette and advice on how to use the book. Thereafter the bulk of the book is devoted to the colour palettes themselves – each made up of a collection of between 3 and 8 colour swatches and featuring an inspirational photograph demonstrating its possible use. Every palette is also introduced by a short piece of text describing its influences, potential and variety.
Choosing Colors: An Expert Choice Of The Best Colors To Use In Your Home by Kevin McCloud– Amazon
This decorating guide explains techniques ranging from craquelure to marbling, colourwashing to liming wood, and provides information on tools and materials. The step-by-step photographs show exactly what to do, while the life-size details show the effect being aimed for.
Kevin McCloud's Complete Decorator by Kevin McCloud- Amazon
This lovely 272 page book is filled with dozens of color photos showing many different decorating styles. It includes a unique cut-out graduated colour section, step-by-step instructions for a vast range of paint
techniques, easy colour mixing, working with different surfaces and objects and so much more.
Techniques of Decorating (Dk Living) by Kevin McCloud– Amazon
Kevin McCloud is a leading influence in interior design. His unique and refreshing approach stems from a background in art history and the theatre. Using a repertoire of techniques ranging from the traditional to the self-invented, he offers an unsurpassed array of rich effects and a sure guide to effective styling. Each of the more than 30 creative effects – including gilding, verdigris, clair bois, stained glass and woodgrain – is explained in detail, while close-up, step-by-step photographs show exactly how to achieve it. A comprehensive section at the back of the book provides details of tools and materials needed and lists the addresses of suppliers.
'Blue-ish greys are military and came into their own as World War I battleship camouflage. The really interesting greys, however, are those made with purple. They have a warm, brownish cast that flatters flesh tones and brings natural woodsy materials to life. They're not popular, but they should be.'
'Often the most stimulating colour combinations come from strong cultural influences – from the environment, from food or from nature. Here's a pretty worldly palette: one of stone and sea and earth and sky.'
Principles Of Home by Kevin McCloud– Amazon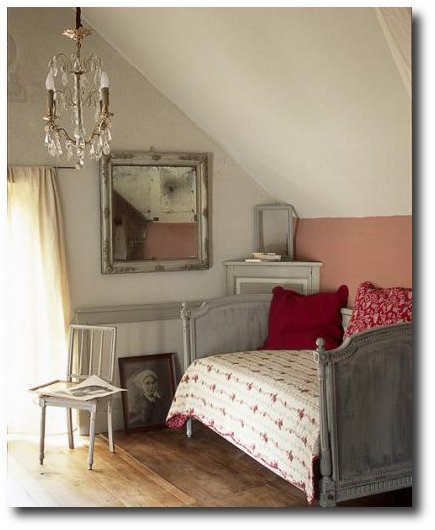 'On my list marked 'fastidious obsessions', getting the right fine old French grey comes pretty high on the list. If you were a colour expert, you could take some chalk-white casein distemper, add raw umber and a little raw siena and you'd be there. Note I didn't mention black there – when you mix black and white the resulting colour is so cold you might as well call it blue. No, for a good grey, go greenish and go with earth colours. Fine complex colours are the tinctorial equivalent of a fine old French wine.'
"The hardest colours to get right are the four optical primaries: red, blue, yellow and green. The colours that will make your life a positive misery are tints of those colours. Most modern paints are coloured with a limited range of powerful synthetic dyes. The most interesting colours are those made with muddy, traditional earth pigments or complex arrangements of colourants."
"The best pinks – those that change colour under different lighting conditions – are those on the cusp of red and purple, made with red oxide pigments. The best yellows or creams – those that can withstand bluish northern light and never look green – are made with yellow ochre."