Period Swedish rococo writing desk, circa 1760, period Swedish rococo writing desk, circa 1760, with original hardware and secondary blue paint. Three drawers in the bowed front with a smaller drawer just under the drop leaf. The interior features two banks of three drawers on either side, as well as other drawers and compartments.
Slant top desks are basically secretary desks without the bookcase which sits on top. The door that also doubles as a work top is also meant to hide documents and various items inside the desk. Most desks contain drawers and wood organizers for letters, and accessories. The items must be removed from the work surface of the slant-top desk before closing up. These desks are perfect for bedrooms as they have drawers for clothing which make it a great accent piece for your bedroom. In the 18th century a desk was a practical piece of furniture for writing and reading and journals. Today a desk is as practical as it was back in the 17th and 18th centuries. Ideally a desk that is used for hours on end should have ample foot space. Slat desks such as these are great for accent pieces in the dining room, bedroom, entry where you may want to sit down and write, store bills, and use the phone. They are extremely popular for small apartments, and bedrooms where furniture needs to be useful for multiple purposes.
To Beautiful Not To Mention:
– Swedish slant-front secretary, circa 1800, with clock. The upper section has shelves behind raised panel doors on either side of the clock
casing and architectural detail on the pediment. The lower section has four banks of three drawers on the writing surface and, below that, four
half-width drawers on either side of a shallow cabinet.
– Two-part secretary with library, Sweden circa 1800. The upper section has three shelves and two box drawers behind raised panel doors. The lower section has a slant front over four half-width and two full-width drawers. The fitted interior features small drawers and cubbies with a central locking cabinet and two "secret" compartments.
-A Swedish slant top Desk, Gustavian Period,ca. 1790. Traces of original paint, ribbed detail on the top and drawers. Interior with old red paint.
–Tall late 18th century Swedish bureau bookcase with gray painted finish has top section with glass front doors, curvy crest and internal
shelves. Drop down desk front has pull out supports below and four drawers with brass hardware
–George III English Secretary Painted in Chinese Style. The English were fascinated with Chinese style and culture, so it was fashionable to paint furniture (and decorate interiors) in a Chinese motif. This secretary is a perfect example of that fashion.
-A Late Baroque Period slant top desk in grey refreshed paint. Glass doors on upper cabinet. Sweden, ca 1760.
-Fine Danish painted and parcel gilt Baroque Secretary. The upper section with an arched top and a central door surrounded by small drawers. The base with a slant front and graduated drawers all supported with Ball feet.
–George III Black-Painted Secretary Chest of Drawers -The rectangular top with slanted fall front opening to reveal a red-painted interior of fitted drawers and folio holes flanking a central convex cupboard over a rectangular case fitted with a long drawer, two short drawers and two graduated long drawers ending on bracket feet.
Swedish rococo writing desk, circa 1780, with bow front and three drawers below the slanted writing surface. The interior has four banks of drawers and a central compartment. Early brass hardware and secondary blue and white paint.
A very nice Swedish Antique Gustavian Slant Desk,with lot`s of original layers in original color.The inside of the upper part is refreshed in grayish black color and some of the drawers are restored inside.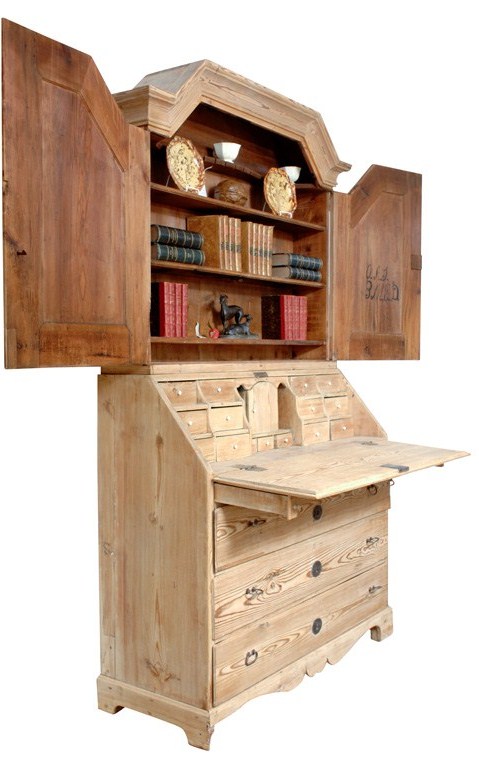 19th Century Pine Gustavian Secretaire with drop front
A simple lovely Swedish secretary in two parts. With a handsome crown molding pediment and the base with a fall front desk with multiple
drawers.
Scandinavian Swedish Painted Secretaire Circa 1800 An early painted secretaire in two parts with a beautiful top and raised doors. The lower chest section with four drawers.
A light painted Swedish secretary made in oak.
Rococo Secretary In A Pale Green Patina
Danish elm secretaire, c. 1785, of the Gustavian period in the neoclassic style with appropriate caved motfs, three carved and fluted
drawers over a fall front desk fitted with interior drawers.
A Fantastic Swedish Painted Rococo Secretaire with Many Drawers Including a Concealed Compartment with Original Ornate Locks and Handles circa 1760