Laserow Antiques has some of the most beautiful antique Swedish furniture around.  Here we see a Swedish signed Gustvian Wall Clock, from the period between 1790-1810.   Signed on face is the name of Wihl Pauli,  Stockholm.  Second, we see a  Gustavian Wall Clock in Gilt wood made in Sweden during the late Gustavian period between 1790-1810.  This lovely gilt wood wall clock is decorated with all the typical Gustavian symbolics such as columns, pearl beading, urns shapes, swags etc. The clock was made in Stockholm by Welter.
Here are our favorites
– A corner sofa made in Sweden during the Gustavian period 1790-1810. Custom made for a country house. Corner flowers and carved railings.- here
-A gorgeous black painted secretary made during the baroque period 1650-1750 in Sweden. Cabinet top with shelving and wiring department with interior of small drawers and compartments. Base with 3 drawers.- here
-A beautiful Gustavian armchair made 1790-1810 in Sweden with traditional carvings for the period such as: Braided carvings along the frieze, armrests and back. Legs are rounded and channeled.-here
-A lovely armchair from the Rococo period with amazing carvings and curved shapes. Frieze and back splat is decorated with carved flowers and leaves. The scrolled legs and armrests are typical for the Rococo period.-here
-large Swedish desk made during the Gustavian period ca 1775-1790. Repainted in soft distressed black . 2 long working drawers. Original hardware.- here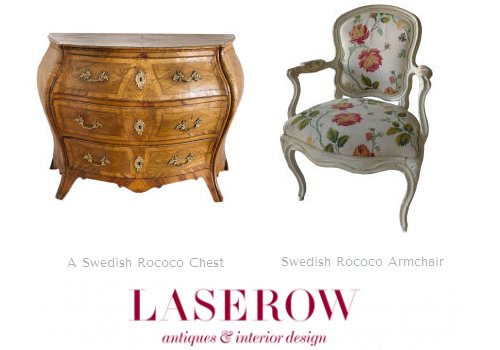 A pair of late Gustavian chairs with a generous seat and a curved splat inspired by antique roman "sulla" models. Leaf boarder on the frieze and back. The fleurons on the back harmonize with those on the corners above the legs. Chair was made in Stockholm.
A white painted cabinet from Sweden with glass doors and a cabinet base.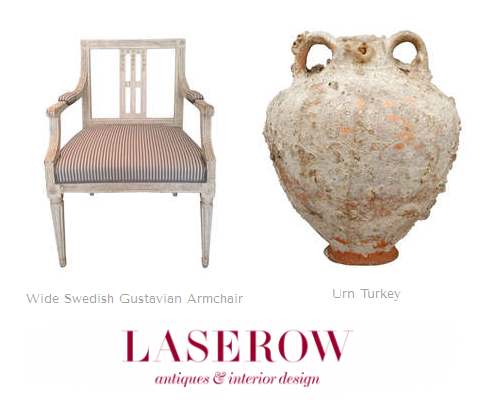 A pair of barrel back chairs in ALL original. Stripped to their original paint. Curved backs with leaf tip carvings symmetrical to the carvings on the frieze. Turned foot cross connecting the rounded legs with leaf decor. Circular corner decorations.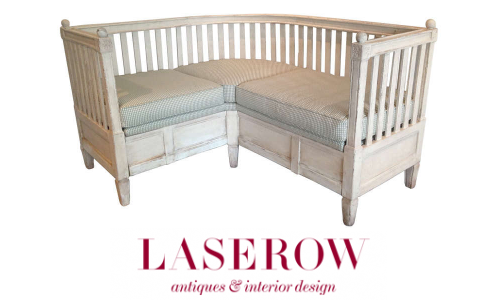 Pair of Swedish Gustavian stools in a large size. Curved frieze with leaf tip carvings and fluted legs decorated with channels, attached to the frieze with a rounded corner flower. The curved and rounded shapes shows that the stools were made during the early part of the Gustavian period.Signature HIGK on underside of frieze.
A Swedish tin stand used here for walking sticks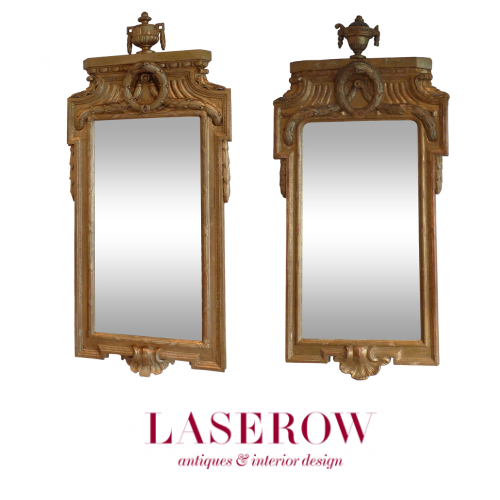 Giltwood mirror made in the transition between the high Gustavian and Late Gustavian period, 1780. The mirror is not signed but attributed to the greatest mirror maker in Sweden during the Gustavian Period (1751-1799). A very similar mirror was made by Niklas Sundström.
A gilt wood mirror made during the transition period between Rococo and the Gustavian period 1780. Signed by Niklas Sundström who was a mirror maker in Stockholm 1754-1781. The mirror has a rectangular frame characteristic for the Gustavian period with carved decorations such as the rocaille the symbol for the Rococo period.
An extra ordinary set of 8 rarely seen Rococo dining Chairs. Frame and decorations are all original. Curved legs carved with rocailles and acanthus leaves standing on a claw-and-ball feet. Back splat with baluster shape.
A pair of late Gustavian side tables with tapered legs. base painted in a dark blue and top in a matt black.
Empire Oil Painting of Young Boy
A French gilt wood mirror from the Empire period
Swedish Gustavian Stools in gilt wood. Frieze decorated with double pearl beading. Rounded corners with flowers. Leaf covered fluted legs ending with channels. All original.