This Georgian located in Bromley, London home decorated with Swedish furniture for a classic Gustavian styled home right out of the 18th century. Of all the photos, two really struck me as really spectacular.
In the picture above, a genuine Swedish antique cabinet is painted and really sets the theme for this room as being distinctively Gustavian.
This lovely bed is upholstered in a mauve satin; a perfect color choice for a Swedish look. The frame of the bed is painted white and finished with gold detailing around the edges of the frame.  Adding the extra work into your furniture can make all the difference in your home.  Painting your furniture a shade of gray or an off white and adding extra gilding on the details can add the extravagance looks of 17th and 18th century Swedish furniture.
Painting the details in gold can be very tedious to say the least, but as you can see it makes all the difference to creating looks very close to regal Gustavian furniture.
The walls in this room are likely painted white, but as you can see from shade of the photo, a shade of pink, pink gray tone, or muted coral would look really spectacular to pair with an upholstered Louis XV bed in mauve.
This room shows how sweet a child's bedroom can be decorated in a classic Gustavian look.  In this room, the natural wood really steals the spotlight.  overall look is very distressed, rustic and antique looking.  The headboard and nightstand is distinctively Gustavian.  The painted box under the bed has all the right color tones, and the upscale chandelier adds elegance to a child's room.
Buying a true antique is quite rewarding. Although if you want this but don't want to splurge on true antiques, here are a few furniture suggestions that give the Swedish look while at the same time stretching your dollar……
Winsome Wood End Table Night Stand with Door $55
2 Nightstands That Could Be Painted A Off Gray– Wood Two Drawer and Shelf Side Table – Set of 2 For $80.  Consider exchanging out the hardware for something round.
This lovely Reclaimed Four Drawer Side Table by CG Sparks is really lovely, and sells for about $250.
Furniture Creations is one of the best places to turn for inexpensive children's bedroom furniture. This side table has beautiful lines for $66 dollars and comes in black and white.
1. Antiqued Distress White Finish Cabinet Table Nightstand $66
2.Angellina White Finish Solid Wood Night Stand $149
3. Distressed White Wood Perfect Bathroom Corner Cabinet $15.
4.Handmade Rosewood Nightstand – from two color schemes: $194 White with a brown top, or brown with a brown top Rustic in feel and sturdy in construction
5.Winsome Wood Night Stand/ Accent Table with Drawer and cabinet for storage $49
6.Antique Walnut Regalia Table Collection $81.
This antique horse is one of the prettiest patterns I have seen, as if you look closely at the pattern, it extends all over the horse's body compared to other antiques where the pattern usually is positioned around the center, and the legs are left white.
Many antique horses have this classic circular painted pattern that adds depth and texture to these old fashioned toys.  The combination is usually white or light yellow and gray, and the saddle is painted in an alternative color.
Finding one of these antique painted horses is next to impossible without spending a fortune.
Ebay always has a small but limited selection of very nice antique wooden horses often for exceptional details.  So if you really are looking to invest in a wooden rocking horse consider keeping an eye on ebay, as usually I see them anywhere from $160-up to $2000 and beyond.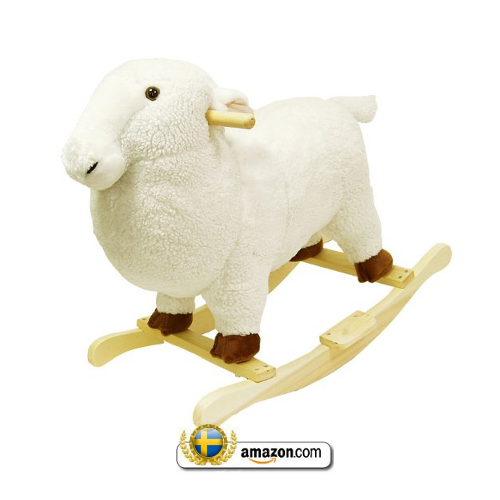 Happy Trails sells this very adorable Lamb Rocking Animal.  He is handcrafted with a wood core, and stands on sturdy wood rockers. This animal will make a bold addition to any child's room. Measures 22.5″L x 14.5″W x 25″H and is priced at $49 dollars with FREE Shipping From Amazon!