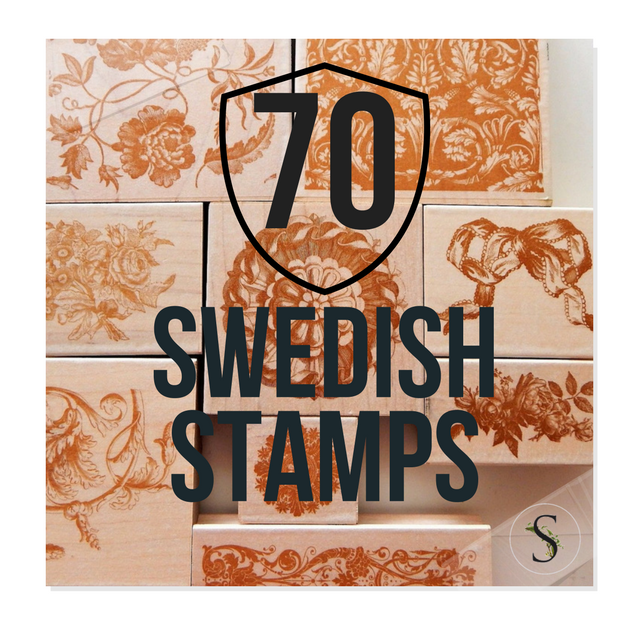 Set Of Anna Griffin Lot Of Stamps – Original Listing Here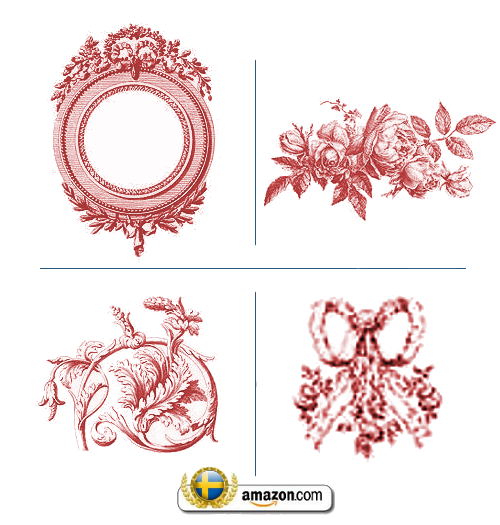 I never considered picking up stamps until I stumbled across the stamp collection of Anna Griffin. If you love the elegant floral, ribbon and swag pictorials often associated with the times of Rococo romance and Swedish architecture, furniture and art, then consider adding these prints to your own home or business. You might get inspired to make over your pantry cabinet, or hand write your name in your library book collection. There are endless ideas that you can use with beautiful stamps. Make your own holiday cards, stationary, or note pads around the house. Here are 70 of the very best stamps and accessories that can work with the Gustavian Rococo theme.
1. Scrap-booking is exploded in recent years. While there is millions of ways to dress up your family photo albums, some of the simplest designs are the most classy. Martha Stewart uses old fashioned black and white pictures with silver labels. Get this same look for less on the pages of your photo albums with stamps and photo corners. If your album is on cream paper, consider cutting out labels with the same cream paper, and using decorative stamps to add captions.
1. Circular Cartche Anna Griffin 3/4″ x 3 3/8″ x 1/4″ $8.32
2.Rose Motif – 3/4″ x 1 5/8″ x 3″ $5.96
3. Plumes Motif 3/4″ x 3-3/8″ x 3-1/4″ $8.32
4. Lovely Floral Stamps – Set of 7 Designs $7.39
-EK Success Tools Punch, Journal Plate $11
Look at this picture of the EK Success Photo Labels Punch. Don't you want that for your albums?
2.Add beautiful labels to your flower pots. Why not? I have added lion ring pulls to my planter pots which I can hang tags, or ribbon from. Paint your planting containers and use tags and matching stamp ink in a coordinating color. Consider adding tags with written names of the flower, and details of when to plant it, how long it takes to germinate. Be sure to use clear tape over the tags, which you can then cut to simulate the look of formal lamination. Make every detail of your home personalized and pretty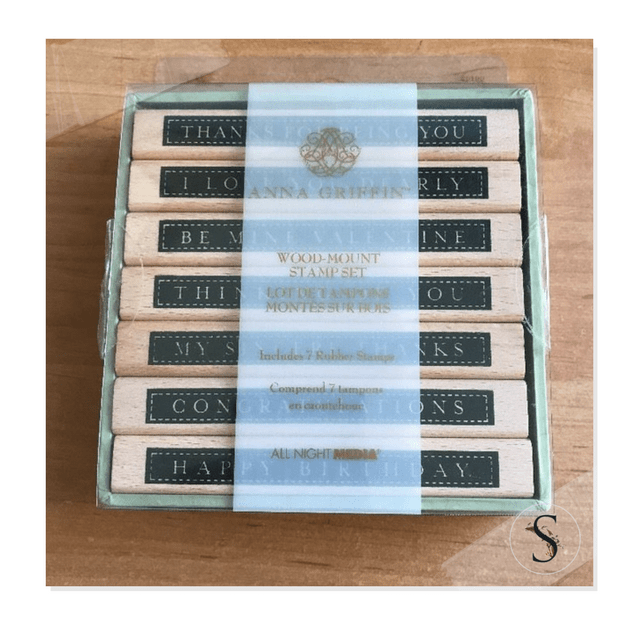 Set of 7 Anna Griffin Wood Mount Stamps (Words & Phrases) Found On Ebay Original Listing Here
Home Storage Identification
4. Dress up your storage boxes and pantry baskets with custom tags. Who says you cannot paint cardboard storage boxes with flat latex paint? I do! Find coordinating card-stock that matches your boxes and tag your storage.
In this post "26 Ways To Organize Your Organize Your Kids Room With Shoe Boxes" we show you how easy it is to organize with banker boxes and shoe boxes for a neat and tidy storage room and garage.
5. Use round plain sticker labels such as those from Kraft to custom stamp your own labels that you can add your beautiful handwriting to.
-Avery High Visibility 2 1/2 Inch Diameter White Labels 300 Pack
-Avery Removable Labels, 3 x 4 Inches, White, 80 $6
-Avery Square Labels, 2 x 2-Inches, Pack of 120 $8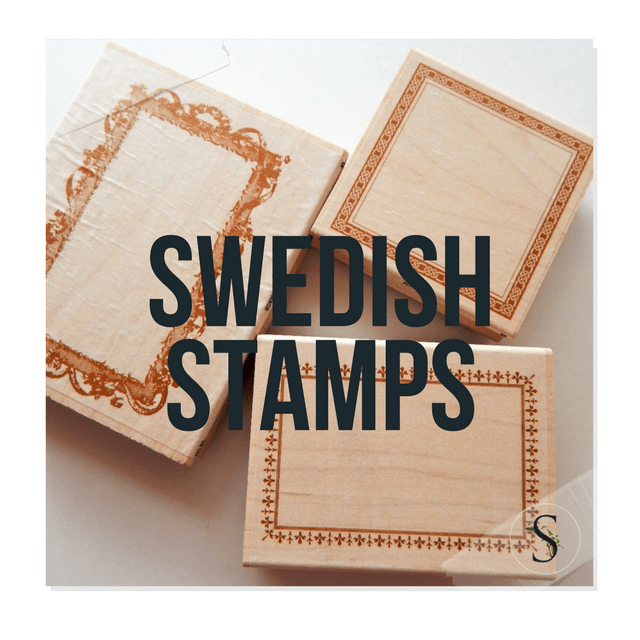 Anna Griffin Ornate Frames Rubber Stamp Lot –Original Listing Here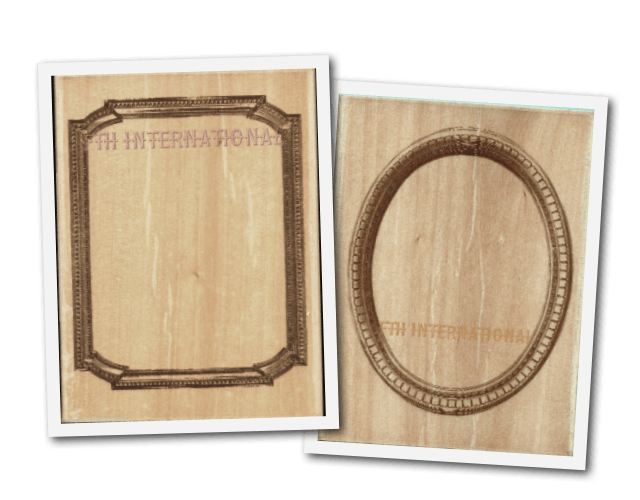 Oval Cartouche Wood Mount Rubber Stamp Original Listing Here
Beaded Brass Cartouche Stamp Original Listing Here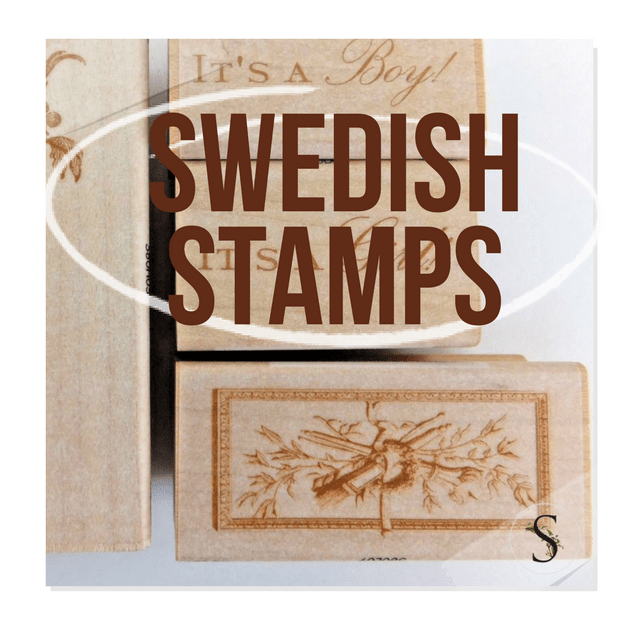 Wedding Wreath Stamp Original Listing Here
Small Business Use
5. There are more small businesses that ever. There has been an explosion of small niche businesses at antique flea markets, and antiques nationwide. Instead of tagging your merchandise with plain tags, use it as an opportunity to brand yourself. While people may not be able to see the face behind the product, your specialty items look ten times more expensive with beautiful packaging.
-This photography studio uses a stamp on the back of their photo envelopes.
-This company uses little burlap bags, with stamping.
–Inexpensive paper bags can be dressed up.
-This site offers CUSTOMIZED stamps from any graphics on your computer.
-Look how beautiful this photography or scrapbooking business looks with stamping
-Look how a simple round punch can be dressed up.
-Dressing up your packaging doesn't have to be complicated. Look how beautiful this salvaged ribbon looks.
-Reconsider using wide popsicle sticks with stamping.
-Natural jute twine is a perfect way of adding a natural touch with your tags for your merchandise.
-Here we see a square tag dressed up with a custom square stamp. The whole package looks so much prettier.
-Here we see a ice blue round punch dressed up with a beautiful company stamp.
Make Your Own Tags:
Don't spend money on tags, when you can make your own tags at home.
-EK Success Tools Punch, Real Estate Sign 4.3 x 3.3 x 6.5 inches $15
-Extra Large Merchandise Tag 3-1/8-Inch-by-2-1/8-Inch $20
-EK Success Tools Punch, For Sale Sign, 4.3 x 3.3 x 6.5 inches $14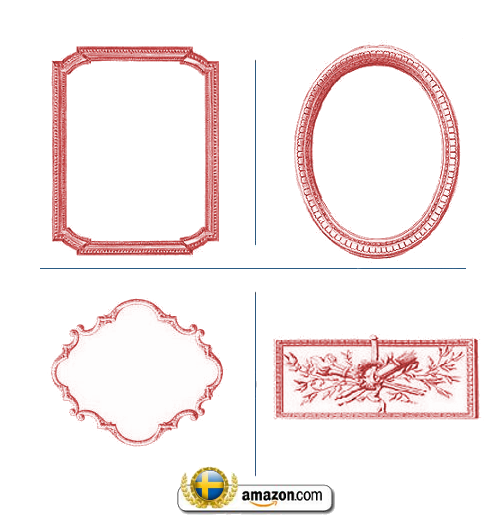 1.Beaded Brass Cartouche– 3-1/8″ x 4-1/8″ $8
2.Oval Cartouche– 3 1/8″ x 4 1/8″ $8
3.Georgian Cartouche-3/4″ x 2-3/8″ x 3-1/8″ $6
4. Wedding Wreath – 2 1/2″ x 1″ $5.21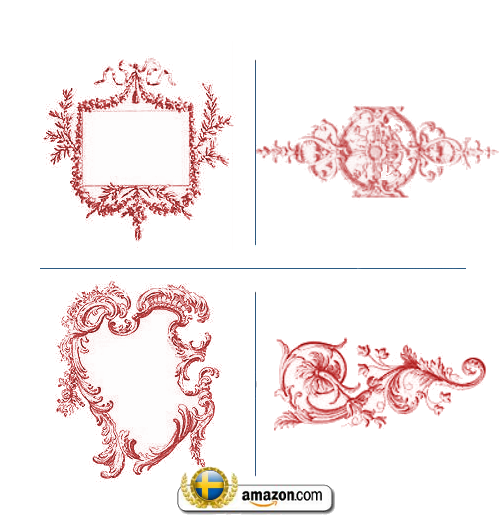 1.Ribbon and Swag Cartouche 3-3/8″ x 3-1/4″ $8
2.Romantic Cartouche 3/4″ x 3-3/8″ x 3-1/4″ $8
3. Ornate Motif Stamp 2-1/8″ x 4-3/8″ $6
4.Swirl Motif– Perfect for a banner on stationary $6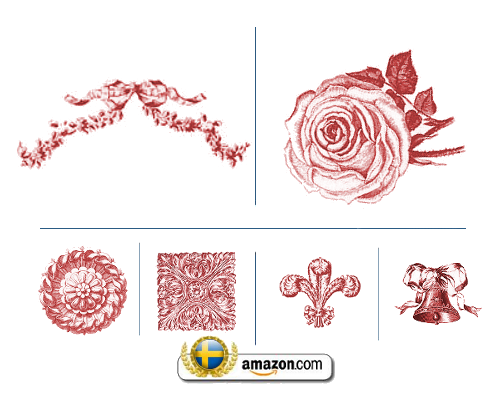 1.Floral Garland -1-1/8″ x 2-1/2″ $5 (This would be a great pair above any of the plain frames above) , (Beaded Brass Cartouche, Oval Cartouche)
2.Large Blossom Motif 3/4″ x 2 3/8″ x -1/8″ $6
Bottom Row:
1. Medallion Motif Round 3/4″ x 3-3/8″ x 3-1/4″ $8
2 Square Medallion Motif -3-3/8″ x 3-1/4″ $8
3.Feather Fleur de Lis 1-5/8″ x 2″ $5.21
4.Old World Styled Bell with a Bow $6.64
Other Beautiful Stamps From Anna
– Anna Griffin Clear Stamp Sets – In The Garden – Ideas For Stationary $7.39
-Anna Griffin Brass Stencil – Swag Ornament $2.52
-Anna Griffin Clear Stamp Sets – With Gratitude– Ideas For Cards $7.39
-Anna Griffin Clear Stamp Sets – Borders- Perfect For Invitations, Weddings Stationary Set of 4 borders $12
Anna Griffin Margot Collection – Vine Border 1-5/8″ x 4-3/8″ $6.64
–Basket Motif Stamp – 3 3/8″ x 3 1/4″ $8.32
-Anna Griffin Fanciful Alphabet $7.39 Use With A Ruler For Perfect Lines
-Stamp Set – Salutations– Perfect For Envelopes or Cards $11.34
-A Set of 14 Wedding Stamps Lettering $11.34
–Perfect Border For Wedding Invitations. Flip it upside down and you have a large border for the top of an invitation $7
–This border would look great with two borders paired on either side of a center stamp.
-Again create a banner for your invitations or cards with this floral border, which has more of a garden theme. $6
-This scroll border was designed to make long scrolls. $6
-Anna Griffin Collection Punches – Wedding Bow $7.56
-Anna Griffin Brass Stencil – Wreath Border $2.52
Swedish Scrap Booking Paper From Anna
Anna Griffin – 12 x 12 Ivory Flocked Paper – Grey $2
Anna Griffin – Willow Collection – 12 x 12 Flocked Paper – Blue Damask $1.59
Anna Griffin – 12 x 12 Flocked Paper – Floral – Blue $2
Anna Griffin – 12 x 12 Grey Flocked Paper – Platinum $2
Anna Griffin – Willow Collection – 12 x 12 Flocked Paper – Blue Damask $1.59
Anna Griffin Paper 12″x 12″ Willow Stripe Blue $10
AnnaGriffin Paper 12″x 12″ Francesca Floral Green .59 cents
Anna Griffin Paper 12″x 12″ Carmen Yellow Quatrefoil
Anna Griffin Paper 12″x 12″ Francesca Flowers Taupe
Anna Griffin 12 x 12 Flocked Paper – Floral – Green $2
Anna Griffin – 12 x 12 Blue and Grey Flocked Paper – Green $2
Anna Griffin – 12 x 12 Gold Flocked Paper – Blue $2
Anna Griffin – Fleur Rouge Collection – 12 x 12 Flocked Paper – Blue Damask $2
-Anna Griffin – 12 x 12 ivory Flocked Paper – Damask