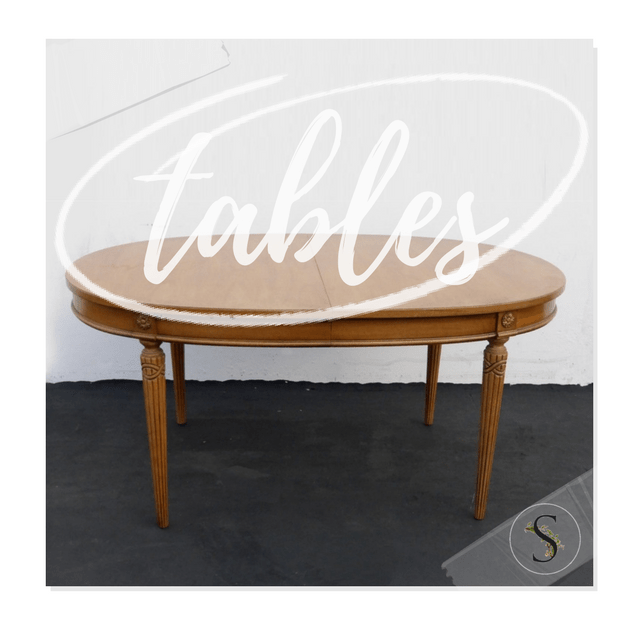 Vintage Thomasville French Provincial Style DINING ROOM TABLE $400
Buy this table at Vintage LA Furniture On Ebay
If you cannot find just the right dining table for your Swedish home, consider a country styled rustic farm house table. They are almost impossible to find on the west coast of the United States and not much easier on the east since this style has been highly sought after. Farmhouse tables were not only used for dinners but also served as a counter top to prepare food. The family table was the most functional piece of furniture in primitive times, as the table was the central location where the family gathered around for games, conversations, crafts, learning and family dinners. Preparing meals was much more time consuming in the past than it is today. Pasta, juices and meats are prepared and pre-packaged in our modern stores, cutting down the consuming time it took to prepare meals than in the past. Typical antique farmhouse tables are quite substantial in size and are often very long, and rectangular in shape.
Older antique farmhouse tables are quite heavy in weight, as they were made entirely out of wood. Composites are more commonly combined with wood today as wood has become more of an expensive material to use alone. Antiques are still some of the only furniture that ALL wood materials are used. All wood furniture is quite a bit more expensive to buy as genuine hand crafted quality is rare today. All wood farmhouse tables are more expensive to purchase because the quality is long lasting, durable and strong to handle wear and tear over the years.
Natural patina, nail holes and blemishes all create unique individual character in antique farmhouse tables that often times the more rustic the table the more expensive it is. It is often quite hard to re-create old age wear and tear on a new table, that often times the patina on old tables are highly sought after even though they look really worn and banged up.
The above beautiful painted farmhouse table is from an article in Country Living Magazine – The Best Farmhouse Tables.
Reproductions of antique tables and chairs are becoming the more common approach to getting an older look using recycled wood from reclaimed old buildings like barns and factories. Reclaimed wood has a unique appearance and likely more expensive to purchase but produces an aged look common to what you would find in antique furniture.Both roughly finished wood and smoothly sanded finishes are typical on farmhouse tables, often only accompanied with wax. Painted or stained finishes can also produce nice effects. Walnut stains, white washes, pickled stains and painted tables in beige, gray and cream would replicate some of the earlier styled tables in the 18th century.
Coachery Barn has beautiful 5 Foot custom farmhouse tables in 24 colors. My favorites are Seagrass, Olive, Mustard, Natural Wax, and Mustard
–Farmhouse Table Ideas From Restoration Hardware
-Farmhouse Table MADE OUT OF PALLETS .
–Pairs of tables that can be pushed together to form longer farmhouse tables.
-Anthropologie Farmhouse Table
–Build a Farmhouse Table – Free Plans
–How to Make a Barnwood Table By B.T.
-How To Make Your Own Farmhouse Table
–Two Old Tables Into One LARGE Farmhouse Table
For Additional Raw Wood Distressed Tables- "GET THE LOOK- Farmhouse Tables For Your Kitchen"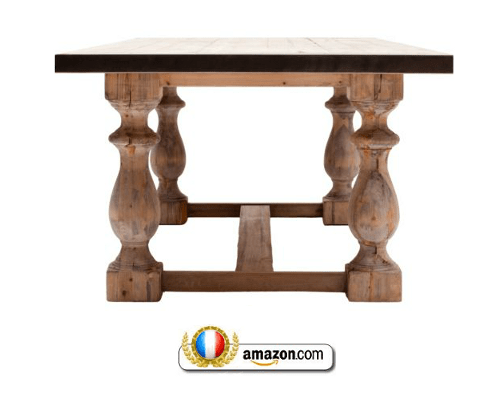 The Baltic dining table features a natural rectangular surface and an elaborate based. It would make any dining area stand out because of it's beautiful natural elements. The table features a Kiln-dried hardwood frame. The finishes are hand applied and sanded repeatedly. The top of the table is coated with a lacquer top coat or wax. New sells this for $1,499
Hudson Goods Blog does it right! These beautiful baroque french chairs are a perfect combination with farm house tables. Classic dark gray or beige paint, with linen or burlap makes a perfect combination to pair with distressed tables.
This Victorian Pine Farmhouse Table which is one of the most beautiful farmhouse tables I have seen. As you can see the distressing shows the off the wood and the off-white paint revealing an ornate detailed finish. Paint should always be off white, and have undertones of either green or beige for the best antique finishes. The finish on many antiques are either rubbed down to an eggshell over the years or the finish as a dirty appearance, which often can be produced with glaze. This stunning table has a wide boarded top which sits on a painted base with turned legs. See the complete table at Antiques Atlas.
This beautiful Farmhouse wood dining table is featured with creamy white french painted chairs. Don't feel as though dining tables and chairs have to perfectly match. Combine chairs painted in a beige, or Swedish gray for a complement with bare wood. The antique painted blue buffet is updated with turquoise paint. The ornate wood gold leaf wood mirror gently pulls all the colors together for a dynamite room
Massive Scandinavian Swedish Gustavian Painted Dining Table
Set of 4 Swedish Rokoko dining chairs in original patina
Scandinavian Swedish Painted Dining Table