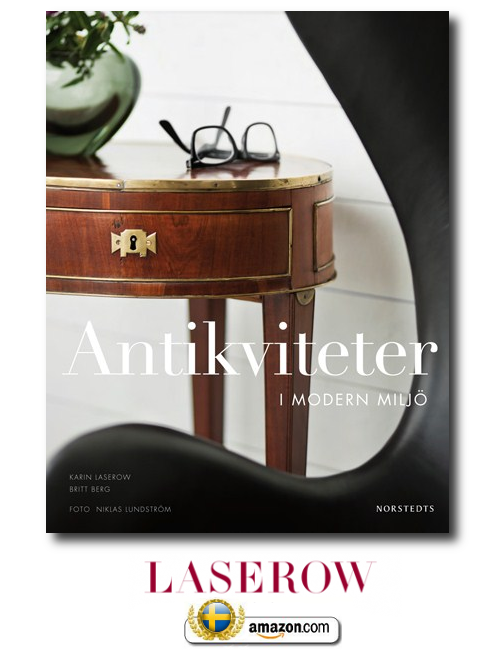 Alternative Book Cover-Antiques In A Modern Settings
Laserow Antiques has just come out with a new book called Antiques In A Modern Settings. This NEW Swedish book features 222 color photographs and sells on amazon for just under $20 dollars. You cannot beat the price, considering many other new decorating books ask double or triple that! For all you who struggle with incorporating your modern day necessities such as your computer printer, flat screen tv with dvd player with your aged furniture, this book is for you. Laserow antiques shows you how to incorporate antique furniture and art into a modern home with class.
This book gives you plenty to look at. We all enjoy looking at the rich distressed 18th century Swedish furniture, and this book will have plenty of that! They begin by explaining the basics of antique furniture, from Baroque, to Rococo, Empire, and Gustavian periods. Readers are shown how how to tell the difference between old and new, how to evaluate antiques, and how to determine whether repairing, repainting, and refinishing are worthwhile decisions for protecting antique investments. The topics are interesting and relevant to the collector and decorator who lives in the 21st century.
Laserow antiques mentions that there is a lack of information that is available to the collector with a modern home who still wants to enjoy the beauty and history of antiques. How do you mix antiques with the new? It sure is challenging! From furniture, to collections, all these questions are explored through this inspirational guide.
Liza Laserow, part owner of Laserow Antiques has been stealing the spotlight these days. An article was shown in Architectural Digest showing off the companies fresh face, and fashion forward approach. Trained to be lawyer, Liza's business skills combined with her knowledge of Scandinavian antiques makes her more than capable to run her mothers successful established business. Karin, founded a showroom in Sweden 30 years ago and, in 2009, Liza helped launch a Laserow Antiques outpost in the New York Design Center in Manhattan. If you haven't subscribed to Liza's blog, check it out, and get connected. The company features furniture curated from Sweden's most significant periods—Baroque, Rococo, Gustavian, and Empire—spanning from 1650 to 1820. I ordered the book today! You should too!


Buy the Book on Amazon- Swedish Antiques: Traditional Furniture and Objets d'Art in Modern Settings Karin Laserow (Author), Britt Berg (Author), Niklas Lundstrom (Photographer) Amazon