Watch Jeffree Turney of Lone Ranger Antiques on Martha Stewart
Jeffree Turney from Lone Ranger is one biggest dealers who specialize in Gustavian antiques, and also happened to be on Martha Stewart and revealed some of his  refinishing secrets.  He recommends after initially painting and distressing your piece using milk paint, mixing 20 percent "Howard's Feed 'n' Wax" furniture wax to 80 percent "Dark Walnut" Minwax. Wearing latex or rubber gloves covered with socks, apply wax, and use a paint brush for tight spots. Rub off excess wax immediately with a long plastic-bristled scrub brush.  The overall faux finish gives you an antique effect.
I always found this picture from Martha Stewart captivating. Matching furniture up with the wall color is a very interesting design concept. Adding a dark wax to your piece will allow your furniture to stand out from your wall color.
Here are some unique examples:
In this kids room wall storage is painted a bright red.  The design look appears minimal.
This room is painted a vibrant teal blue.  Wall letters on the wall and furniture is painted in the same paint color.
A matching set of Swedish chests are placed in a room where the wall color and drapes are designed to match.
In one of my favorite pictures a kitchen is painted in a mute blue.  The walls and the kitchen island and cabinets are painted in almost the exact shades.   The walls are 5 shades lighter and brighter than the cabinets.  It is one of the best kitchens I have seen.
Gustavian Designed Interior From Swedishinteriordesign.co.uk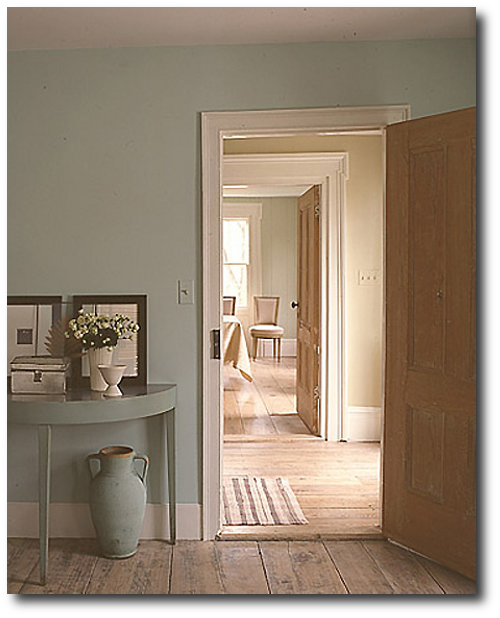 Gustavian Decorating – Martha Stewart
Martha Stewart always seems to get color right. I believe she has an eye for historical colors palettes. In this photo we see a console table that is matched up to the wall color. The look is absolute perfection. See additional Martha Stewart interiors based on Gustavian influences.
Gray Paint Tones
A series of gray tones are paired together in this dark interior.  The bar table is painted in a lighter shade of gray with glass cloche's are paired together.  Limed wood add to the gray appearance without loosing the detail of the wood.  Stainless steel also works with the gray interiors like no other metal.  The metal adds a richness and some light to dark room.  If you love this appearance, but find it too dark, consider the same elements with lighter paint tones.
Matching Wall Paint and Furniture
This photo takes the concept to the extreme, where everything is painted in the same shade except for the stool, and the accessories.  Furniture that may be an eyesore, could be given a face lift using this concept.  It allows the furniture to disappear into the room, giving other pieces the spot light.  This concept also gives a minimal look to a room, allowing a busy room to appear less cluttered.
Matching Wall Paint Up With Furniture
In this photo, we see a very interesting effect using two paint colors instead of one shade for the entire room.  We see a chair rail used to divide the wall.  A brighter paint color is used on the bottom of the wall, and the furniture is painted in the exact same color.  Using this idea, adding a brown glaze to the furniture which can be painted on and wiped off would give the furniture a bit of a distinction and less of a newly painted appearance.
How To Get This Look
-Use the same shade as your wall color on your furniture.  After your piece has been distressed (and dried), consider painting a thin coat of brown glaze to give it an antique appearance.  Ralph Lauren glaze works terrific.  You simply mix one third paint to glaze, or half glaze/ half paint in a cup. (The glaze is white, but dries clear with what ever paint you mix with it) Add brown paint to your glaze, and simply paint a thin coat on to your furniture.  You can either paint on a thin coat, and call it done, or you can wipe off some of the glaze with a rag leaving some of the glaze behind.  I cannot tell you how thrilled I am to have discovered this secret for brighter paint colors.  Brighter paint colors automatically look antique when a translucent brown is added.  Bright blues become muted, everything looks better.
-Heavily distress your furniture to give your furniture more depth.  The natural wood will give more warmth in your room, and add to the overall look of the furniture.
– Add furniture ornaments to your furniture painted in white or in gold to add some detail to your painted furniture.  Cake molds often have beautiful designs that would look just as beautiful on furniture.  These designs can be made easily with plaster, concrete, or resin inexpensively.