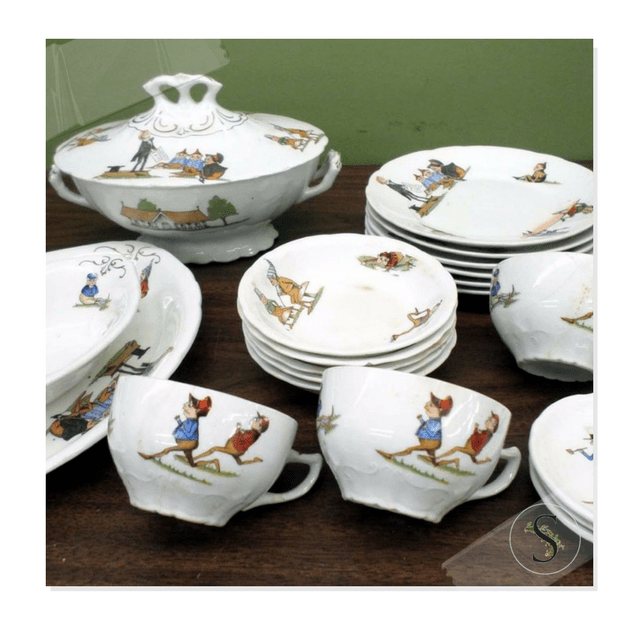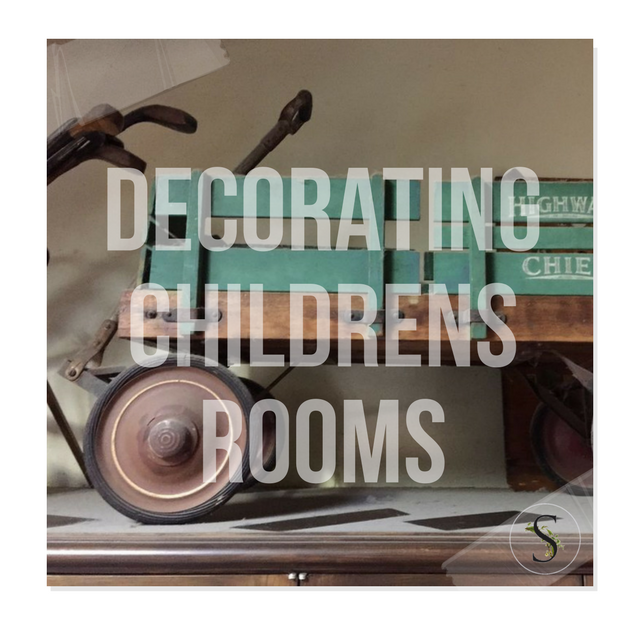 Vintage Children's Set On Ebay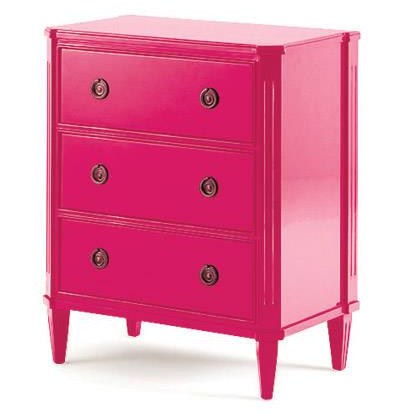 With Neoclassical-style fluted details and a high-gloss finish, this chest is a cross between old and new, says Gambrel—"like a country cabinet dressed up for the city." Given the playful juxtaposition of form and
finish, the 31.5″-tall piece would be at home in a girl's bedroom. $2,000; chelseatextiles.com
Children dream in vivid color, and anything is possible to them, so why not create a room fit just for their personalities? When it comes to decorating your child's room, you simply cannot go wrong, because almost anything is pleasing to them. Even if you try to create something special, they are overjoyed at your choices! Children love rooms where they can express themselves, and be creative. Imagination and playtime, – think of those two concepts while you are gathering ideas for their room, and you will do well with an overall theme…..
Most parents feel they can go a bit more daring in a child's bedroom than what they would do for the rest of the house, which is why it is so darn fun to design kids rooms- you can be a bit crazy and get away with it.
Here are a couple tips to getting a great look for your kids room decor……
1. Invest In A Few Key Pieces- Don't be afraid of buying an expensive piece of furniture for your kids room. A great chest, or genuine chair can stay in their room for years, and stay in the guest room when they move out and get married.
A great vintage reproduction play table would be a great focal point in a child's room. Functional pieces that are also visually attractive should be the goal. This Louis XVI Child's chair would match the Swedish styles quite well. Consider upholstering it with material that matches your child's drapes and bedspread. This play-table would be great in a little boys room where red, and dark blue would say "I am a Boy".
Get the general look of the Swedish style, by re-purposeing furniture. Change the hardware, paint furniture, and use a lot of distressing techniques to get the old appeal into the overall look. Buy transfer-ware tea sets for your little girl, and use a vintage french provincial end table, and re-purpose it with child's chairs. Add wheels to the bottom of the end table to lift the table higher to give your children's legs room to stretch out. French style play tables aren't so common, so get the look using a vintage french end table.
Decorating doesn't have to be expensive. Look out for vintage toys at your local flea markets, antique stores and thrift stores for great looking toys to decorate with. Wood has always been a signature style of the Swedish look. Melissa & Doug have great faux food which will make you want to join in for "tea time"
2. Decorate With Vintage Toys- Antique wood furniture can be painted, and roughed up unlike plastic. Greenleaf Doll Houses come in kits which you can set up, and paint. A vintage nightstand from ebay or craigslist might be a perfect match for a dollhouse. Customize the table to match the dollhouse.
Buy a wood rocking horse, and paint it yourself. You CAN get these horses for less than $1800! On ebay some of the vintage horses sell for $150 or so, which would allow you to customize it yourself. Kids are pretty rough on furniture, so putting genuine antiques in their room, isn't the best of ideas. Buy something that looks great, but also something that if it gets damaged, you won't be bent out of shape over. Invest in a few key pieces for their room, such as a bed, or a chest. The bigger pieces will set the theme, rather than the smaller items.
3. Invest In Storage Furniture– Kids have a heck of a lot of toys, and spending money on decorating a kids room does no good if there is no place to house their endless play toys. Ikea has a number of shelving which can be stacked and customized. The Expedit series has worked well for organizing kids toy collections. Organize your kids toy collections with shoe boxes. Buy matching bookshelves which you can devote an entire wall to. Back your child's bed up to the bookshelves, which costs you only a couple of inches of space, but also save you from walking all over their toys.
For more ideas check out my pinterest page devoted to Children's rooms……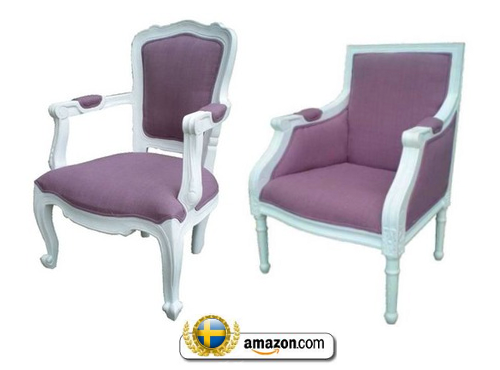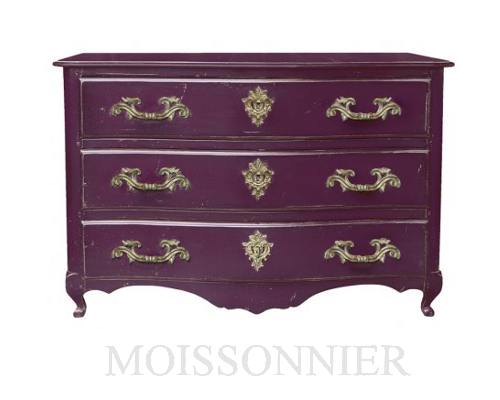 Children Looking Into A Swedish Antique Shop- Credit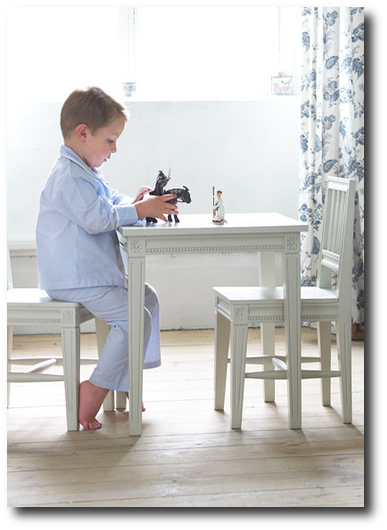 This boy is sitting by a lovely Gustavian childs table. The table has hand carved fleur medallions and a hand carved pearl bead border. The small Gustavian childs chair has the same hand carved pearl bead border. –blog.dnevnik.hr
Childrens Room With Swedish Bench
3D wallpaper from an installation by Swedish Deisgn Front Group