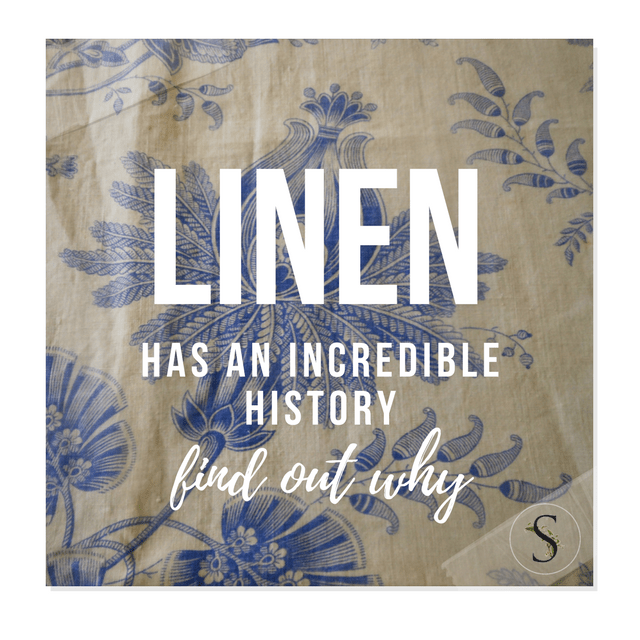 The Swedish Country House by Susanna Scherman- Found on homedesign.marthastewart.com
Guest Post – Jason Phillips
Linen is a type of fabric or textile manufactured from fibers. The making process is laborious, and the result is truly remarkable. Many things are made of linen including towels, aprons, bags, tablecloths, bed linens, runners, curtains, drapes, upholstery covers and more. Textiles that feature a linen weave texture, even those made in combination with hemp or cotton, are also referred to as linens; some have specific names, such as madapolam, which is a fine cotton yard wove in linen style.
Linen textiles have an incredible history. Fragments of seeds, yards, straw and additional types of materials date back to 8000 BC, and were usually found in Swedish homes. In Ancient Egypt, linens were used as currency, and the mummies had to be wrapped in this luxury material as a symbol of purity and light. Nowadays, fine linens are high-priced yet incredibly qualitative.
Curtains And Drapes
In the early 18th century most homes still used shutters to block light and make the place appear private and secluded from the eyes of people on the street. However, they had a fuller texture and came in different styles than in the 17th century. As for the materials, main fabrics were cotton chintz, taffeta, and velvet. A valance or pelmet cornice was usually employed to hide the workings. Then the paired curtains made an entrance. They were topped with stiffened pelmets and featured embroidery work and appliqués; also, they had a really elegant shape. The linen fabric used for the curtains included Rococo motifs, including knots of ribbons, garlands of flowers, and leave fronds.
By the middle of the century, pelmets became a lot softer, with small tails and shallow swagging and bells. Portieres had lighter curtains and deeper pelmets designed in Italian style. Store marquises, also known as light silk festoons, were widely used with beautifully draped pelmets. At the end of the 18th century, roller blinds made an entrance as well. Their use was first recorded in 1726, in London.
Fabrics
There was a great variety of fancy fabrics one could select from in the 18th century. There was one industry in particular that thrived – the silk industry. Fragile florals, lace, and scallop, as well as patterns that incorporated doves and other beautiful prints were in high demand. Inside people's homes silk was the most appreciated. It was used for linings, beds, tables and inner covers. During that time the bed in the bedroom had sophisticated hangings, which were also made of silk; those who could afford to invest in such fancy linens, bought Genoese silk velvet.
For the windows, brocades and silk damasks were highly appreciated. For hangings, brocatelle was still in high demand. Ribbed silk, satin, chintz, taffeta and clouded silk were all exceptional materials used mainly for curtains. Those who couldn't afford such fancy linens had great alternatives, such as moreen for draperies and beds, and velvet or silk mohair for chair coverings.
The most exclusive chintz was manufactured in Versailles, and was produced by Jouy-en-Josas. However, throughout the 18th century, in England and France there was an anti-cloth law materializing. It was aimed at protecting silk and wool industries. The production went full ahead in 1770.
Sophisticated Trimmings
In the 18th century there was a wide variety of sophisticated trimmings materializing in Germany, Ireland, the Netherlands, England and Switzerland, mainly due to the battle of Huguenot craftsmen n the 1600s France. Narrow and broad bands of rich colored lace were used thus contrasting the rich, new techniques. Furthermore, fancy details started being used such as frogging, gold galloon and artificial flowers on valance and pelmets; these were meant to replace entirely heavy trims found in the 17th century.Embroidered, tie backs or appliquéd and ended with ribbons or bows became a new feature in home décor that many people adopted for their window treatments.
Decorating with 18th century linens from the French period will add sophistication to your personal space. Give your windows the treatment they deserve and use luxury linen materials for the curtains and shades. Make your bedroom seem romantic, your living area chic and welcoming, and your kitchen practical and fun. Consider the best materials and the finest shapes, and your entire home will come back to life.
19th Century France Napoleon III Settee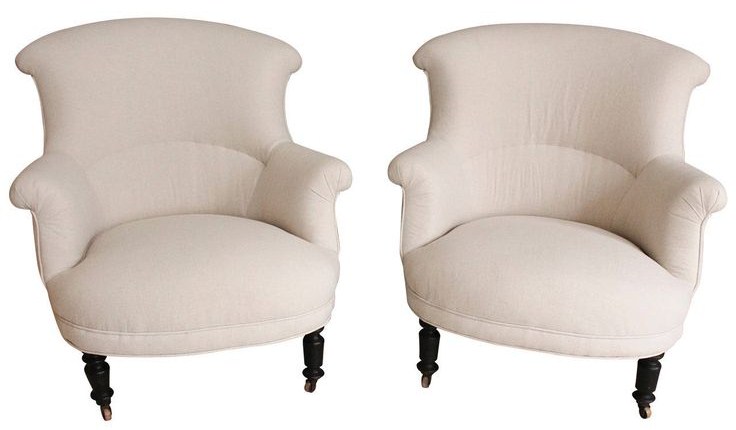 Pair of 19th Century French, Napoleon III Armchairs