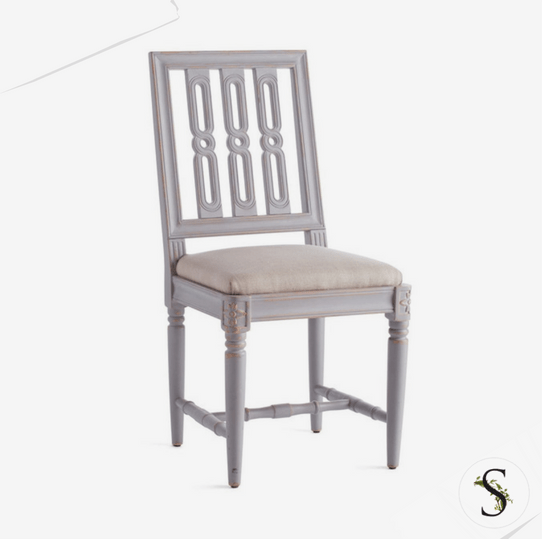 This unique chair exudes Gustavian design elements. In 1771, the future king of Sweden, Gustav III, was inspired by the Neoclassical style of Louis XVI's furniture at Versailles. Gustav created a more restrained, less gaudy variant of the French style, now known as Gustavian furniture. This furniture was first meant only for palaces but quickly gained popularity outside of royalty. The high, rectangular back and taught edges paired with subtle curvatures in our Gustavian Dining Chair harken back to days of Swedish royalty.
This is a carefully crafted chair with a wooden frame.
This gorgeous piece is handmade with care.
This chair features 100% linen upholstery.
$499.00
See this chair at wisteria.com/
A stunning set of four 18th century Swedish dining chairs from the Gustavian period, hand-scraped to original paint. This is a beautiful set of period chairs with open-work, splat backs and straight, tapered legs with cross stretchers. Blue-green and ivory painted patina. The Gustavian Style, named after King Gustav III of Sweden, is a restrained interpretation of the French Louis XV and Louis XVI style. King Gustav III was enamored with the neoclassical style and therefore created his own interpretation for Sweden.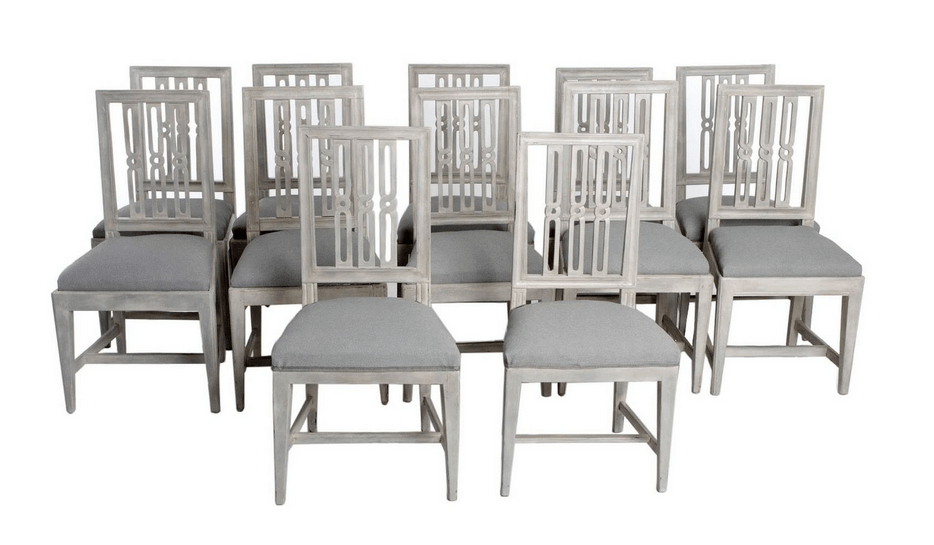 Swedish, late 1700s-early 1800s. Signed Erik Holm, Stockholm master chair-maker 1774-1814. A set of 12 grey-painted Gustavian dining chairs. Open-work backs with simple geometrical shapes. Straight tapered legs with cross stretchers