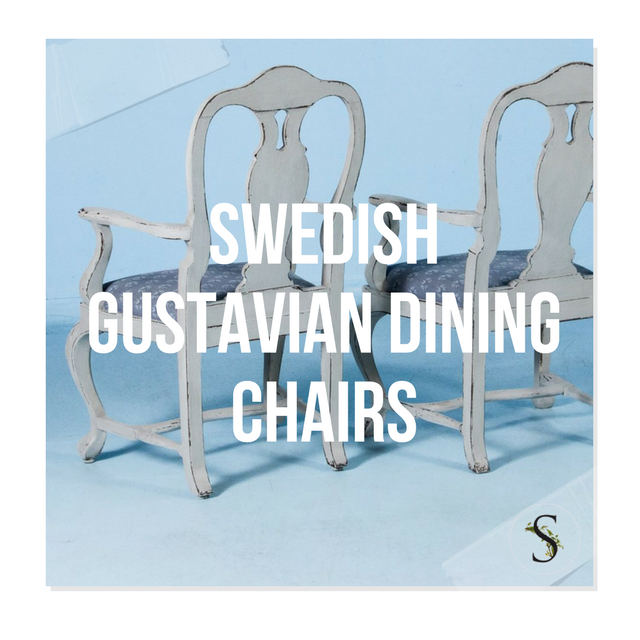 Set of Six Antique 19th Century Swedish Gustavian Dining Chairs With Gray Paint-
Scandinavian Antiques Co On Ebay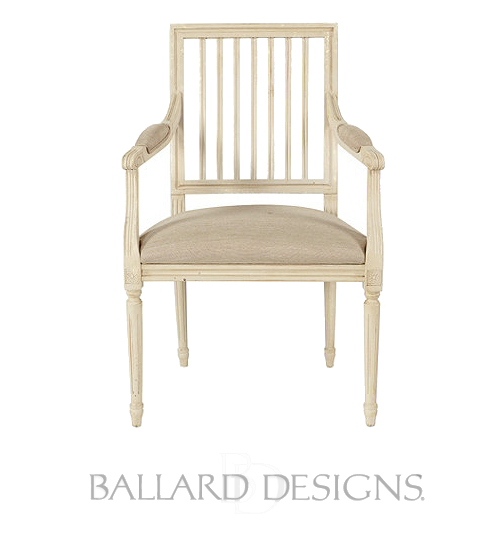 Ballard Designs has designed a terrific looking Swedish country chair called "Sorrento" that has all the good looks of one of the most popular Swedish chair designs. The chair features fluted turned legs, with a classic Louis XVI square back painted in white. The classic slat back frame features tapered fluted legs, padded arm rests and padded linen seat. This chair is part of Ballard Design's exclusive Casa Florentina collection. They sell it for $559, and comes in your choice of several hand-applied finishes. Skilled artisans apply your custom finish in layers, distressing each one by hand using the same simple tools and techniques employed by Florentine artists for centuries.
Consider upholstering your dining chairs in a shade of white. White works with a multitude of other colors such as gray, off white, green and blue. Swedish chairs are often painted, which makes the lighter shades of upholstery appear clean and fresh and provide a nice contrast against the rough distressed wood
Pair of Gustavian Klismos Chairs-Lief
Gustavian Pearl dining table –katarinahalvarsson.com
A Set of 6 Swedish dining chairs, 19th Century Annabelstringer.com
Four Gustavian Side Chairs in a worn pale green patina- Lief
Pair of Gustavian Chairs in Original Paint –Lorfords
Pair of Antique Swedish Country Gustavian Side Chairs BJORK STUDIO
Pair of Gustavian Side Chairs in a worn pale blue patina and gilded metal details Lief
Gustavian Pale Blue Swedish Sofa With Tall Back –Stephane Olivier
Very nice Swedish gustavian sofa from the 19th century in faded blue paint of origin.
The sofa itself features many high Gustavian details such as the guilloche frieze and the leaves carved on the legs and columns.
Re-invented by Louis Masreliez after the excavation of Pompeii.
Gustavian Side Chair –Lief
Set of Six 19th. Century Gustavian Chairs-W Gardner Ltd
Handsome set of six Swedish Gustavian side chairs. Saber legs front and back.They have been dry scraped to original color. Two are stamped "ES" for Ephriam Stahl a furniture maker in Stockholm.
Pair Swedish Gustavian Klismos Chairs –W Gardner Ltd
Handsome pair of Gustavian Klismos chairs. Beautiful detailed carving. Scraped to original color. Very comfortable.
Eight Gustavian Dining Chairs –Kay O'Toole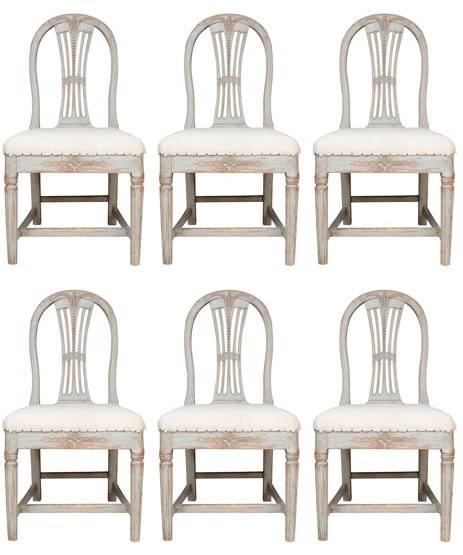 A matched set of 10 staight back painted Gustavian Dining Chairs with Sheaf of Wheat carved decoration backs Cote Jardin Antiques
Period Gustavian Side Chairs A Tyner Antiques
Painted Swedish Oval Top Dining Table Made in Sweden, circa 1900. This hand made painted Swedish dining table features fine distressing to accent the carved details. The apron of the table features elegant carvings of beading, patera, and floral work raised on fluted tapering legs- Seller Greenwich Living Antiques $6500