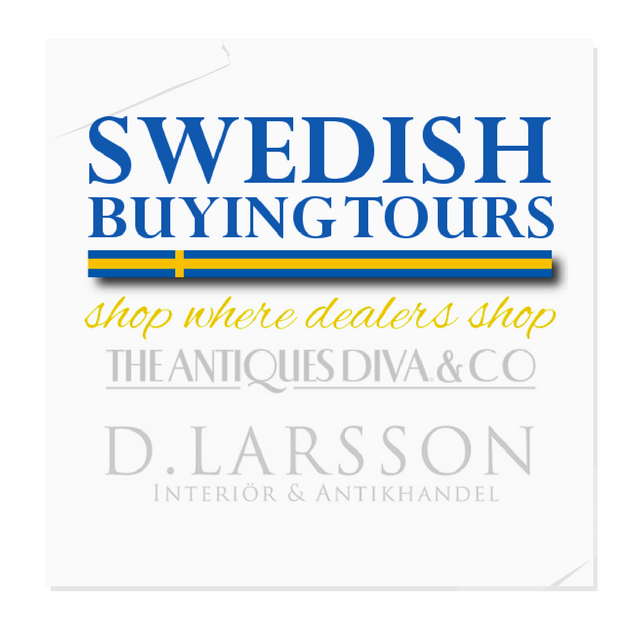 How would you like to shop for antiques with one of the top Swedish antique dealers? The Antiques Diva® & Co is now offering Scandinavian Tours which allow exclusive opportunities to buy Swedish antiques at wholesale prices alongside a professional furniture antique dealer. Get the opportunity to shop where the dealers shop, and see some of the off road shops and warehouses that most tourists wouldn't know about.
Daniel Larsson -owner of D. LARSSON Interiör & Antikhandel (A Swedish antique store based in Helsingborg) is the guide for the Swedish tours. He shares with you insider tips and tricks of the trade. Feel confident purchasing antiques with a dealer at your side. He will share the history behind certain pieces, and explain the regional differences in Swedish antiques. You will have an expert who can authenticate purchases and give advice on what to watch out for in spotting reproductions and fakes.
Rest assured that if you buy 1 or 2 pieces or a whole container load of furniture on the tour that Daniel can help you fill out customs paperwork and find affordable shipping solutions for bringing those rare finds to your home. You don't pay tourist prices when you shop like a local or a dealer for a day.
The Antiques Diva® & Co is Europe's largest antique buying tour company offering tours in 8 countries – France, England, Italy, Belgium, Holland, Denmark, Germany and Sweden. They offer Scandinavian Antique Buying Tours for both the trade as well as private individuals, offering everything from a customized 1 day buying tour to a full on 4 day tour. Each tour is customized according to your travel dates and shopping list.
They can book book Scandinavian Antiquing Tours in:
– Copenhagen
– Helsingborg
– Southern Sweden
– Swedish Countryside
– Wholesale/Warehouse Tours
Contact info@antiquesdiva.com for more details or see www.antiquesdiva.com to book your European tour.
D.LARSSON Interiör & Antikhandel
Wrangelsgatan 13
254 39
Helsingborg
Sweden
Tel: 0734 381843
E-mail: info@dlarssoninterior.com
www.dlarssoninterior.com
Antiques Diva Toma Haines enjoying the Swedish antique buying tour
Daniel Larsson -owner of D. LARSSON Interiör & Antikhandel