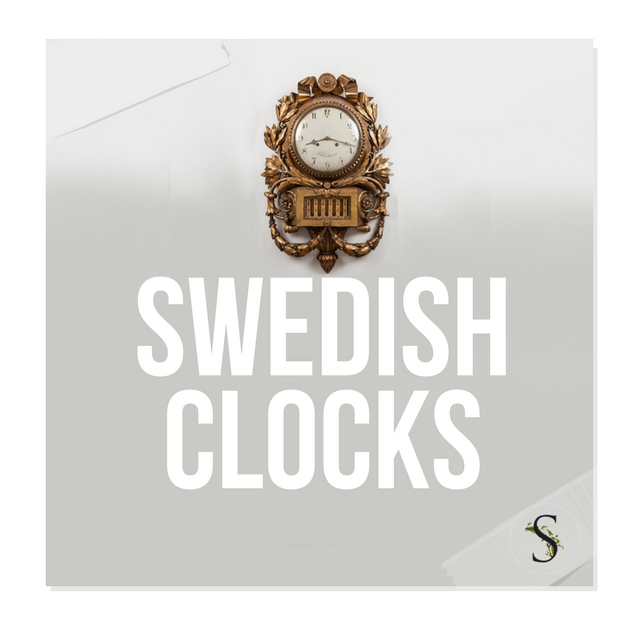 C911tt on ebay is selling a stunning Louis XVI antique gilt wood cartel clock that would look good in any home based around the Swedish and French interior decorating styles. This clock was made by G. A. Paterson in 1880 in Goteborg and has a magnificent handcrafted gilt wood case in a classical. The clock was made in Sweden, first half of 19th century in 1880, and would complete a home that is based around the 18th /19th century interior.
The clock itself has an off-white dial with big Romans numerals. The wood case is in a form of a drum and feature phoenixes places on both sides of a clock case. On the back panel behind the sun rays there is a mirror that makes a very nice affect.
C911tt reports that the clock is in very good condition with a few minor losses of gilding that add to the antique appearance. In addition, the original clock mechanism is replaced by a small electronic mechanism. So there is no need to wind it! C911tt has this clock listed at $499. What a deal!
They are also selling a Louis XVI Gilt wood cartel wall clock worth $1200 for $350, and an additional Louis XVI clock for $429.
The clock has the appearance of French 18th century example, and would fit in very well with 18th/19th century interior. This clock also has an off-white dial has big Romans numerals and covered by bulging glass. The pendulum is visible bellow the dial through the window. The wood case in a form of a drum surrounded by hand crafted leaves and scrolls. All three clocks would be dynamite in a Swedish Gustavian styled home.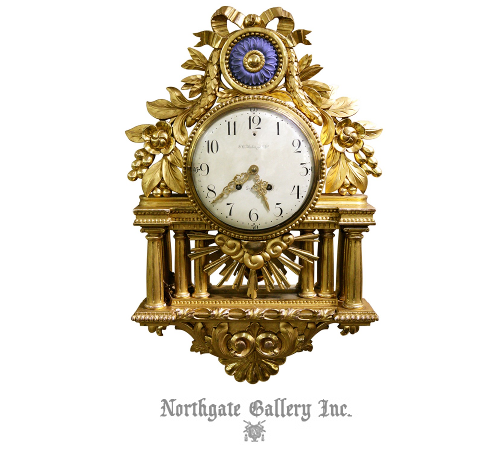 A Continental Gilt Wood Cartelle Clock, C. L. Malmsjo & Co., Goteborg-
A Continental gilt wood cartelle clock, C. L. Malmsjo & Co., Goteborg, late 19th century, 8-day bell striking movement by Lenzkirch, painted enamel dial, Arabic numerals, within an ornate pierced and carved case with laurel leaf decoration and a ribbon cresting, signed dial and movement – Northgate Gallery Inc.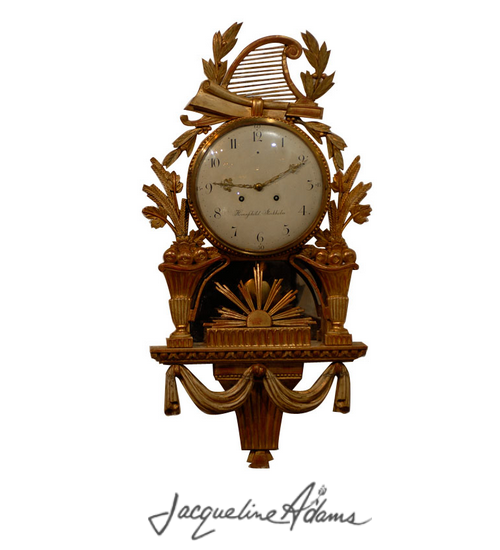 18th Century Swedish Giltwood Cartel Clock –Jacqueline Adams Antiques

18th Century French Giltwood Barometers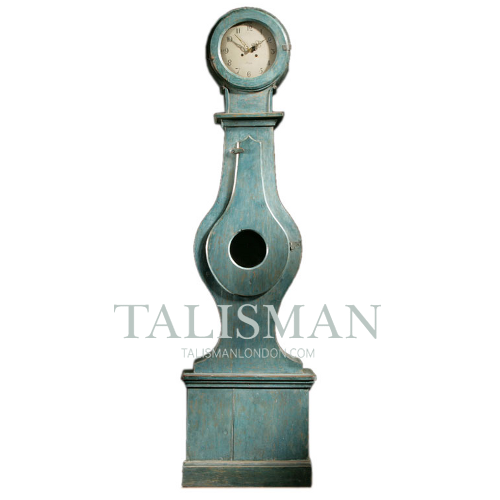 Swedish Painted Grandfather Clock Talisman London

18th & 19th Century French Giltwood Barometers

18th & 19th Century French Giltwood Barometers