Swedish Gustavian Furniture 18th Century Swedish Decorating
Svindersvik is a well-preserved summer residence from the mid-1700s. Svindersvik is located at Swine Flinders Bay south shore in Nacka , designed by architect Carl  Harleman for merchant Claes Grill.
The farm was built in the 1740s as a summer residence for the merchant Claes Grill and his family.  Carl Harleman managed to combine a mansion and a cottage in the same building. He had been inspired by French rococo,but adapted it to Swedish conditions.
Svindersvik consists of a small main building on two floors.  The building is strictly symmetrical form given, with a central axis through the entrance, dining room and balcony. To the left of this central axis is a big place, the right two smaller rooms, including one bedroom. The rooms are tiled and silk upholstered seating. The ground floor is a hallway with an oval ceiling opening through which the daylight from the top floor looking down. The upper floor dominates a large billiard room with pool table from the 1700s, which is well preserved.
Besides the main house is the kitchen wing, which is slightly younger than the main building. The kitchen wing is on an older foundation, probably from the 1500s. The kitchen was for the time very modern, with built-in cabinets, marble countertops and sink.
Most of the furniture in Svindersvik has stood there since the late 1700s. After the Grill family, the property had several different owners, until Knut Almgren , founder of KA Almgren Silk Weaving Mill, acquired the property in 1863. Svindersvik stayed in Almgren's possession until 1949 when the Nordic Museum took over.  Information and Pictures From Wikipedia, and Nordiska Museet
Swedish Gustavian Furniture 18th Century Swedish Decorating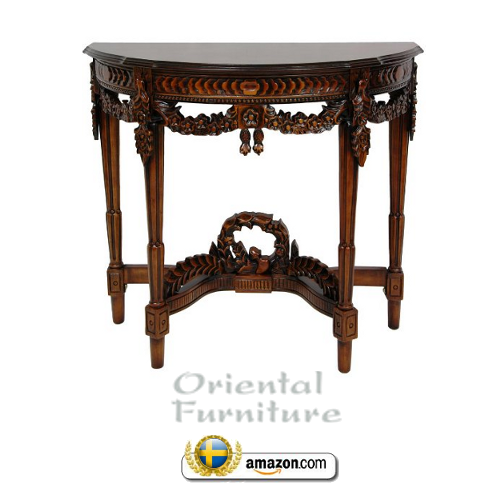 Oriental Furniture sells an outstanding demilune table for an outrageously low price of only $349. Get the Gustavian look of the rich carved tables which appear in Svindersvik for a lot less than a genuine antique.  The tables in this room are most likely 10 K or more.  You can see in the far end of the room a carved cream painted demi lune table has draped carved swags with fluted legs. 
This elaborately carved console table with authentic 19th century antique detail comes in a rich medium brown stained poplar hardwood.
This table could be a painted, or gold leafed for a rich Gustavian feel. 
This table features a beveled crescent top, floral stenciled apron, and flower garland ornamentation. Water leaf design stretcher supports lathe-turned block and tulip petal legs and feet. Orders ship next business day, professionally packed, fully insured from our Massachusetts warehouse via Fed Ex or Fed Ex freight, with expedited delivery available.
A Swedish Wall Clock can really transform an ordinary room into a period style Gustavian home.
You would be amazed what sells on ebay these days.  This Louis XV Gild wood cartel clock which was valued at $1600, sold for $35.
This 1948 Swedish Gold Gilt Wood Wall Clock had 25 bids on it, and went for $182.00 – What a deal!
We have a page with all the Cartel clocks on ebay.  Put a link to it on your desk top if you are wanting to buy a clock, as it is an easy way of keeping track of what is up on ebay at all times.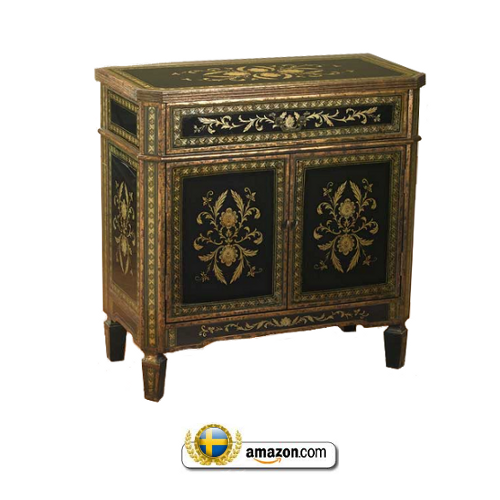 AA Importing sells a terrific black painted chest with a lovely frame that looks much like the Gustavian chests.  The frame has angled sides and feet just like the antique Swedish chests.  This spectacular chest measures 33 inches in width, 16 inches in depth, 32 inches in height.  AA Importing sells it for $589.
Click on the pictures on this website to get a detailed look at the terrific paint finish on these walls.  Get some great faux painting ideas from this picture.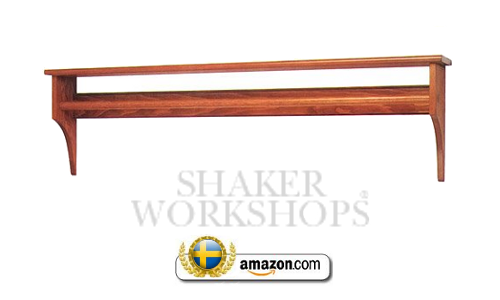 Check out the primitive wall shelves in the kitchen of Svindersvik . The corners are rounded, and pots and kitchen utensils hang below.  If you like this look, consider the rack built by Shaker furniture.  They have adapted our Shaker Peg Shelf for use as a hanging quilt rack. Although it is designed for quilts, it can be used to hang utensils, or pots from like the picture above.  Shaker Woodshops sells this rack for just under $50 dollars.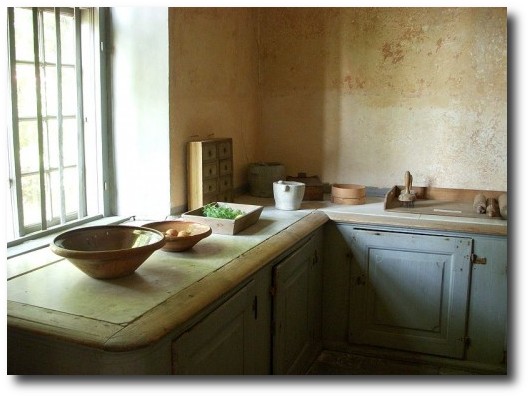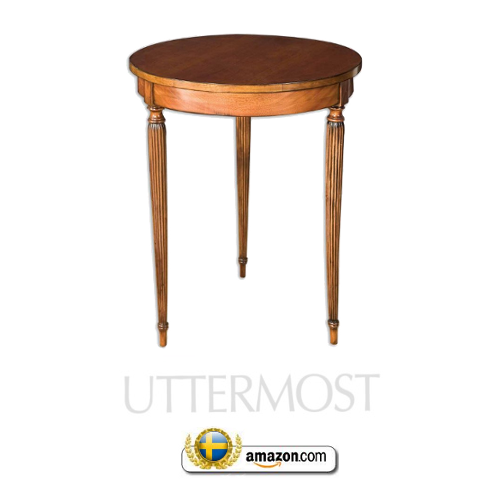 The Karsten Tea End Table from Uttermost has got to be the prettiest table out there for a tea table that can be placed with accent chairs.  There are many tables that are ideal as end tables, but what makes this Karsten table so unique is it actually is a table which you can pull up and have an afternoon lunch or read a book at.  This classic Beidermeier tea table is crafted out of light honey-stained mahogany with carved mango wood fluted legs.  This table could be left in it's original natural wood finish, or painted to match your interior colors.  Uttermost sells this table at $327.00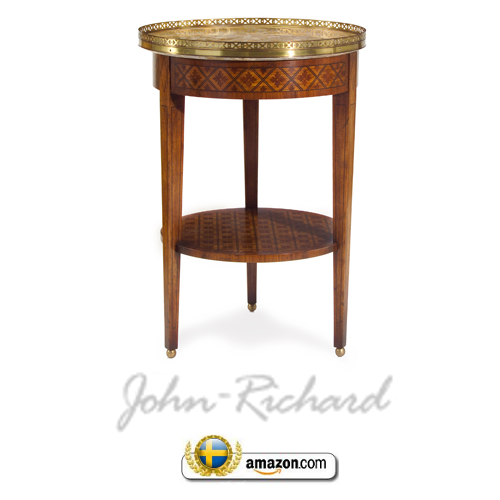 If you are looking for more of a genuine French Louis XVI antique like the table in Svindersvik, look at John Richard's table in marquetry.  This table features the tapered table legs, and a marquetry finish applied by experts.  The top has brass details which make this table shine like the jewel it is.  John Richards sells this table for $1538.70, and is well worth the price.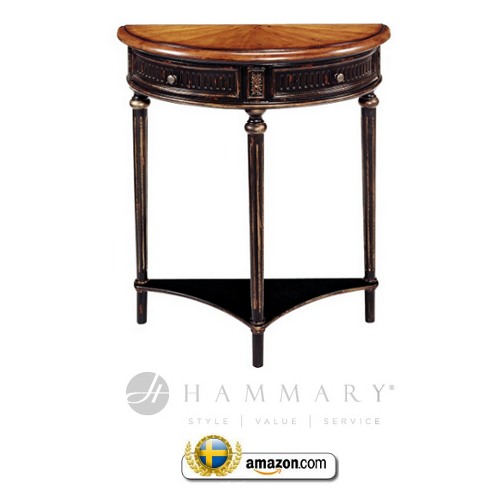 Crafted from fine poplar wood with maple veneers, this appealing console table features a two-tone cherry and black paint finish with gold-tip accents. Two swing-out drawers and a shapely bottom shelf offer handy storage. Slender legs with subtle fluting complete the look.
This table would be excellent painted in an off gray or any Swedish 18th century paint color.  Accent the details in gold for a regal appearance.  The detail around the skirt of this table looks much like the one from Avolli
Hammary T73054-00 Hidden Treasures Console Table By Hammary Sold Through Home Click For $346.00
Hidden Treasures Red Black Gold Console Table From Lamps Plus $329.91