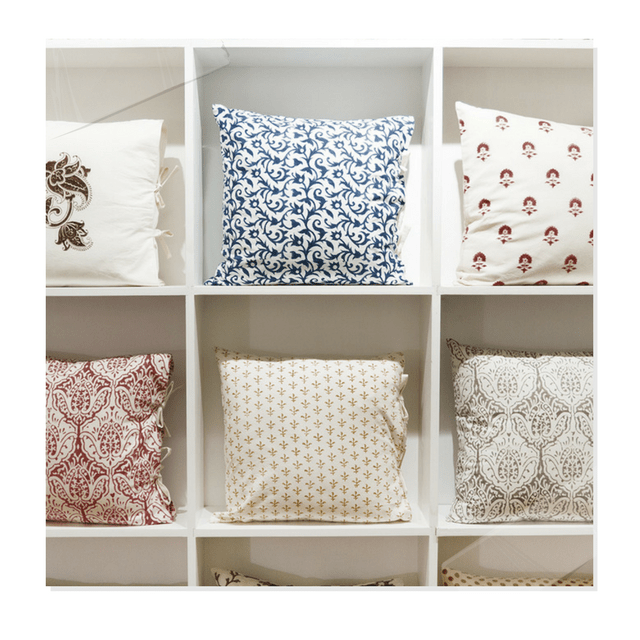 Mary Mulcahy's designs, first developed for her block-printed textiles, now grace the wall with the Les Indiennes collection by IVM Prints. The 12 hand-screened wallpapers include Rayure, left, and Veronique, both in indigo; additional colors are offered, Seen in Elle Decor April 2011
The company Les Indiennes is known for their beautiful hand-blocked textiles. Founder, Mary Mulcahy had a desire to find naturally dyed cotton, with large scale single colored motifs, but was unable to locate fabrics close to what she had in mind, so she created her own. Her concept started to take form after running into a craftsman in southern India, who knew exactly what she was after. In fact, the craftsman was one of the very few artists who still practiced the ancient art of kalamkari, which was an extremely complex and rare method of printing on fabric.
The Kalamkari Process:
1. Fabric Preparation- Cotton fabric is initially softened and bleached. This process needs to be done before any printing takes place. The process involves bales of organic cotton which are repeatedly rinsed and beaten against large rocks, then laid out on the grass to bleach in the sun. These steps ensure that the fabric will feel soft and luxurious, and so that the color application remains bright and vibrant.
2. Block Printing- After the fabric has been softened and lightened, printing begins. Craftsmen dip hand-carved wood blocks in dyes and presses them into the cotton. The dyes are derived from plants, roots, earth, and rock. One can only imagine the great care, and measurements taken to ensure the patterns are straight and line up with one another. Today we take for granted large printing machinery, when at one time, much of this work was done by hand. At Les Indiennes, the fabric is printed by hand, and hours go into each fabric panel. After the patterns are applied, the printed fabric is air dried for at least two days.