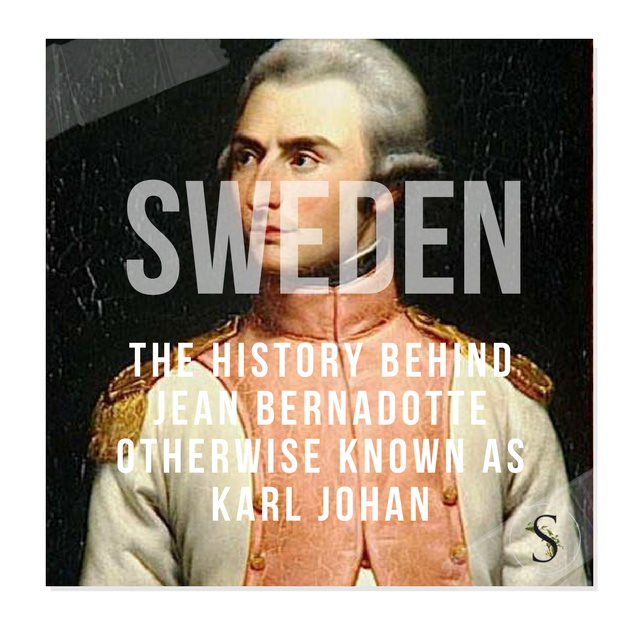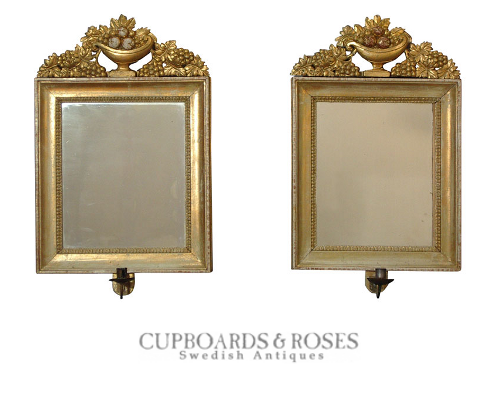 Pair of carved and gilded wood mirrors from the Karl Johan, or empire, period, Sweden circa 1830. Original brass candle holders on each. Original gilding, mirror glass, and backs. $8,500
He was born by the name Jean Bernadotte in France, and later in life became the ruler of Sweden. Here is how the history unfolded…..
Napoleon I – On The French Front

In May of 1804, the French people voted to change the consulate to an empire and to make Napoléon the Emperor of France.
In 1805, Austria, England, Russia and Sweden became united in a new Third Coalition to move against France. It was in September of 1805, when Austria attacked the French controlled Bavaria. Napoléon moved his army into Germany in September, and by October, Napoleon captured the Austrians at Ulm and occupied Vienna. It didn't stop there, in December, Napoléon won his most brilliant victory which decimated the Austro-Russo armies at Austerlitz.
In June of the following year, Napoléon named his brother Louis as King of Holland, and within each following each victory, Napoléon enlarged the French Empire.
On the other front, Prussia and Russia joined together to mount a new campaign against France. In October, of 1806, Napoléon's army decimated the Prussian army at Jena and at nearby Auerstadt. Napoléon was interested in preventing his enemies, especially the British, from trading with continental Europe. In November, he declared a new administrative law, which banned English ships from all ports under French control.
Napoléon was on a roll, in June of 1807, Napoléon eliminated the Russian armies at Friedland, which resulted in the signing of the Treaty of Tilsit, by Napoléon and Tsar Alexander. Under the treaty, King Frederick William III, of Prussia, became a vassal to France and lost half of his territories. Russia was forced to recognize the yet-to-be-created Grand Duchy of Warsaw which was to be carved out of Prussian Poland. Russia was also forced to make other territorial changes. Napoléon then turned to defeating Sweden, which he did with the help of Russia, in 1808.
The Start Of Things Falling Apart For Napoleon
The Peninsular War began in 1808 when Spanish and Portuguese forces rebelled against French rule. Tens of thousands of French soldiers died in the war, and the loss of Spain and Portugal greatly damaged Napoléon's prestige.
Napoléon divorces Josephine, aged 46 years old in 1809, because she had not produced an heir. Worried about the continuity of the empire, he had the senate pronounce his divorce from Josephine in December of 1809. It was because of this that Pope Pius VII excommunicated Napoléon. Retaliating, Napoléon had the Pope arrested on July 6. On February 17, 1810, the Papal States were annexed to France. The pope was then forced to sign an additional concordat and to annul Napoléon's marriage to Josephine. It wasn't too long after that that Napoléon married Marie Louise, in April, 1810, the 18 year old daughter of Emperor Francis I of Austria.
On July 9, 1810, Napoléon again increased the size of the Empire by annexing Holland and much of Germany to the Empire.
Jean Bernadotte – On The Swedish Front….
Bernadotte joined the French army and after the French Revolution, he advanced quickly and was in 1804 appointed as a Marshal of France by Napoleon I, even though the pair had a tumultuous relationship. When his service to France ended in 1810, he was voted the heir to the Swedish throne.
In August of 1810 Swedish Parliament had their eye on him for the Swedish throne. In October the same year, Bernadotte arrived in Sweden, and quickly took over as the real head of state, as the reigning King Karl XIII was in poor health. The Swedish royal family was dying out with King Charles XIII, so Baron Carl Otto Mörner (a Swedish courtier), advocated for his position for leadership.
Karl Johan had good relations with France however, Swedish foreign policy led Sweden into alliance with Russia and Britain against France. Sweden was then promised to Norway, which meant going against Napoleon. In 1813 led Karl Johan Swedish troops in the sixth coalition war , which was successful against France. After the victory against French, he forced Denmark to cede Norway by the Treaty of Kiel . Norway declared its independence after having hosted a national assembly at Eidsvoll, but after a short war in late summer 1814 the Norwegians surrendered, and entered into a union with Sweden.
A few facts about Karl Johan:
He was originally named Jean Bernadotte, but was also named Jean Baptiste after

John the Baptist
He converted the royal court from Roman Catholicism to the Lutheranism, and never learned to speak Swedish or Norwegian. French was widely spoken by the Swedish aristocracy.
He married in 1798 with Désirée Clary , who had previously been engaged to Napoleon Bonaparte .
Rosersberg Carl's Country Retreat – Featured in Neoclassicism In The North On Amazon