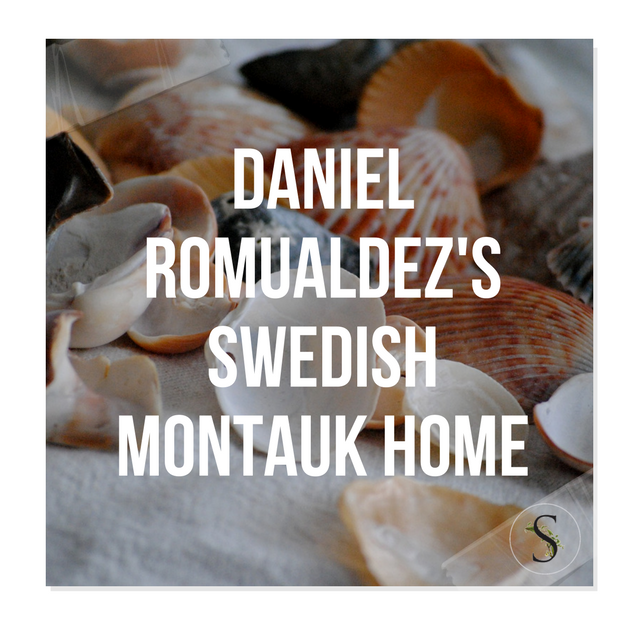 The indoor dining room features doors painted by an artist who lived in the home
in the 1930s. Wallstreet Journal
It is no doubt that the hottest designers are using distressed Gustavian furniture in their own homes. Designer Daniel Romualdez is one of those designers. His Montauk, New York home also shows off a captivating white based interior. Romualdez breathed new life into the home using only splashes of blue, white and black. The main dining room shows a beautiful collection of seashells in weathered frames. The room is furnished with 18th century Gustavian furniture with a geometric blue and white upholstery. Most of all the pictures we picture below are credited to the Wallstreet Journal. Here are a few links to this homes interior from Corbis. Here is a picture of the stairway that was installed in limed pine, in line with the Swedish styles found through the house.
Decorating with seashells can add a natural touch to your home. Here are 10 tips to getting a high end look with seashells:
1. Paint your walls in soft pastels. Keeping the wall color light will create a serene feel and allow you to play off the colors found in the lighter natural tones of seashells.
The ocean and the sky are both blue, so blue should be incorporated into the color scheme. Borrow looks from Daniel Romualdez's home by choosing upholstery in blue and white. White based backgrounds for upholstery choices keep within the classic textile choices found in Sweden.
-Light blue or green walls are also great colors for a room decorated with seashell decor.
-If you do use brighter blues, consider using it in an accessory as Daniel Romualdez's does with a vibrant floral centerpiece. Add layers of duller blues in your rooms with accents of brighter tones of blue sparingly.
2. Mix in reds, oranges, and golden hues within your home decor to provide a contrast to the white walls, and white shells such as what Daniel Romualdez's does with the black hand painted doors, and black frames on the walls.
3. Consider installing wall panelling, which can be stained in a soft cream or white. Wood adds an organic layer that is commonly found in Swedish decorating. Clean, brilliant white walls make a great backdrop for bold color splashes or natural wood accents.
4. Sofa or floor pillows incorporate the feeling of comfort. This Sea Shell Linen Pillow Cover with Jute & Mother Of Pearl Embroidery has both the linen fabrics found in Swedish decorating, as well adds a bit of the pearl shine we find in the sea.
5. Cover furniture or home decor with shells. A neoclassical bust with smaller seashells is a sophisticated approach to using shells in your decor. All you need is a nice looking neoclassical bust, hot glue and a variety of seashells.
-Make a crown for the bust or display it on it's own.
–Here we see a rustic bust, with a seashell crown.
–Here we see a mirror made with hand collected shells and Ikea mirror frame. All the shells are facing the same direction rather than the sporadic placement that we see with seashell art.
–Here we see a beautiful floral display with an urn decorated in seashells
Plaster Busts on Ebay
7. Consider presenting your collection of shells as a display on your wall with corbels. Instead of displaying the smaller shells, collect the larger seashells, which can make more of an impact. Swedish decorating is known for clean, uncluttered looks, so bigger shells are better in a Swedish scheme. Corbels can be rather expensive, but there are ways of getting corbels that match without spending $300 on each corbel. Make your own shelves for pennies with concrete molds such as this one from Mold Creations. Concrete Success has the perfect mold shelf featuring a sea shell in the design, selling for $34 dollars. This allows you to make endless shelves for your collections, without spending any more than for the mold itself, and the plaster or concrete.
Interesting Finds on Ebay And Amazon
– This square sea shell mold would be a rather interesting texture to cover an entire accent wall in a bathroom with. It has a rather primitive fossil quality to it.
-Silver Tone Decorative Spiny Jewel Nautical Sea Shell Home Decor $27
-Luxury Lane Hand Blown Art Glass Seashell Centerpiece 7.5″ tall by 12.5″ long $25
-White Pearlized Chambered Nautilus Sea Shell Decor 5″ – 6″ $25
-100% Real Sea Shell-4.5″ Original From Haiwaii,$9
-Small Brass Compass Rose Nautical Wall Plaque $50
-Bathroom Decor- Set of 3 Decorative Clear Glass Bottles with Nautical Sea Shell $71
-Luxury Lane Hand Blown Art Glass Seashell Centerpiece 4.5″ tall by 9″ long $25
-Aluminum Sea Shell Decor 4″H, 10″W $36
-Round Rustic Wooden Nautical Porthole Mirror– $70
-Set of 2 Seafoam Green and Cream Sea Shell Pattern Rustic Aged Decorative Bowls $110
-Gorgeous Set of 4 Mini Sea Shell Covered Spheres $48
-Decorative Wooden Paddle $19
-Wooden Nautical Sailboat Yacht Model w/ Shell Sail $24
See our other post Daniel Romualdez's Breathtaking Late-Eighteenth Century Farmhouse
Daniel Romualdez's Montauk Home-www.williamwaldron.com
Another View Of This Room From www.corbisimages.com
You can see the trim was painted blue, and the floors limed. In addition, the doors were touched up.