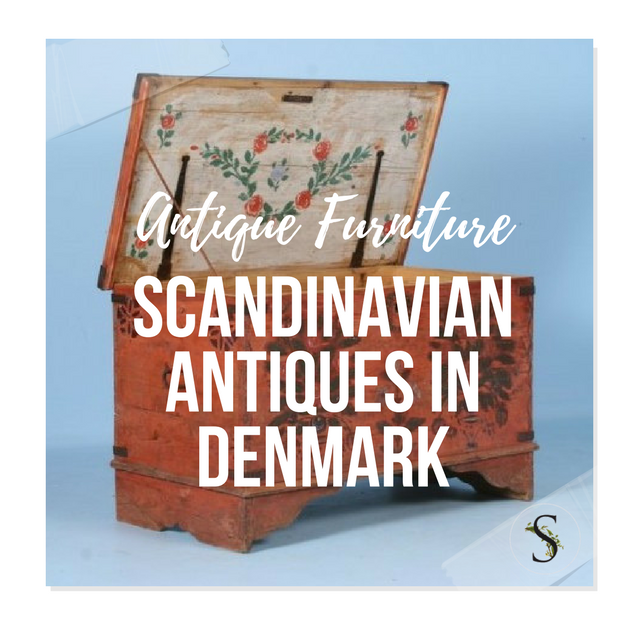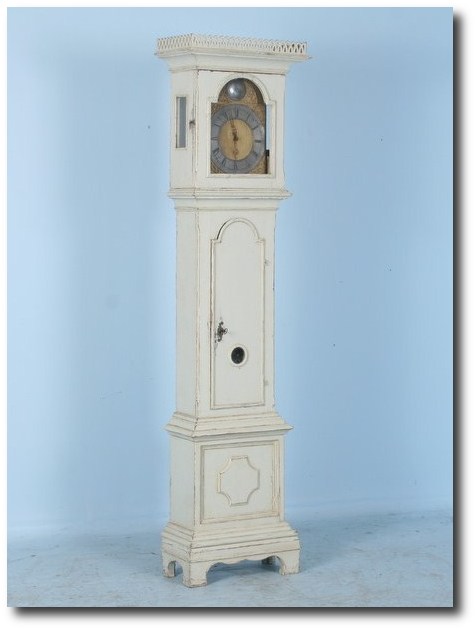 Scandinavian Antiques began as a wholesale company based in Denmark 25 years ago, with business in Sweden, Germany, Russia, Italy, France and Romania. The company moved to the U.S. in 1994. Over the past 14 years they have become one of the largest European antique dealers in the West, and the largest importer of Scandinavian antiques in the country. The exceptional quality of their antiques is credit to our 2,000 sq ft workshop where skilled craftsmen ensure each piece is tenderly restored before leaving the premises. The purpose of restoring this aged furniture is to preserve its inherent value, original integrity and beauty.
White Swedish Grandfather Clock c.1780 This white Grandfather clock from Sweden and can be restored to it's fully working condition. It's original white paint adds a commanding presence to this piece and it is in excellent condition. Scandinavian Antiques has this clock priced at $3,250.00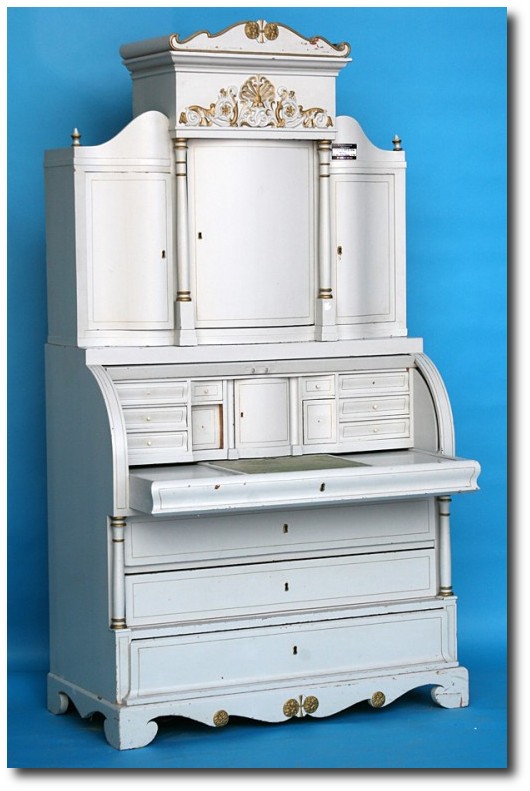 Elegant Pine Country Biedermeier Secretary. Exceptional details highlight this stunning secretary. Gentle curves accentuate the doors and inner drawers. Columns and delicate finials lend a classical touch. The painted finish on this is approximately 100 years old, and can be stripped down to the beautiful Danish pine. When the desk top is extended it becomes 29″ deep. Scandinavian Antiques is selling this Secretary for $5,850.00 or make them an offer.
Antique Danish Black Distressed Chest of Drawers Dresser c.1840 This fantastic chest of drawers boasts four larger drawers for storage and a smaller upper drawer on the top. This dresser has been expertly repainted with the highest quality paints in their studio. It has been done in a manner and fashion of the 1800's period paint. The distressing brings out it's original charm. This highly desired painting preserves the piece for generations. Each imperfection makes the piece unique, and brings with it the joy in owning a true one-of-a-kind piece. Scandinavian Antiques allows for customization of paint colors and distressing techniques. They have this chest listed for $3,885.00
This hand painted trunk has maintained its original beautifully worn flower motif in the rosemaling style of the area. The overall color is a light red burnt orange hue and would be a nice pop of color in a home or cabin space. Even the interior of the trunk top has a lovely floral design as well, creating visual intrigue and a 'surprise" when opened. These treasure chests of the past are perfect as antique home decor. Scandinavian Antiques is selling this trunk for $1,485.00
Antique Danish Pine Green-Blue Chest of Drawers c.1820-1840. This wonderful original 1820's chest of drawers has been given new life with a lovely green-blue paint. Each imperfection makes the piece unique, and brings with it the joy in owning a true one-of-a-kind piece. The shape and curves of this piece are accentuated with the color and create great visual impact. Large double pulls on each side add to ease of use.