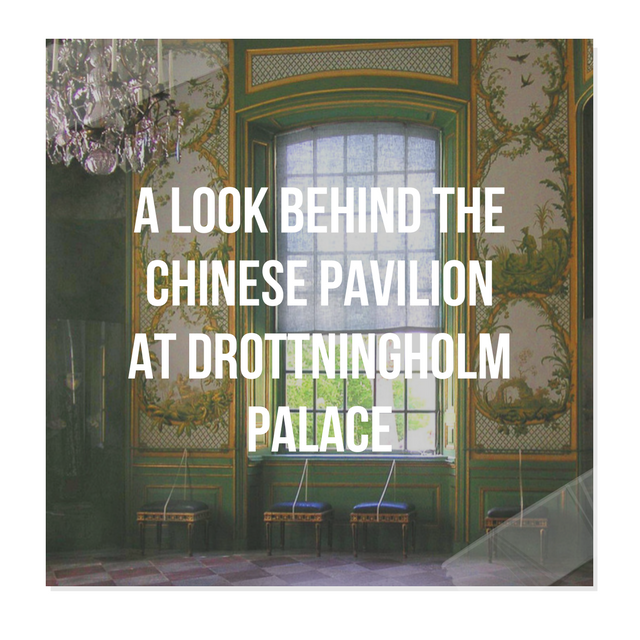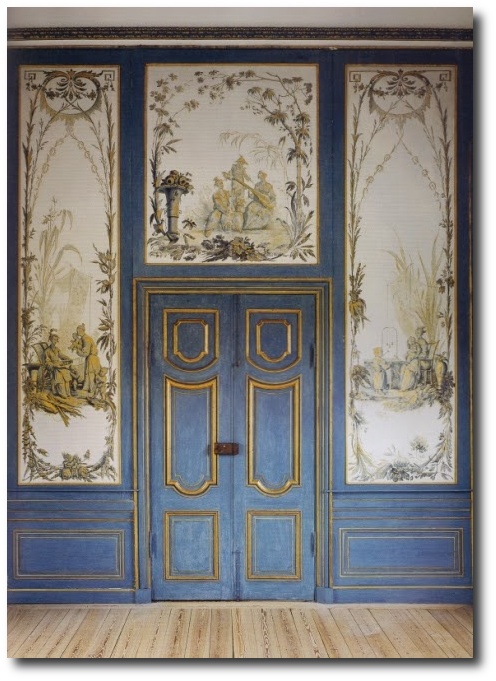 The Chinese Pavilion (In Swedish: Kina slott), is located on the grounds of the Drottningholm Palace park. The royal pavilion is one of Sweden's Royal Palaces. The first castle building was built in 1753 and was a birthday gift to Queen Lovisa Ulrika from King Adolf Fredrik. After a few years was, however,it demolished because of decay, and in 1769 was new Chinese Pavilion finished, designed by architect Carl Fredrik Adelcrantz.
The rooms are decorated with chinese and some japanese wallpapers, wallpanels, paintings and objects. The environment of Drottningholm Palace – the palace, theatre, Chinese Pavilion and parks – is the best example of an 18th century royal palace in Sweden and is also representative for European architecture of that period.
Check out this website for one of a kind looks at the various repairs to the Kina Slott
Chinese Pavilion at Drottningholm is essentially rococo. It was intended to have an exotic Chinese-inspired character, containing Chinese elements which were the highest of fashion at that time. The royal court's chief supervisor Jean Eric Rehn was the man who led the work with the interior design. The construction of the pavilion began in 1763 and then was was completed in 1769. The Chinese Pavilion was renovated in 1943-55 and the interior in 1959-68. A thoroughgoing restoration of the exterior was started in 1990
Chinese chinoiserie mixed with the extravagant style of rococo makes this palace a very unique feature of Swedish architecture. The Chinese Pavilion seemed to have functioned as a sort of royal getaway, as just a mile away, the environment changed into something foreign. There are entry halls, corridors and wings to this pavilion, as well as several parlors (audience chambers, or talking rooms), kept apart by different color schemes. There is the Green Parlor and the Embroidered Room which is the parlor designed in red. For inspiration they used all kinds of goods imported from China such as lacquered boxes and the classic Asian design on furniture and objects.
Modestine Blog describes the Chinese Pavilion- "A walk through the gardens in the warm sunshine brought us the Chinese Pavilion. Externally it was symmetrically balanced with curving wings and was decorated with gold painted Chinese figures and dragons. Inside, the walls were lined with hand painted Chinese silk wallpapers, each room in a different colour, reflecting different moods. The furnishings obviously came from China, almost certainly produced for the enthusiastic European market at that time. There were huge Chinese vases, bamboo shelving, oriental style chairs lining the walls and cabinets of Chinese ceramic figures."
One of my favorite Blogs –18th Century, Johanni (as there are so few blogs that focus on 18th century living), took some fabulous pictures of her robe à la polonaise at the Chinese pavilion at Drottningholm. Here are some of her flicker pictures that show her in the palace. It kind of gives you a glimpse of what it may have looked like back in the day.
Chinese Pavilion at Drottningholm- Picture Credit- rebeccaloewke.com
Chinese Pavilion Blue Salon Drottningholm Found on abebooks.com