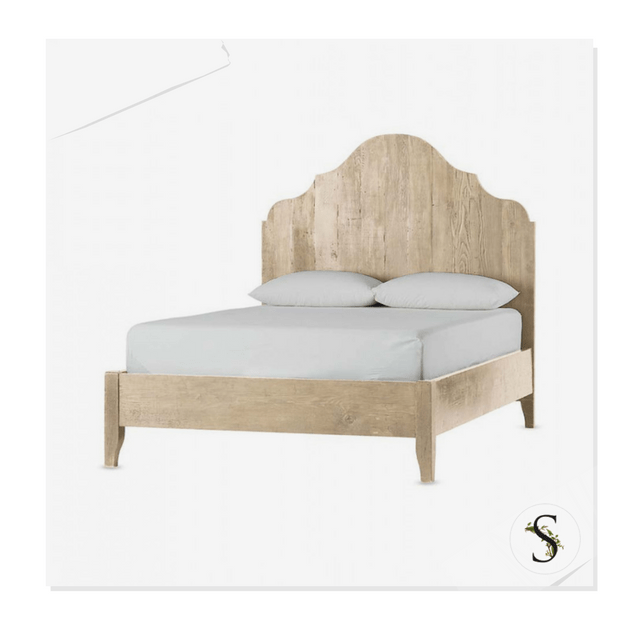 About 250 years ago, Sweden's King Gustav visited France and returned with a passion for ornate French neoclassical design. Swedish woodworkers tossed out the frou-frou but wisely kept the striking and unusual arched, scalloped furniture silhouettes. Our reclaimed Douglas fir Gustavian Bed adds a contemporary green twist to the original.
Part of the Global Collection this Bed has a neoclassical design with a contemporary twist that will complement any style. This beautiful collection features beautiful flowing lines combined with rustic features of reclaimed Douglas Fir. Up to a century old, the aged wood shows off its rich hue, deep patina, and tight grain. The wood is hand-planed to smooth its surface while preserving the distinctive character of the vintage fir's imperfections. The quality of our Vintage Fir West Linn collection is superior and is designed and built to last for generations. The distinct beauty of its reclaimed wood, finished with rich water based non-toxic stains are preserved in our furniture that is handmade in California. All of our Vintage Fir Furniture uses actual vintage reclaimed wood and has many advantages. The grain of the timber with its tight growth rings shows the superior density of the wood from ancient trees, and the natural, aged patina and color of the old-growth timber is preserved in the manufacturing process. The results provide a look and feel that cannot be replicated in new wood.
This reclaimed Douglas fir Global collection beautifully exhibits the rich character of the centuries-old reclaimed wood used in its construction, while also bringing contemporary style to your space. The wood, salvaged from razed buildings, has a warm, rich hue and tight grain.
This bed is available in all sizes.  The King size sells for $2,695.00 at vivaterra.com