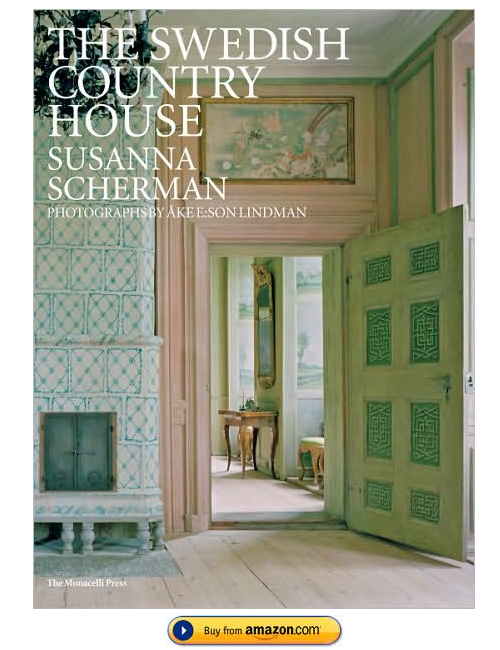 The Swedish Country House By Ake E. Lindman,Susanna Scherman
Swedish country houses are one of Europe's best-kept secrets. Little known outside Sweden and rarely published, they survive in surpris­ingly large numbers, often with their original furniture and decoration. Twenty of these remarkable and timeless houses are examined here in detail, ranging from royal palaces to farmhouses, all dating from the fifteenth century to the end of the nineteenth century. In spite of being far from the centers of power and artistic influence, these houses reflect the talents of important architects and designers who together forged a distinctive national style.
Sweden has been fortunate in its history: while the Hundred Years War reduced much of Europe to ruins, Sweden grew rich, and during the subsequent centuries has enjoyed almost continuous peace. The story of Swedish country houses is thus a mirror of Swedish social history, its hierarchy of classes, its absorption of European styles and movements, and above all its enduring culture.
The Swedish Country House is both an impor­tant contribution to design history and a highly seductive glimpse into a secret Nordic world. Art historian Susanna Scherman has included examples from every level, drawing special attention to the qualities that make them unique. She and noted photographer Åke E:son Lindman explored the houses together, and together they bring them to life for the reader.
Susanna Scherman ­is a scholar of Swedish archi­­tecture and design and has also restored inte­riors and gardens. Her pioneering book on the Swedish tiled stove, Den Svenska Kakelugnen, was nom­i­nated for the distinguished August Prize.
Table of Contents
Introduction
Torpa, Västergötland Fiholm, Södermanland Skokloster, Uppland Strömsholm, Västmanland Länna Parsonage, Uppland Stola, Västergötland Lövsta Bruk, Uppland Stora Nyckelviken, Södermanland Huvudsta, Uppland Hallunda, Södermanland Mårtes, Hälsingland Heby, Dalarna Gustav III's Pavilion, Haga, Upplan Siggebohyttan, Västmanland Krusenberg, Uppland Stjernsund, Närke Ystegårn, Hillsta, Hälsingland Fågelsjö Gammelgård, Dalarna Trönö Parsonage, Hälsingland A Farm in Blacksta, Närke
Gustavian Interiors and Decorating – The Swedish Country House By Ake E. Lindman,Susanna Scherman  All PREVIEWS Obtained from Design Book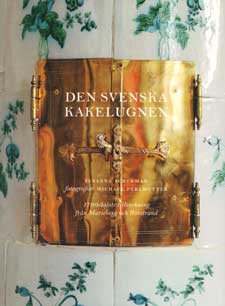 The Swedish tiled stove is an important part of the Swedish 1700s interior design. In this magnificent book, 'The Swedish stove" by Susanna Scherman, we get a detailed and thorough description of the Swedish tile stoves produced in porcelain factories Marieberg and Rorstrand. Tiled stoves from Marieberg had flower paintings in bright colors and a very prominent glaze. The book has extensive illustrations and it is quite large and relatively heavy. A truly magnificent volume to just sit and browse in. Lots of stunning photos of 1700s stoves.The photographer named Michael Perlmutter. One of the most beautiful books published in Sweden in recent years.  I haven't been able to locate this book on Amazon or Ebay
Here is an interesting article about the Tiled Stoves By ByggnadsvardIf the most impressive of these stoves have Susan Scherman wrote the book"The Swedish stove". The book deals primarily stoves manufactured at Marie
porcelain factory in Stockholm.Exquisite Images by Michael Perlmutter has been nominated for the August Prize in the category of non-fiction. Susan Scherman has recently defended a thesis on Marieberg stoves and this is based on "The Swedish stove". It is thus scientifically substantiated. Susan Scherman has the smallest detail measured stoves, which might be of Marieberg Manufacturing and thus refine our knowledge of these highlights of Swedish art in the 1700s.
There are not many such stoves preserved – Scherman presents around ninety. In her research, she has been able to distinguish these from such stoves Rorstrand and larger krukmakarverkstader. The book with its beautiful images is an orgy of Swedish 1700s and is therefore a book for enjoyable browsing. The text is rich with overviews of  tiled development and a chapter on the production of the Stockholm krukmakarverkstader that nuance previous research significantly.
In contrast, Scherman not engaged in the manufacture of large stoves around in the Swedish cities. The new vedbesparande tiled inception in 1767 came the manufacture of stoves to be very great. Potters built their ovens to  manufacture white tile with pewter glaze and many mimic the cobalt blue decorated from Stockholm.- Information and Text From Corren