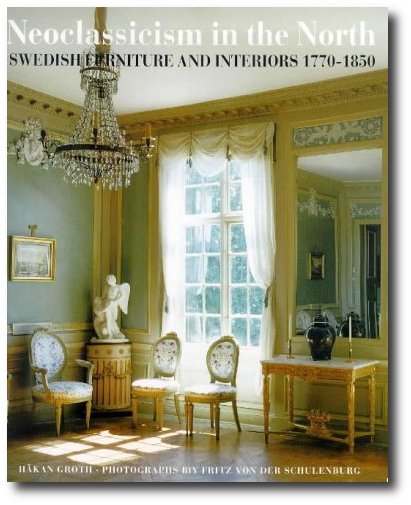 The Royal Palace, Stockholm, home of Sweden's kings; Gripsholm, an island castle; Ovedskloster, too royal for a commoner ; Sturehof, from Rococo to neoclassicism; Hylinge, an admiral's landfall; Gunnebo, Mr. Hall's ingenious palace; Haga, Gustaf III's Trianon; Tullgarn, the summer palace of Prince Frederik Adolf; Princess Sophia Albertina's Palace, the Foreign Ministry's royal quarters, Stockholm; Bernshammer, profit, patronage and nobility; Ostana, antiquarian treasures on the Baltic shore; the Masreliez Rooms, Stockholm, hidden luxury in the old town; Rosersberg, Carl's country retreat as prince and king; Sperlingsholm, outside, a fatherland. Inside, a friend ; Elghammer, a Russian house in Sweden; Skottorp, the Commercial Counsellor's Empire; the Hazelius House, Stockholm, a Biedermeier home; Hogsjogard, serious simplicity; Rosendal, French seed on Swedish soil; family tree of the Holstein-Gottorp and Bernadotte dynasties; catalogue of furniture types and styles; the architects, artists and craftsmen.
Neoclassicism in the North is ONE OF THE very best books I have seen on Swedish Furniture and Decorating.  It would cost you more money copying the photos for your personal library than to purchase the book, because there are SOOOOO many stunning photographs in this book.  In addition, it is FILLED with a lot of valuable information on Swedish furniture and Decor.  I HIGHLY RECCOMEND THIS BOOK.  
The book presents twenty houses and apartments in marvellously evocative photographs. From royal salons with exquisite Pompeian ornament to modest spatter-painted Biedermeier halls, the beautiful Neoclassical houses of Sweden are of unique value today not only because of their superb craftsmanship but also as a stimulus to contemporary decorators.
When Crown Prince Gustaf returned from Versailles in 1771 to ascend the throne of Sweden, he was determined to give his country a leading place in Europe culturally as well as politically. The style he fostered and Neoclassicism was an international movement.  Pieces of furniture reflected French, English, and German influences and were inspired from objects discovered at Pompeii.  Gustaf took all these designs and distinctively put a  Swedish mark on the style.
From royal salons to modest styled homes, Hakan Groth and Fritz von der Schulenburg open the doors to you for a wide variety of Swedish inspired homes.  The expressive photographs, all specially taken for this book, present in detail the decoration and furnishings of twenty houses and apartments.
The text traces the evolution of the Neoclassical style in Sweden, placing it in its wider European context, and explores each of the buildings and its history.
Plans, and original drawings by the architects and designers, complete the pictures in this stunning book.  These beautiful interiors are of unique value today not only as treasure houses of superb craftsmanship but also as a stimulus to contemporary decorators, and as a reminder that an international language can be spoken in a delightfully personal way.
About the authors
Hakan Groth was born near Lulea in northern Sweden. As a child he built intricate scale models of Swedish royal palaces, complete with furniture and paintings; his knowledge of the subject was recognized at an early age, and he subsequently worked as a guide at the Royal Palace in Stockholm and Rosendal. With Fritz von der Schulenburg, he has contributed articles to various magazines including House and
Garden. He now spends most of his rime in London and specializes in Swedish Neoclassical furniture for the firm of Rupert Cavendish Antiques, of which he is a founder-partner.
Fritz von dcr Schulcnburg is one of the best known and most widely respected photographers in the field of design, decoration and interiors. He makes frequent contributions to the World of Interiors
magazine and also works regularly for House and Garden, Architektitr & Wuhnen, Ambiente and Connoisseur. His most recent book for Thames andHudson, Living in Scotland, was published in 1987.
Also published by Rizzoli,
The Best of Painted Furniture by Florence De Dampierre
Scandinavian Painted Decor- Jocasta Innes
Style Traditions-Stephen Jones
Neoclassicm In The North Swedish Furniture and Interiors 1770-1850
Book Contents
Introduction Page 7
The Royal Palace, Stockholm Home of Sweden's kings Page 14
Gripsholm – An Island Castle Page 42
Ovedskloster 'Too Royal For A Commoner' Page 54
Sturehof From Rococo To Neoclassicism Page 60
Hylingc An Admirals Landfall Page 68
Gunnebo- Mr Hall's Ingenious Palace Page 74
Haga Gustaf III's Trianon Page 86
Tullgarn The Summer Palace of Prince Fredrik Adolf Page102
Princess Sophia Albertina's Palace, Stockholm The Foreign Ministry's
Royal Quartet- Page 112
Bcrnshammar Profit, Patronage, and Nobility Page 120
Ostana Antiquarian Treasures on the Baltic Shore Page 128
The Masrcliez Rooms Stockholm Hidden Luxury in the Old Town Page 134
Roscrsberg Carl's Country Retreat As Prince and King Page 138
Vittskovle Empire Riches In A Moated Stronghold Page 158
Spcrlingsholm -Outside, A Fatherland. Inside, A Friend Page 162.
Elghammar A Russian House in Sweden Page 166
Skottorp The Commercial Councillor's Empire Page 174
The Hazelius House, Stockholm A Biedermeier Home Page 178
Hogsjogard Serious Simplicity Page 186
Rosendal French Seed on Swedish Soil Page 190
Family Tree of the Holstein-Gottorp and Bernadotte Dynasties Page 204
Map 204
Catalogue of Furniture Types and Styles Page 205
The Architects, Artists, and Craftsmen Page 119
Reference and Further Reading Page 221
Acknowledgments 221