Textile design by Karin Larsson ca. 1900
Carl and Karin Larsson were both Swedish artists born in the 1850s. They met and fell in love at a Scandinavian artists' colony in Grez, France, in 1882, and quickly married and started a family. In the late 1880s, Karin's father gave them Lilla Hyttnäs, a little cottage next to a stream in the Swedish countryside as a gift.
The decoration of the house became a joint project between husband and wife. Karin made the textiles — rag rugs, slipcovers, table cloths, doorway curtains, bedclothes, etc. — and Carl painted mural decoration and arranged, carved and painted the furniture.
Their home and family also became one of Carl's favorite subjects for his paintings. Their home became one of the crucial influences on 20th-century Scandinavian design.
The Larsson home was characterized by lightness, informality and comfort. While the typical Swede was buying expensive suites of revival-style furniture, the Larssons took their hand-me-down Gustavian furniture and mixed and matched it, slipcovering chairs and sofas. They filled their home with houseplants and colorful textiles. They left the wood mostly bare and covered trafficked areas with cotton rag rugs. The motifs they used in their home were colorful, with a folk art-inflected graphics such as flowers and other patterns, gingham, stripes.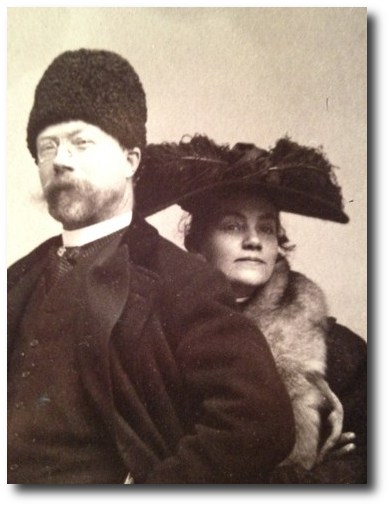 Karin and Carl Larsson, 1904
Karin weaves a drapery
Karin Larsson (née Bergöö) showed an early talent for painting and began at in the Royal Swedish Academy of Arts in Stockholm in 1877. There she studied until 1882. Then she went to the artists' colony in Grez-sur-Loing, near Paris, where she met Carl Larsson.
They married in Stockholm 1883, and then went back to Grez-sur-Loing. Their first daughter, Suzanne, was born there in 1884, 1885, they moved back to Stockholm.
Although Karin Larsson gave birth to eight children and expanded the house for a large family, she still found time to live out their artistic side. Karin Larsson has also designed much of the furniture in her and Carl Larsson's home as well and she made clothes for herself and her children.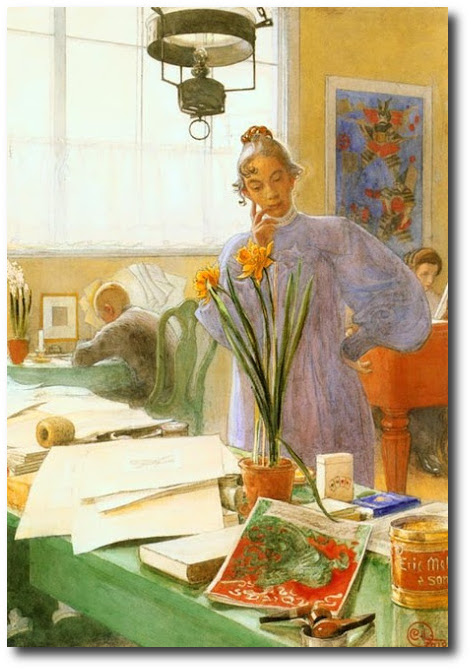 'My Wife' – 'In the Studio' by Carl Larsson (1853-1919)
Paintings By Carl Larsson -Daughter Suzanne
Paintings By Carl Larsson- Carl Larsson. Karin and Daughter Suzanne 1887
Paintings By Carl Larsson- Karin And Brita
Karin Larsson, by Carl Larsson, 1909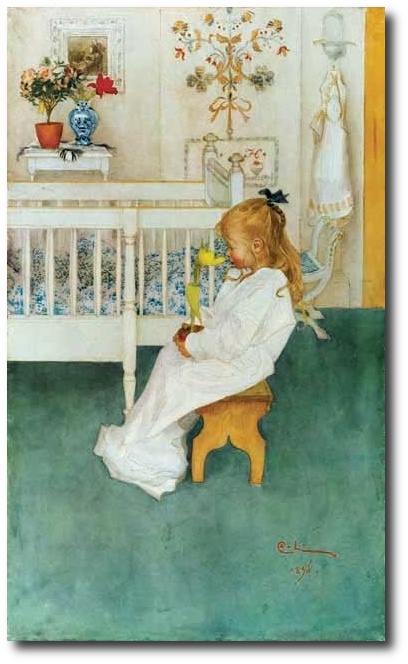 Carl Larrsson Swedish Realist Painter, 1853-1919 Lisbeth with Yellow Tulip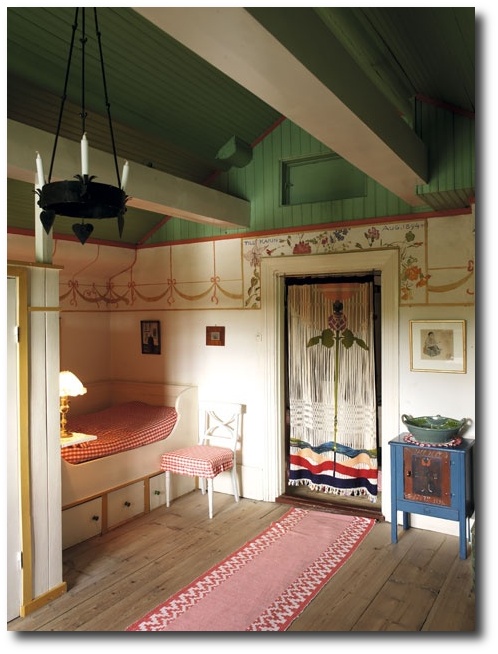 Photo Credit- Antikvarlden.se
It is summer and Carl Larsson's home is full of life today as it was one hundred years ago. Carl Larsson is one of the world's most famous artists, and his art is just as popular today. The home in Sundborn in Dalarna, has inspired architects and interior designers for over a hundred years. The home attracts year round visitors from around the world.
A Peek Into The Larsson's Home:
Carl's pictures attracted much attention in his day. Many people have fallen in love with the simple country life, and the visual stories presented in his art. He painted his children, his wife, the house, yard in Sweden in such a natural way.
A tour of the Larsson's home can really bring his art to life. The house the Larsson's lived in was certainly rustic country. The color scheme at the time, was criticized for being too dark and the furniture was considered too simple. The dining room in red and green was a color scheme that was relatively new and violated the popular color schemes of the day, so naturally people had their opinions. The dark and heavy furnishings wasn't a popular interior design choice for many Swedes. The red furniture and green panels was a look that fit the country lifestyle. It was said that Karin put up the panels while Carl was away, but waited for the color scheme until he came home. Much of the furniture in their home was designed by Karin. The colorful display cabinet in the dining room, was something that the couple decorated together.
Carl and Karin, are one of the most well-known couples, whose life and art have come to characterize the image Sweden both at home and abroad.
More Articles on Carl Larsson:
-Carl Larsson's Inspirational Interiors- thedecorologist.com
– Touring Swedish Country Home- Willow Decor
– Artist, Carl Larsson – Pinterest
-A Picture Is Worth A Thousand Words. Featured Artist: Carl Larsson -pandorasssbox.blog