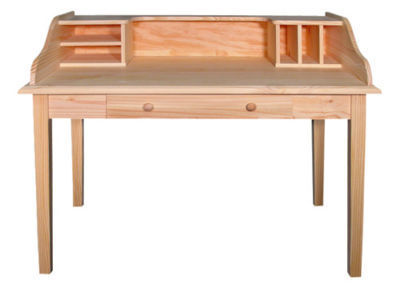 Postmaster Desk SOLID WOOD – Unfinished
Discount Wood Works sells a selection of very attractive unfinished wood furniture that you can customize for your own Swedish decorated home. The beauty of unfinished furniture is the opportunity to select a custom stain or paint finish without having to strip an existing piece of furniture with heavy varnish.  Many of the Swedish painted finishes work best with unfinished wood furniture. Classic Swedish painted finishes are often heavily distressed from years of wear.  Having unfinished wood allows the paint to soak into the wood, allowing a better finish when it comes to using a hand sander to distress the wood.
Discount Wood Works sell a number of beautiful pieces that look like the Swedish tapered leg tables, and chairs that are seen in the country furniture in Sweden.  Although they are not identical to the reproduction and genuine antiques, they offer their furniture at very reasonable price points, giving you the look for less.  Some of the furniture requires assembly, but they do include complete instructions and all neccessary screws that are needed to assemble the furniture. Consider adding brass hardware and keyholes to the furniture drawers instead of the wood knobs.
Discount Wood Works sells solid wood furniture which is hard to come by these days.  Many of the modern furniture lines sell wood fronts with composite wood interiors.  Rest assured that Discount Wood Works sells solid furniture that will last you through the years.
Many of their pieces are constructed out of Radiata Pine.
About Radiata Pine:
It is a plantation-grown tree which is 35% harder than white pine. It is virtually knot free, and has a very detailed grain similar to oak or ash. Originally native to California, it is now grown in plantations from Australia to South America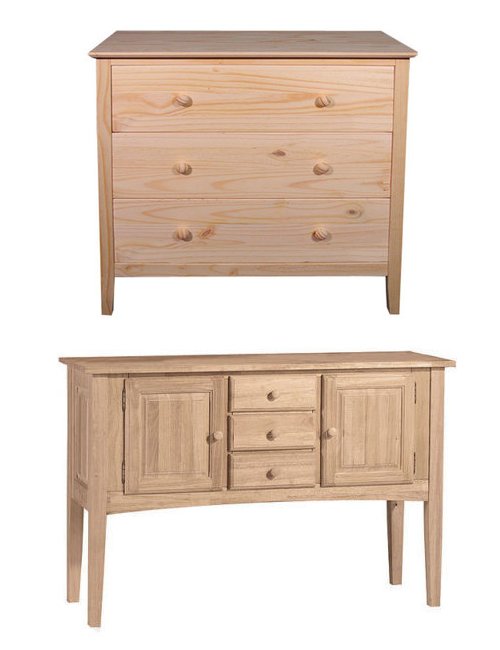 3 Drawer Pine Chest (Item # 68-75113RTA), Buffet Table- Unfinished, Solid Wood (Item #19-5433)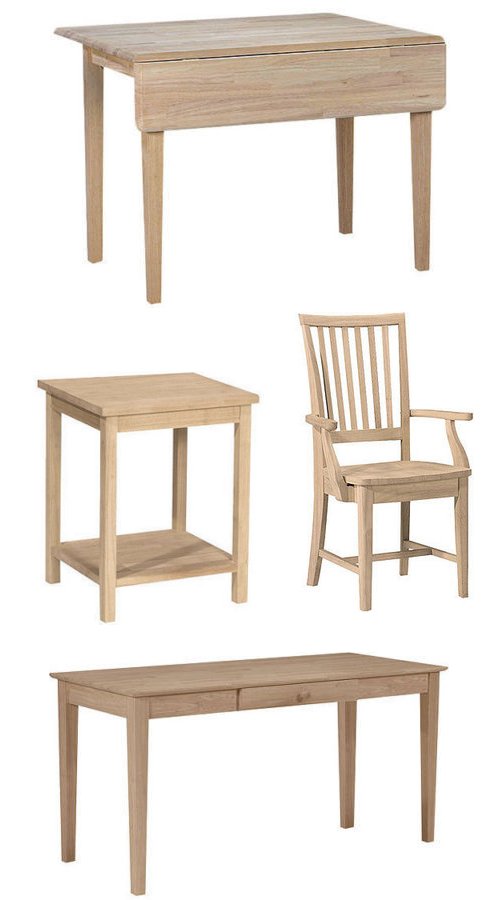 Buffet Table- Unfinished, Solid Wood (Item #19-5433),60 Writing Desk Item  19-OF42, Drop Leaf Table- Unfinished, Solid Wood Item 19-40DS, Portman End Table- Unfinished, Solid Wood (Item # 19-OT41), Mission Armchair, Unfinished Item 19-266A