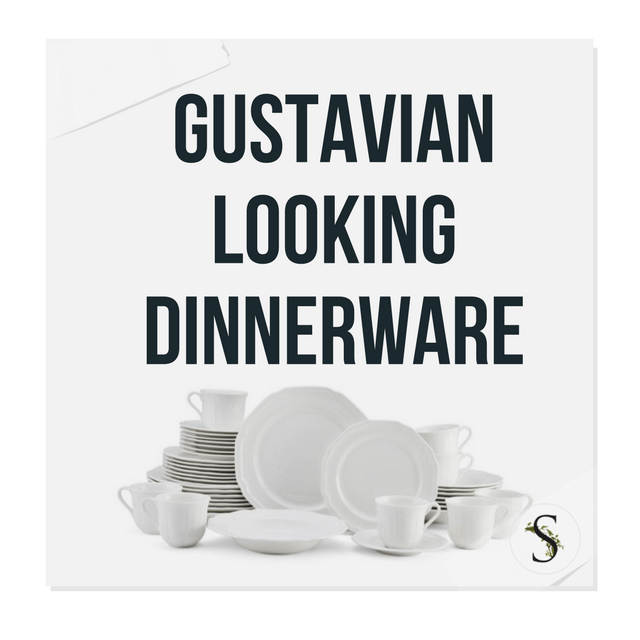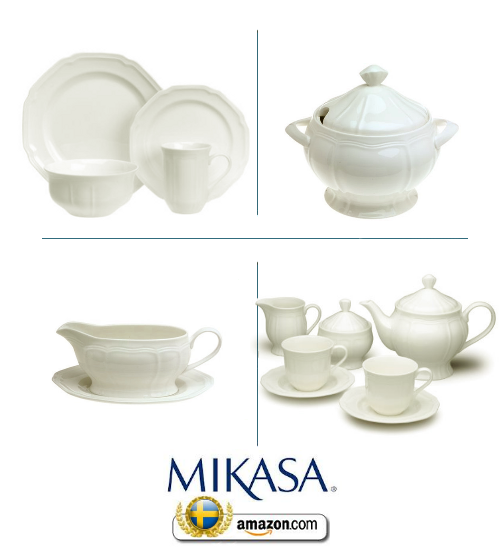 Mikasa produces a "Antique White" set that has all the looks of antique Swedish dinnerware. Collect all the pieces and display them on your walls or in your cabinets for a look that is distinctively Swedish.
Mikasa produces dinnerware that is crafted of fine, chip-resistant china for long-lasting beauty even under rigorous use. Pure-white, antique-inspired style features rippled border and ribbed. Mikasa also produces safe dinnerware that can be placed in the dishwasher and microwave. Layers tastefully with complementary and contrasting linens, dishes, and flatware.
When my husband and I were first dating, we picked out a very simple white dinnerware pattern. We bought 54 pieces of the collection, and over the years, some dishes or plates have broke, but we still have such a large collection that they will last us through our old age. The nice thing about simple white dinnerware is you can add to the collection over time, incorporating additional large salad bowls, or candlesticks which will just complement your existing collections.
Roger Lussier's Boston Apartment-Caninet photographed by Thibault Jeanson, Southern Accents Mrs Blandings Blog
Additional Mikasa "Antique Dinnerware" Groupings:
-Mikasa Antique White 7-Piece Tea Set $67
-Mikasa Antique White Covered Sugar and Creamer Set $45
-Mikasa Antique White Soup Tureen $102
-Mikasa Antique White Gravy Boat and Stand $45
Gustavian Swedish Decorating – Veranda – March 2010, Kay O'Toole
-Mikasa Antique White Salt and Pepper Set $19
-Mikasa Antique White 16-Piece Dinnerware Set, Service for 4 (4 each: 10-inch dinner plate; 8-inch salad plate; 6-inch bowl; 10-ounce mug ) $122
-Mikasa Antique White Oval Platter, 14-Inch $80
-Mikasa Antique White Oval Platter, 16-Inch $81
-Mikasa Antique White Fruit Bowl , Set of 4 $35
-Mikasa Antique White Covered Butter Dish $35
-Mikasa Antique White 5-Piece Place Setting, Service for 1 $40
-Mikasa Antique White Coffee Mugs, Set of 4 $40
-Mikasa Antique White Set of 4 -6-Inch Cereal Bowls, $40
-Mikasa Antique White Dinner Plate $14
-Mikasa Antique White Rim Soup Plate $9
-Mikasa Antique White Bread and Butter Plate $9