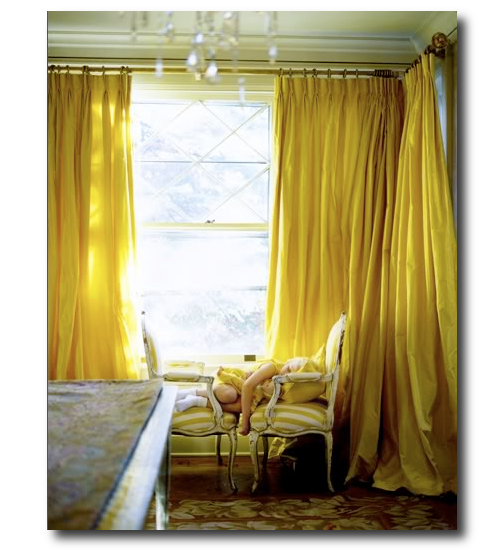 Yellow Silk Drapes Paul Costello
For centuries silk has had a reputation for being luxurious, and has always been associated with wealth and success. Silk is one of the oldest textiles, and has been used in the orient since 27th century BC. During the Roman Empire, silk was sold for its weight in gold. Silk has always been been known for its vibrant colors, because of its high absorbency.  
Silk can be dyed in many deep colors and retain the saturated pigments, unlike other fabrics.  Silk also retains its shape, drapes well, and is known for its luster.
Silk does not shrink like other fibers, making it versatile and washable. All silk is hand washable.  Silk should always be hand washed, and not wring out but roll in a towel to dry.
Silk dries quickly but should not be put in an automatic dryer. A good shampoo works well on silk. It will remove oil and revitalize your silk.
Do not use an alkaline shampoo or one which contains ingredients such as wax, or petroleum as they will leave a residue on your silk and may cause "oil" spots. 
Silk may yellow and fade with the use of a high iron setting, so press cloths and steam irons are recommended. Silk is also weakened by sunlight, so be sure to get a good drapery liner if you choose to use silk in your draperies.