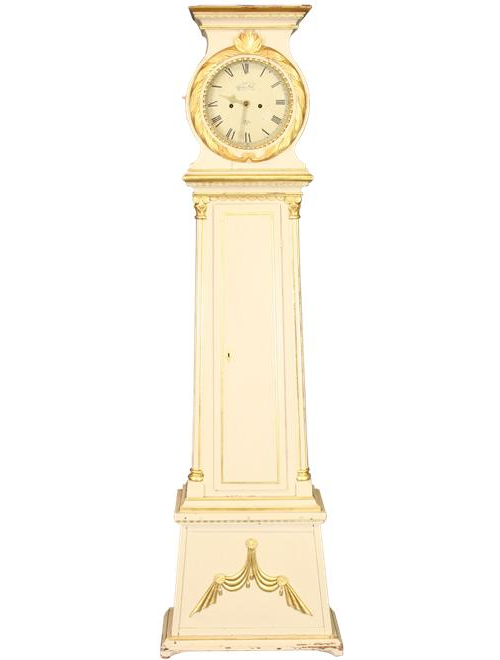 EuroLux European Antiques is selling an outstanding mid nineteenth century Danish clock.
The clock is signed and dated by the maker, M. Jorgen Muller. The exterior is white with gilded accents and its interior is painted a warm rose.
Two Corinthian columns enhance the long trunk door and the clock's plinth (pedestal) is accented by a gilded swag. The brass works of this antique Scandinavian Danish longcase grandfather clock strike on the hour.
EuroLux European Antiques is selling this wonderful tall case clock for US $6,040.00, or make them an offer.
Product Finder Specialist on Ebay is selling a stunning Westerstand clock which was made in Sweden.
This Rococo wood carved wall clock would be a stunning addition to any Swedish decorated home. The clock chimes, and chimes in a very soft tone, on the hour and on the half an hour.
It measures 20″ tall, 12 1/2″ wide, and 4 1/2″ deep. Product Finder Specialist has this clock listed at $895